A vegan alternative to spaghetti meatballs! Made with beans, mushrooms, rice and herbs for a healthy but flavour-packed recipe that's easy to prepare.
If you're looking for a meatball alternative that tastes great, with a "meaty" texture and is full of nutritional whole food ingredients, then this recipe is for you.
The beanballs, as I ridiculously call them, are really easy to make - especially if you have a food processor or a decent masher.
Simple mix the ingredients together into a chunky texture and roll into balls.
These can then be baked, fried or grilled. Or even cooked in the air fryer.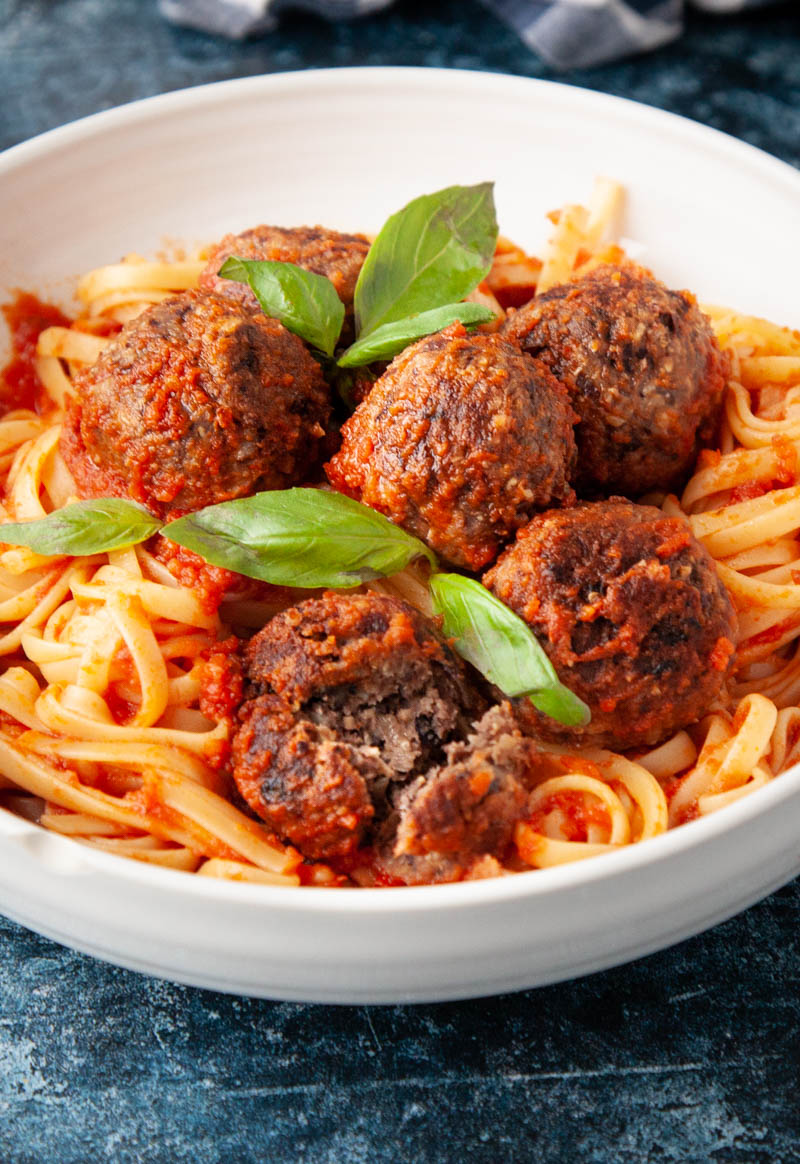 Vegan Meatball Ingredients
These beanballs use healthy ingredients and can easily be made gluten-free by subbing gluten-free flour (you only need a small amount).
Olive oil


Onion and garlic


Chestnut mushrooms - or other kind of mushrooms, a mixture works well.


Marmite - you can use yeast extract or miso paste. This is for giving a "meaty" depth of flavour.


Balsamic vinegar - other vinegars work well but balsamic gives the best flavour.


Dried mixed herbs - this is a mixture of basil, oregano, marjoram and thyme. Or you can use an Italian seasoning mix.


Kidney beans - or black beans. Cooked from fresh or tinned.


Cooked rice - brown or white.


Porridge oats - for texture. You can use whole oats, too but you might need to mash the mixture a bit more.


Flour - just a small amount for rolling the balls. Can use wholemeal or gluten-free.

This recipe also includes how to make the bolognese sauce to serve the beanballs with.
Full ingredient amounts in the recipe card at the bottom of this post!
Serving and storing
How to serve these beanballs
Serve with the bolognese sauce and a portion of spaghetti. Top with vegan parmesan or "nooch" and some freshly ground black pepper.

Alternatively, you can serve them with the sauce in a roll for a "meatball sub"

Or for a take on the classic Swedish dish - make the beanballs separately and serve them with a vegetable gravy and potato mash.
How long do they keep for?
3-4 days in the fridge in an air-tight container.

You can keep them in the dish with the bolognese sauce and heat everything together for 2-3 minutes in the microwave or on the hob.
Can they be frozen?
Yes, they can be frozen for up to 3 months. I recommend freezing them in a container with the sauce.

Allow to thaw slightly for a day in the fridge before cooking for 15-20 minutes in the oven or 8 minutes on the hob.
📖 Recipe
Spaghetti Beanballs
An easy, tasty and healthy alternative to meatballs. These beanballs are simply mashed beans with mushrooms, oats, rice and seasonings for a meat-y texture and delicious flavour. 
Ingredients
For the bolognese sauce
1 tbsp olive oil
1 onion, diced
1 medium carrot, peeled and diced into small pieces
1 celery stick, diced into small pieces
3 garlic cloves, minced
1 tbsp balsamic vinegar
150 ml (scant ⅔ cup) vegetable stock
1 x 400 g / 14 oz tin of chopped tomatoes
1 tsp soy sauce
1 tbsp tomato puree (or ketchup!)
(Optional) 8 fresh cherry tomatoes, halved
1 tsp dried oregano
6 fresh basil leaves, chopped
For the beanballs
1 tbsp olive oil
1 small onion, diced
3 garlic cloves, minced
150 g / 5.2 oz chestnut mushrooms, finely chopped
1 tsp Marmite (yeast extract) or miso
1 tbsp balsamic vinegar
1 tsp dried mixed herbs (or Italian herb seasoning)
1 x 400 g / 14 oz tin of kidney beans, drained and rinsed
125 g / 4.4 oz cooked rice
6 tbsp porridge oats
4 tbsp plain flour
To serve
Dried spaghetti (56 g / 2 oz per person)
Vegan parmesan
Fresh basil
Instructions
Preheat the oven to 200C / 180C Fan / 390F and line a baking tray with parchment paper.
To make the bolognese sauce, heat olive oil in a pan. Add the onion, garlic and diced vegetables and cook for approximately 5-8 minutes, to soften.
Add the tomato puree, soy sauce, vinegar, herbs, wine, chopped tomatoes and vegetable stock. Bring to a boil then reduce to a simmer. Cook on a low heat for approximately 10 minutes until reduced and thickened.
Meanwhile, make the beanballs. Heat the oil in a frying pan and fry the onion, garlic and mushrooms on medium heat for about 5-8 minutes, to soften. Add the yeast extract, vinegar and herbs and cook for a further couple of minutes.
Remove from the heat and stir in the beans, rice, oats and flour. Use a masher to mix everything together into a chunky dough. You can also use a food processor to pulse, but be careful not to overmix.
Use wet hands to roll the dough into approximately 16-20 golf ball-sized pieces.
Add the beanballs to an oven dish, top with half of the bolognese sauce and bake for 30 minutes, until crisp on top.
During the last 15 minutes of cooking, prepare the spaghetti according to the packet's instructions. Drain, return to the pot and mix with the remainder of the sauce.
To serve, top with the cooked beanballs, fresh torn basil and vegan parmesan (optional). If only serving a small portion, the rest of the sauce can be jarred and kept in the fridge for up to 5 days. The beanballs will keep in an airtight container in the fridge for up to 3 days.