Ultra comforting layers of roasted vegetables, creamy dairy-free sauce, meat-free bolognese in between sheets of lasagna. Great for making in advance.
Making lasagna always feels like it's going to be too time-consuming and fiddly but although it has multiple cooking elements - this recipe is nice and easy.
And in any case, once it's made it is so worth any of the effort!
This recipe uses easy-to-find ingredients you can source from most supermarkets and tastes every bit as comforting and flavourful as the dairy-laden kind.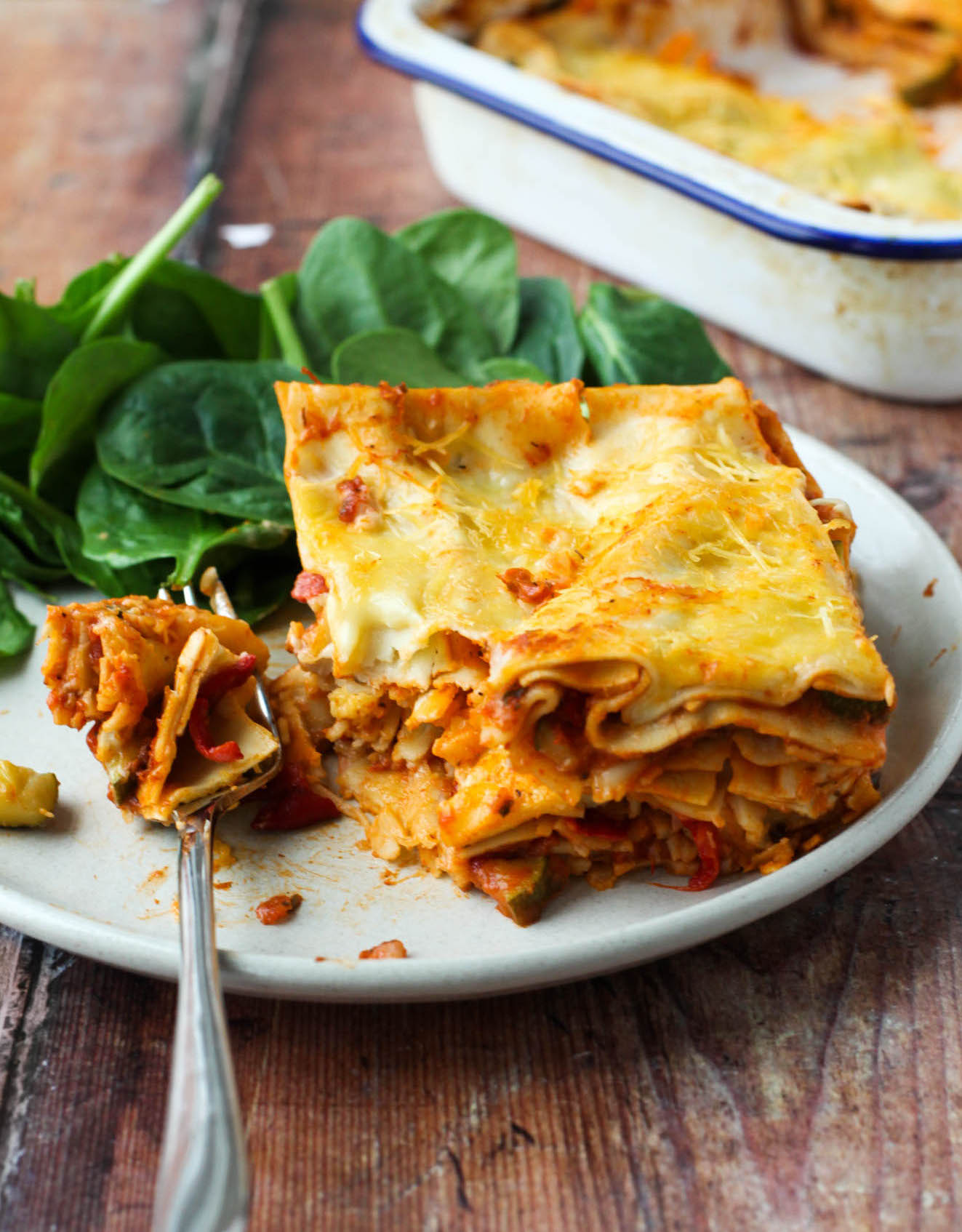 📖 Recipe
Vegan Vegetable Lasagna
This comforting recipe is great for making in advance and eating over the course of a few days. It's easily customizable - use whatever veggies you like! It works well with prepared frozen vegetable mixes and can also be made gluten-free (see notes). 
Ingredients
VEGETABLE FILLING
1 tbsp olive oil
1 white onion, diced
4 garlic cloves, minced
1 medium carrot, diced into ½ cm pieces
1 aubergine (eggplant), diced into 1 cm pieces
100 g / 3.5 oz button mushrooms, thinly sliced
2 red bell peppers, cut into medium strips
2 tbsp tomato puree
1 tbsp balsamic vinegar
2 tbsp mixed herbs
1 x 400 g / 14 oz tin of chopped tomatoes
240 ml / 1 cup low-salt vegetable stock
1 tbsp cornflour, mixed with 2 tbsp cold water
FOR THE SAUCE
1 tbsp dairy-free butter
2 tbsp flour
360 ml / 1 ½ cups unsweetened dairy-free milk
⅛ tsp ground nutmeg
A pinch of salt and pepper, to taste
FOR THE LASAGNA
12 ready-to-cook lasagna sheets
100 g / 3.5 oz vegan cheese, grated
Instructions
MAKE THE SAUCES
Heat olive oil in a pan. Add the onion, garlic and diced vegetables and cook for approximately 5-8 minutes, to soften.
Add the tomato puree, vinegar, herbs, chopped tomatoes and vegetable stock. Bring to a boil then reduce to a simmer. Add the cornflour mixture and cook on a low heat for approximately 10 minutes until reduced and thickened.
Meanwhile, in a separate saucepan, melt the dairy-free butter on medium heat. Add the flour and stir until combined. Slowly add in the milk, a tablespoon at a time and whisk, until you have a smooth thick white sauce. Stir in the nutmeg and season with salt and pepper
MAKE THE LASAGNA
Preheat oven to 200C / 180C Fan / 350F. Add a small amount of vegetable sauce to the bottom of a 9 x 13 inch baking dish. Add a layer of lasagna sheets and smooth 2 tbsp white sauce on top.
Top with more vegetable sauce. Repeat until the last layer of lasagna sheets. Top with the remainder of the vegetable sauce. Then smooth the rest of the white sauce on top.
Scatter some grated vegan cheese over the top and bake for 20 minutes, until golden and bubbling. Serve and enjoy. Can be kept wrapped and refrigerated for up to 3 days.
Notes
To make gluten-free, simply use gluten-free lasagna sheets.