This easy, healthy weeknight meal is super creamy, yet light, and one of my all-time favourites. Not only is it dairy-free/vegan but it is naturally gluten-free too.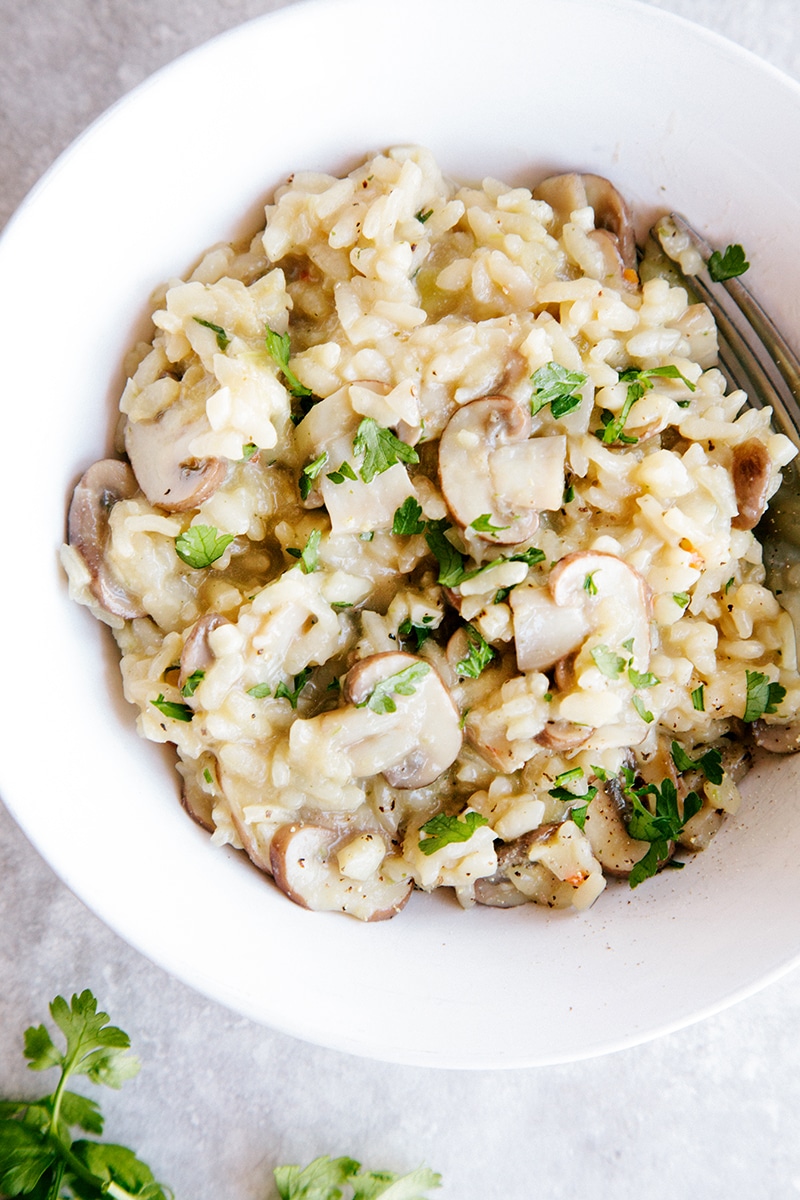 This vegan mushroom risotto is a recipe I make often. It's quick, easy, guaranteed deliciousness.
A great dish to try if you're new to a vegan diet as it's really simple and will really satisfy your tastebuds.
You don't need any dairy to achieve this creamy texture and full flavour! Follow my tips below for risotto success...
Vegan Risotto Making Tips
Stirring regularly. You don't have to stand over the stove, stirring constantly but regular stirring will help the rice release it's starch.



Adding the stock a cup at a time. Adding the stock in all in one go is simply just like boiling rice but we want a creamier result than that.

So adding the stock in a bit at a time, waiting until each ladel-full has nearly been absorbed will help create that gluey texture.



"Mantecatura" – Loosely translated as "enrichment" or to give something a buttery texture.

This is achieved at the end of the recipe, when the rice is almost cooked and the liquid has very nearly been absorbed.

Remove the rice from the heat and stir for a couple of minutes, adding an extra ingredients, such as dairy-free butter, oil, vegan cheese, nooch or fresh herbs.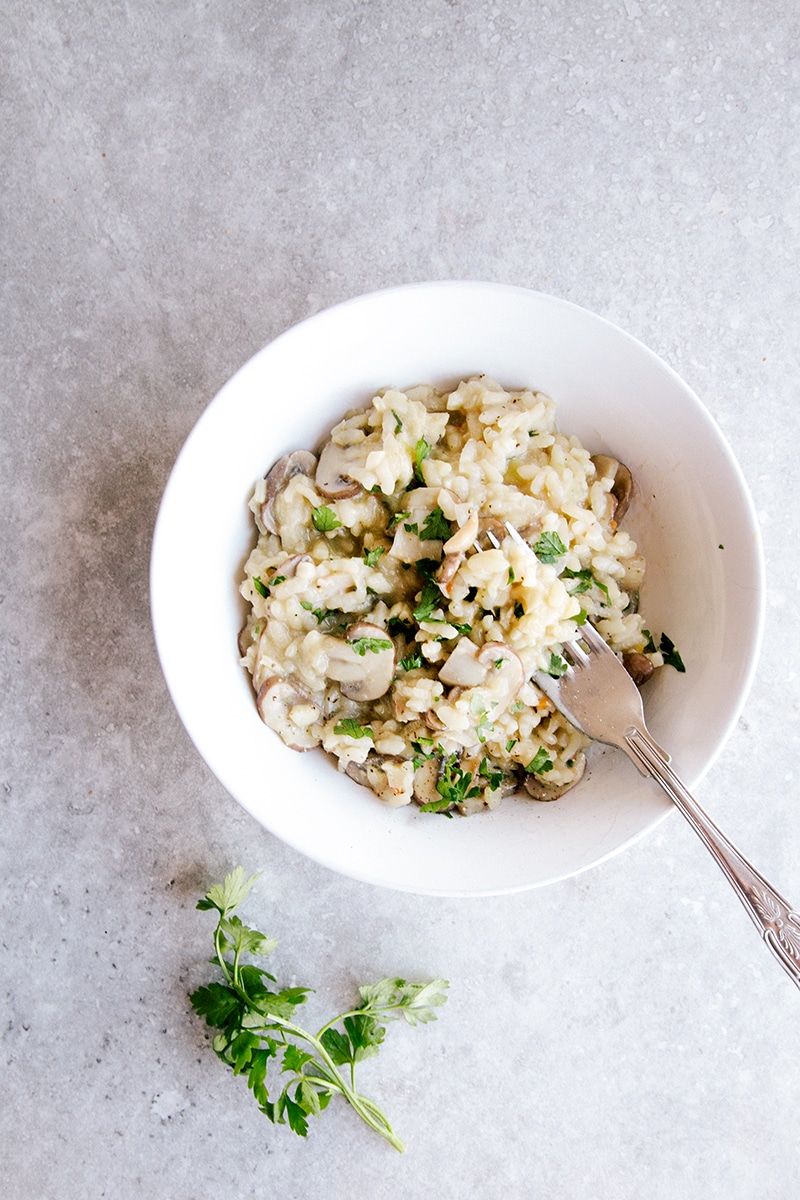 I usually just make it with vegetable stock cubes but lately have been using my gut-healing vegetable broth which is not only more nutritional but adds a wonderful flavour.
I also recommend shiitake dashi, if you happen to have some.
For a subtle cheesy flavour, I often add nutritional yeast - you can buy this in health food stores or online but don't worry if you can't find it.
It's still delicious without it!
More Vegan Risottos
Tomato Risotto with Roast Vegetables
📖 Recipe
Vegan Mushroom Risotto
An easy, healthy weeknight meal that's super creamy, yet light, and full of flavour. Not only is it dairy-free/vegan but it is naturally gluten-free too.
Ingredients
1 tbsp olive oil
1 shallot, or ½ white onion, diced
3 garlic cloves, minced
100 g / 3.5 oz button mushrooms, thinly sliced
500 ml (2 cups + 1 tbsp) vegetable stock
Fresh parsley, to serve
Salt and pepper, to taste
Instructions
Heat the olive oil in a large sauté pan. Add the shallot and garlic and cook on a medium-low heat until softened.
Add the mushrooms and cook for a further minute.
Stir in the risotto rice and vinegar. Immediately pour in a ladle of stock and bring to a boil then reduce to a simmer. Wait for the rice to absorb the liquid, before adding another ladle full. Repeat for approximately 30 minutes, until all the liquid has been absorbed and the rice is cooked. Add more hot water, if necessary.
Once cooked, stir in the nutritional yeast (if using), stir in a handful of chopped fresh parsley and season with salt and pepper.
Serve and enjoy!
Notes
*White wine vinegar adds extra flavour but it still works well without it.
**Nutritional yeast adds a cheesy flavour but again, still works well when left out.
Recommended Products
As an Amazon Associate and member of other affiliate programs, I earn from qualifying purchases.
Nutrition Information
Yield

2
Serving Size

½ recipe
Amount Per Serving
Calories

322
Total Fat

8.8g
Saturated Fat

1.8g
Trans Fat

0g
Cholesterol

0mg
Sodium

103mg
Carbohydrates

50.5g
Fiber

4.1g
Sugar

3.4g
Protein

10.6g