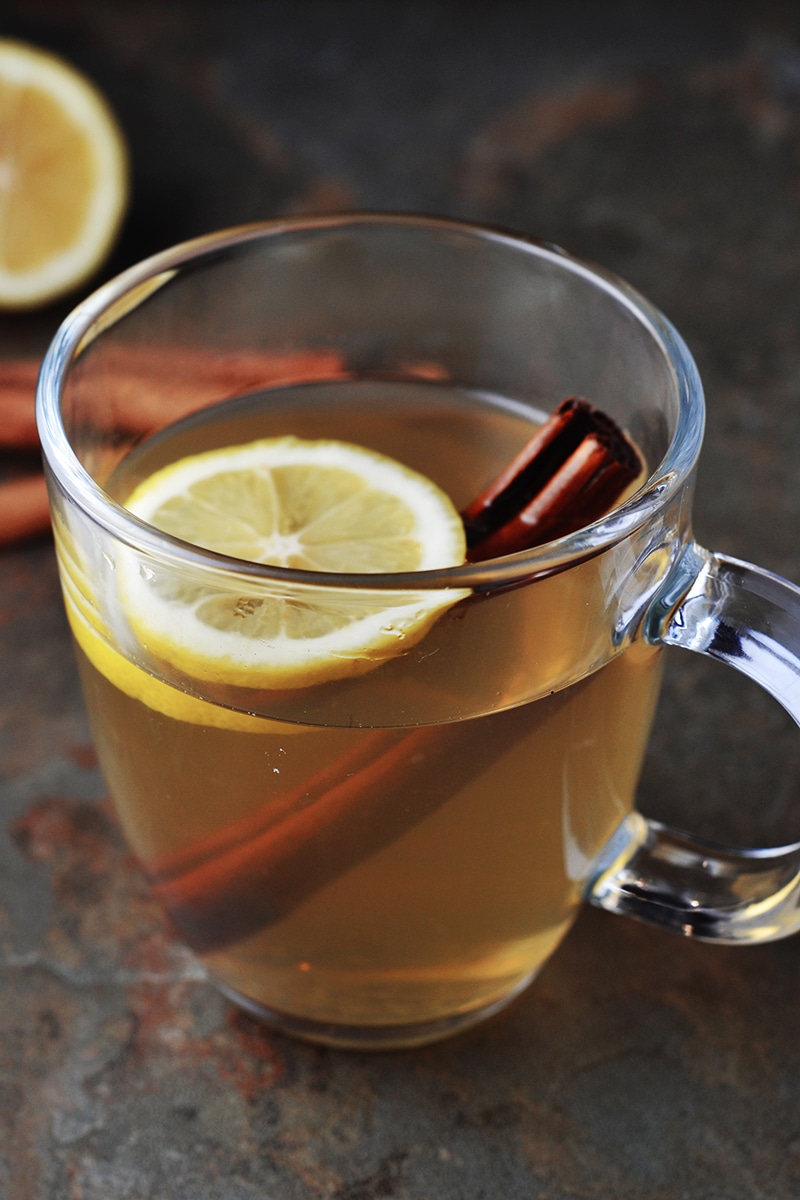 Yes, more rum. I had a tiny bit left, just enough for one drink… and since I have a cold, I decided to make it a warm one. A rum hot toddy.
I am convinced hot toddies are the best cold remedy. The rum is to numb, the syrup to soothe, the lemon for vitamin C and the cinnamon and hot water to warm you up.
It's just a pleasant coincidence that they all taste good!
I am usually one for whiskey over rum but after my rum & raisin ice cream… I'm now a fan.
Rum Hot Toddy as a cold remedy
Being ill can have it's charms. It can be a reprieve from school, work and chores, an excuse to stay in bed doing nothing or catch up on idle hobbies and of course, drink hot toddies.
Why do hot toddies make us feel so much better, when we're run-down?
The hot liquid hydrates, soothes and breaks up mucus, allowing us to breathe better.
A dose of vitamin C from the lemon
Warming spices to clear the passage ways and create an uplifting aroma
The drop of rum might have something to do with it too…
If you too have a cold, take this prescription as needed and I hope you feel better:-)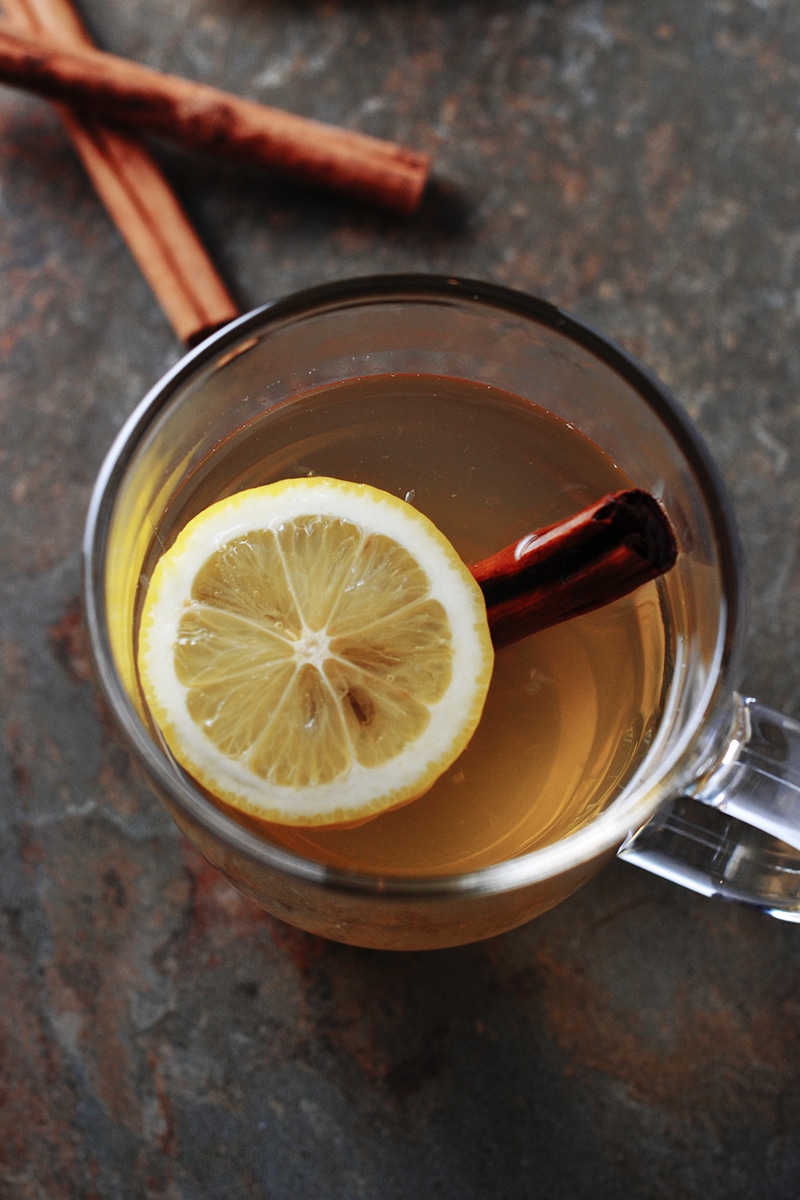 How to make the best Rum Hot Toddy
The alcohol
Obviously my choice here is rum. It's not necessarily something I drink regularly but for hot toddies, it's my favourite.
It's smooth, not too harsh and pairs beautifully with the cinnamon.
Whiskey is another great choice, of course!
The liquid
Simple hot water is all that is needed.
But if you fancy being… fancy, then you can use chai tea instead.
I've also tried it with a turmeric spice tea before and it was delicious. Not to mention it provides some more medicinal benefits.
The sweetener
Typically honey is used here, but as I am vegan I use maple syrup instead.
And I'm not just saying this… I think it's a better choice in this recipe.
Not just for flavour but maple syrup is also great for soothing sore throats.
The spices
I wanted to keep this recipe really simple and unpretentious so haven't added much to it.
Just a cinnamon stick. And it's important to use the whole stick and not ground spice, which would result in a strange texture.
But again, if you fancy being fancy, try adding a knob of ginger, a couple of cloves, a star anise or a vanilla pod.
The citrus
Just a slice of lemon works perfectly here, providing a good flavour and a dose of vitamin C.
You can also use orange if you prefer.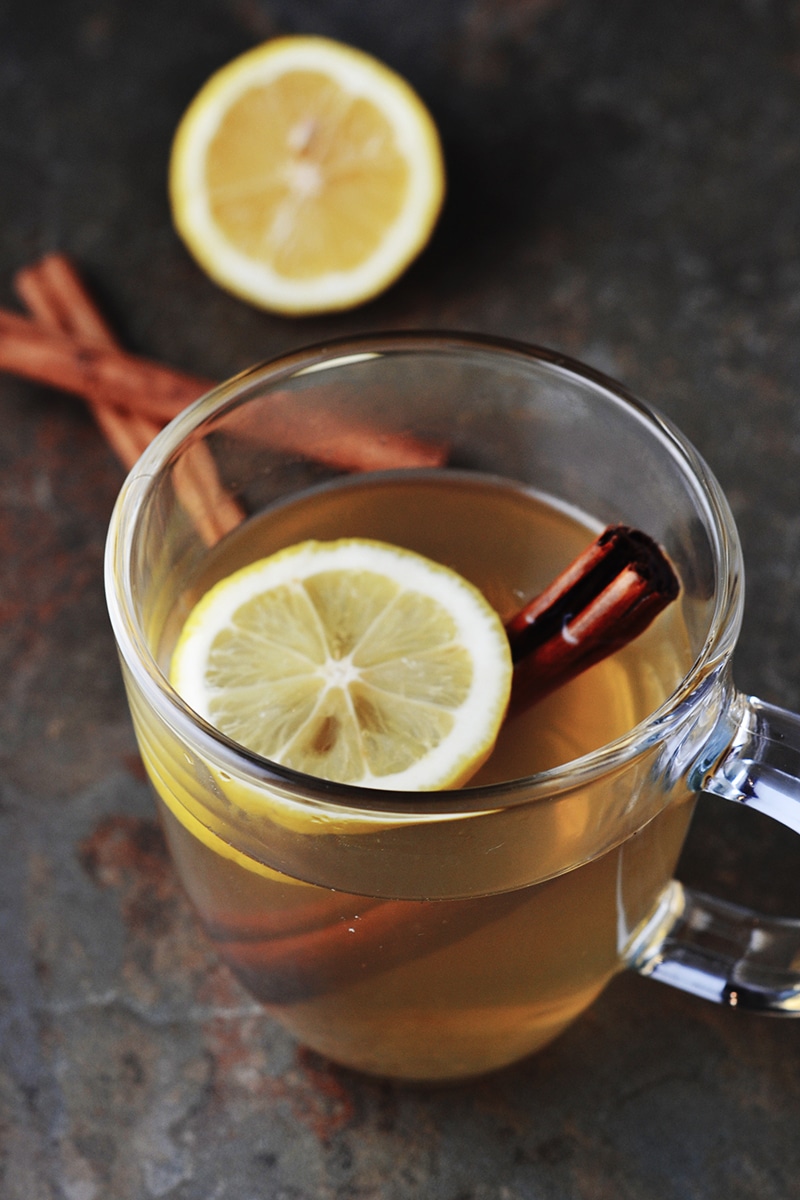 📖 Recipe
Maple Rum Hot Toddy
This rum hot toddy is just what you need if you're feeling run down or are fighting off a cold...
Ingredients
2 tbsp rum
1 tbsp maple syrup
1 slice of lemon and a squeeze of lemon juice
1 cinnamon stick
Boiling water
Instructions
Add the rum, maple syrup, lemon and cinnamon to a mug.
Fill up with water and stir to mix.
Taste and add more syrup or lemon if desired.
Enjoy and feel better!