Creamy and rich parsnip soup with seasonal celeriac and sweet maple syrup. Delicious with toast or croutons.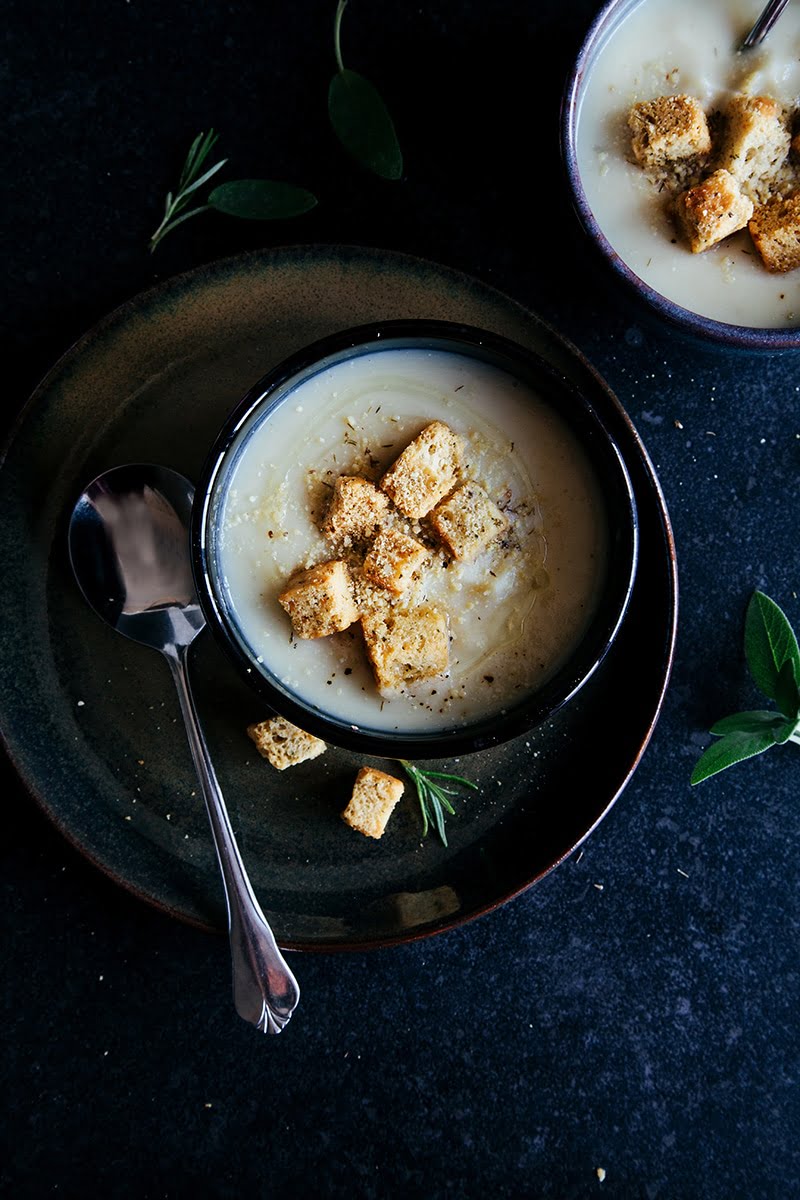 Last year, during a trip to Devon, I tasted the best soup I've ever tasted in my life. A sweet roasted parsnip and celeriac soup.
The flavours were incredible and I have been meaning to try and recreate it ever since. So here it is!
Parsnip and celeriac are delicious on their own but when roasted with that maple syrup… Oh my.
Toppings are totally optional but I strongly recommend some garlic olive oil and some of this vegan "parmesan" (or this nut-free version).
It just seems to bring it all together and turns it into something extra special. Croutons are always a good thing too.
Some things to love about this soup
It makes the most of seasonal produce
Celeriac is definitely underrated.
Enjoy this soup this Winter to make the most of seasonal celeriac and parsnip.
The texture is creamy, silky heaven
You can tell just from the photos how silky smooth this soup is.
It's such a comforting pleasure to eat and great comfort food for if you're under the weather.
Wonderful flavours
Roasting the parsnips in maple syrup, transform them into earthy caramel goodness.
Celeriac offers a very earthy yet fresh flavour which pairs beautifully.
It's great for batch cooking and freezing
And of course, soups are great for keeping in the freezer for lazy or rainy days.
This soup keeps well for up to 3 months. Allow to defrost overnight, before reheating.
It's suitable for allergy sufferers
All my soup recipes are vegan, meaning they're all so free from dairy (or eggs and honey). This soup is also naturally gluten-free, soy-free and nut-free.
More comforting vegan soups
Ultra Creamy Vegan Potato & Leek Soup
📖 Recipe
Maple Roasted Parsnip & Celeriac Soup
Total Time:
1 hour
15 minutes
A flavourful, comforting soup for Autumn with seasonal parsnip and celeriac.
Ingredients
500 g / 1 lb parsnips, (approx 3 large) peeled and cut into small chunks
500 g / 1 lb parsnips, (approx 1 small celeriac) peeled and cut into small chunks
2 tbsp maple syrup
2 tbsp olive oil
1 medium white onion, diced
4 cloves garlic, mined
A few sprigs of fresh rosemary, thyme and sage tied together with some cooking string
1 litre / 4 ¼ cups vegetable stock
Salt and pepper, to taste
To serve (optional)
Vegan "parmesan"
Croutons, use gluten-free, if necessary
Garlic olive oil
Instructions
Preheat oven to 200C / 390F and toss the celeriac and parsnips together with 1 tbsp olive oil and the maple syrup in a large roasting tray. Roast for about 30 minutes, until golden brown.
Meanwhile, add 1 tbsp olive oil to a large pot and saute the onion and garlic until softened.
Once the vegetables are roasted, add them to the pot with the herbs and stock.
Simmer for 10-15 minutes. Remove the herb sprigs and blend until smooth.
Add salt and pepper to taste.
(Optional) serve with a drizzle of garlic olive oil, some croutons and some vegan "parmesan"!