A vegan samosa in the form of a pot pie! This flavourful and filling pie is easy to make and tastes incredible.
I'm pleased to say that not only is this samosa pot pie as delicious as I'd hoped but it's super easy to put together, making it perfect for weeknight dinners.
You can also make this ahead of time and/or freeze it. 
Because this samosa pie includes both vegan mince and peas, it makes it quite high in protein and very filling too.
A nice alternative to a Shepherd's Pie.
Soy mince is very easy to get hold of and you should find that any supermarket will have it in their freezer section, along with the other vegetarian foods.
Most are vegan-friendly but there might be one or two that contain egg so always check first.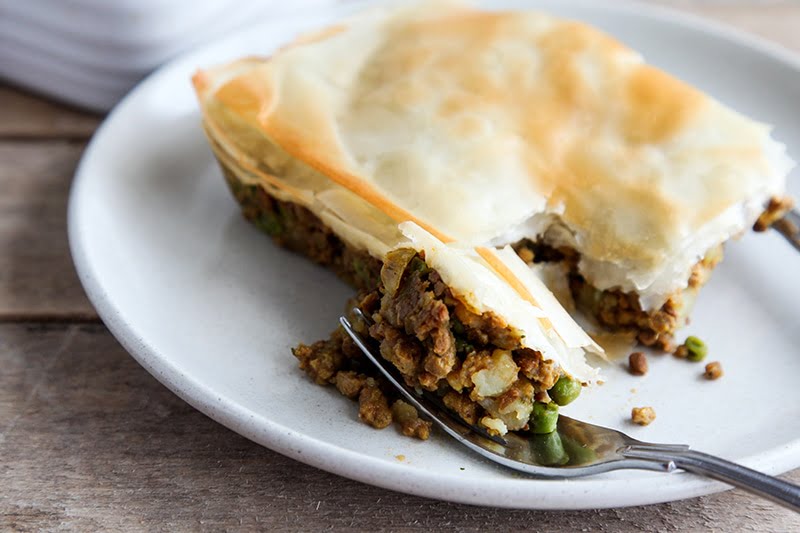 And if you've not tried soy mince before and are kind of weirded out by it – don't be. It tastes really good and you'll be hard pushed to tell the difference in a dish like this.
Also, as a bonus, vegan mince is usually very inexpensive.
You can also substitute the mince with cooked lentils.
Use two tins, drained and rinsed, in it's place.
Along with the mince and peas, this pie is also filled with potatoes, onions and lot's of spices.
To make it easier, I've just used a curry powder mix, along with some extra coriander and chili powder.
The pie is topped with 8 layers of filo pastry for a crunchy but light finish.
It's like eating a giant samosa with a generous filling. Delicious!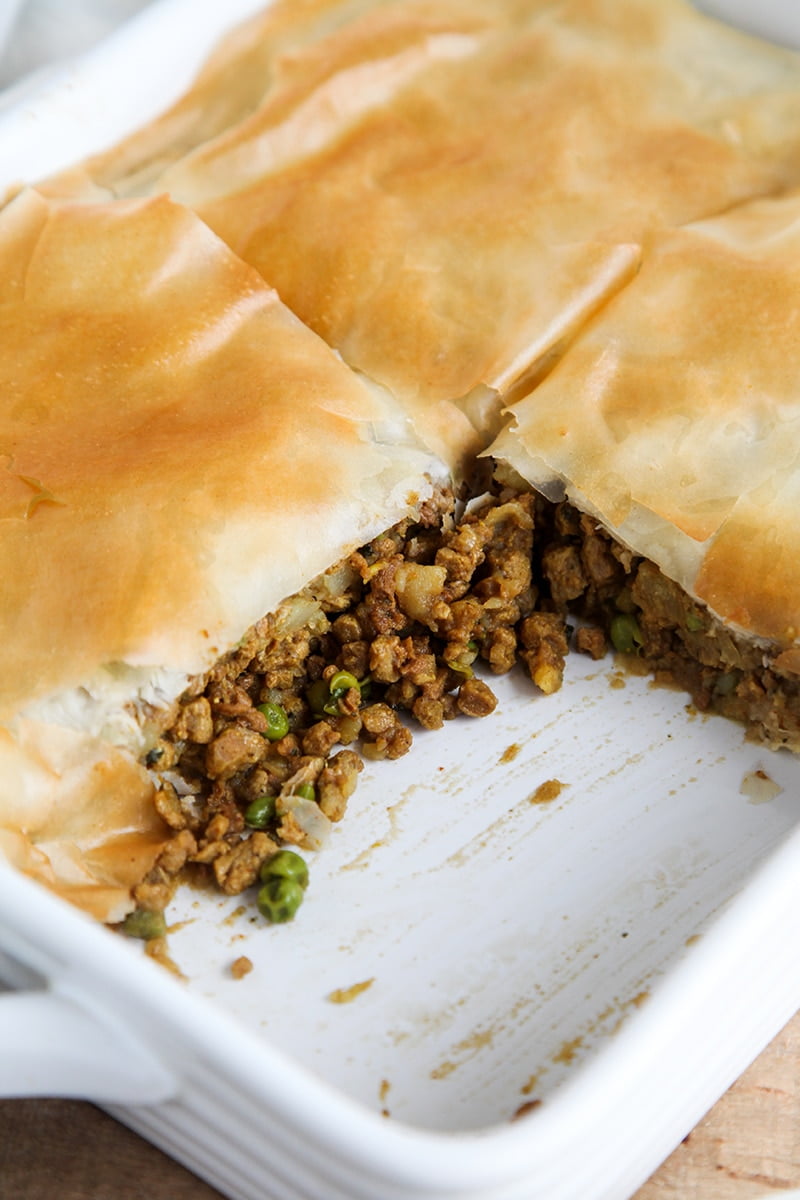 More Easy Vegan Dinners
Spicy Bean Chilli with Sweet Potato & Kale
If you give this recipe a try, make sure to let me know your thoughts in the comments, leave a rating or tag #WallflowerKitchen on instagram so I can share it on my stories!
📖 Recipe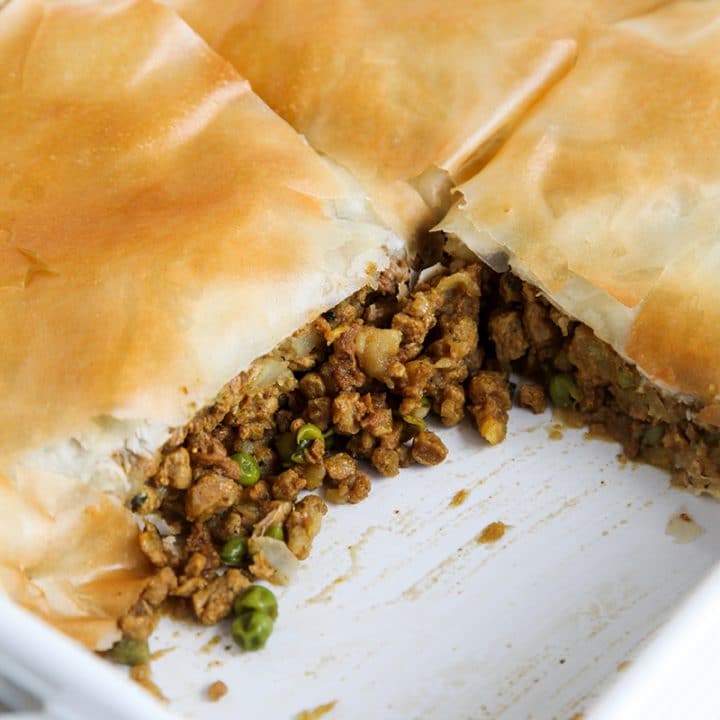 Vegan Samosa Pot Pie
An easy, flavourful dinner that can be made in advance. Perfect for weeknights!
Ingredients
2 medium potatoes, peeled and diced
150 g frozen green peas
1 tbsp vegetable oil
1 large onion, diced
3 cloves garlic, minced
400 g frozen soy mince, or 2 x tins lentils, drained and rinsed
2 tbsp curry powder
1 tbsp dried coriander
1 tsp chili powder
Salt and pepper, to taste
1 pack of filo pastry, defrosted (if frozen)
2 tbsp vegetable oil
Instructions
Preheat the oven to 180C / 350F. Let your filo pastry sit at room temperature so it's easier to work with later on.
Bring a large pot of water to a boil and cook the potatoes until soft. Add the peas in to cook during the last minute. Once cooked, drain and mash.
Meanwhile, in a large frying pan, heat the oil and saute the onions and garlic until softened. Add the curry powder, coriander and chili powder and cook for a further minute before adding the soy mince. Add a drop of water and cook for 10 minutes on a medium heat.
Combine the mash mixture with the mince and season with salt and pepper. Add some more water if it's a little dry.
Transfer to an oven dish and smooth into an even layer.
Unfold your filo pastry and start layering it on top of the mince mixture, sheet by sheet, giving it a brush with oil between each layer. I used ten layers (five sheets folded in half.) Give a final brushing with oil and slice 4 slits into the top, to allow some air to escape.
Cook for 20 minutes until golden and crisp on top. Alternatively, you can chill or freeze this dish before cooking in the oven.