A creamy mixture of leeks and mushrooms, with herbs, encased in a crisp puff pastry. This pie is well loved by vegans, vegetarians and omnivores alike, and makes a delicious and easy Sunday lunch alternative.
Recently, The Vegan Society asked me to help create them a vegan Easter menu, including a starter, main, side and dessert.
I was so excited to showcase some recipes that would appeal to both vegans and meat eaters, using fresh, seasonal ingredients.
One of the recipes I created was this Creamy Mushroom & Leek Pie, which is so easy to make and absolutely diviiiiiiiiine. One of my new favourites.
You won't believe it's dairy-free, considering the creaminess of the filling.
Jump to:
Ingredient Notes
Puff Pastry
This is a sneaky shortcut pie - meaning that it just has a pastry lid, using ready-made pastry.
Shop-bought puff pastry is usually vegan-friendly, unless it's called "all butter". Check the ingredients.
You can also make this gluten-free by using Jus Roll's gluten-free puff pastry (which is also vegan-friendly).
Dried Mixed Herbs
In Britain, you can buy little jars or boxes of a herb mixed that is just called 'Mixed Herbs' and this is usually a combination of equal parts Marjoram, Basil, Oregano and Thyme.
This is easy to make yourself or you can buy something like 'Italian Seasoning' with a similar herb mix.
Aquafaba or dairy-free milk
To glaze the pastry and give it a lovely golden colour, I highly recommend a drop of aquafaba (the liquid from a tin of chickpeas) which also acts as the "glue" to keep the pastry lid in place.
But you can also use a drop of unsweetened dairy-free milk to brush the top with before baking too.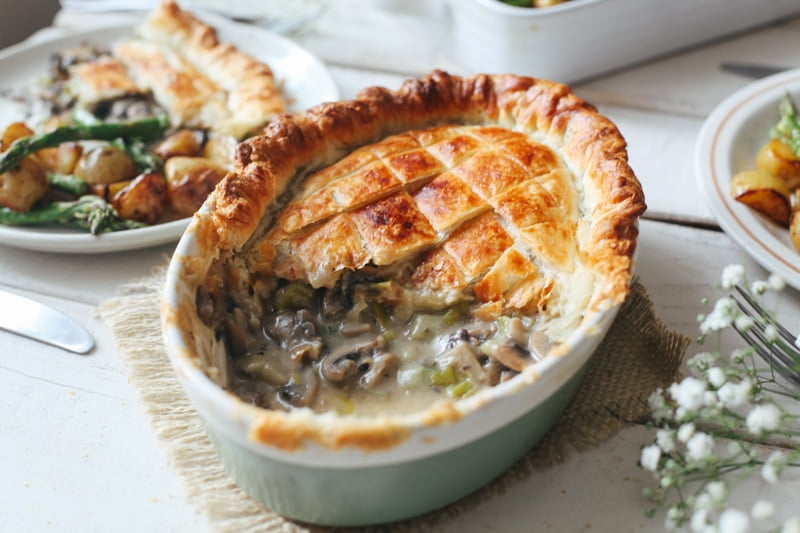 I served the pie with my Balsamic Roasted New Potatoes & Asparagus which paired wonderfully. Very hearty and satisfying!
If you make this recipe, let me know in the comments, leave a rating and tag #WallflowerKitchen on Instagram so I can share it on my stories!
📖 Recipe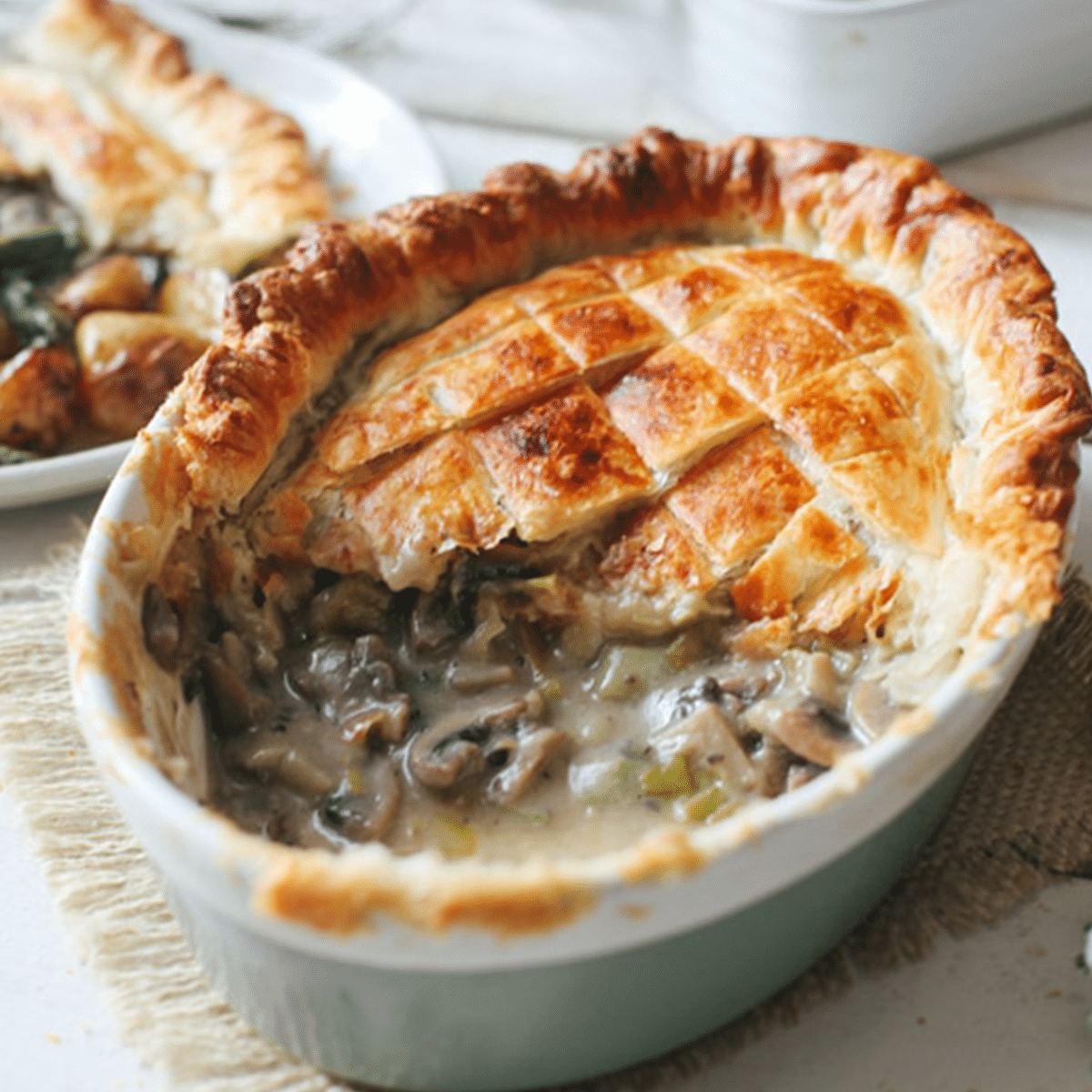 Creamy Leek & Mushroom Vegan Pie
Creamy mushrooms and leeks encased in a crispy, golden pie crust. Delicious, filling and a great choice to serve to both vegans and meat-eaters!
Ingredients
1 tbsp olive oil
2 medium leeks, trimmed and sliced into discs
3 cloves garlic, minced
500 g button mushrooms, sliced
1 tsp dried mixed herbs
A pinch of salt and pepper
For the sauce
1 tbsp dairy-free butter
2 tbsp flour
350 ml dairy-free milk
⅛ tsp ground nutmeg
A pinch of salt and pepper
For the pastry
1 roll vegan puff pastry
4 tbsp aquafaba (liquid from a tin chickpeas or other legume), or just 4 tbsp dairy-free milk, for glazing
Instructions
Add the olive oil to a large saucepan on a medium heat. Fry the leeks and garlic for 2 minutes, to soften.
Add the mushrooms, herbs, salt and pepper and stir for a minute. Place the lid on top and cook for 8 minutes
Meanwhile, in a small saucepan, melt the dairy-free butter on medium heat. Add the flour and stir until combined. Slowly add in the milk, a tablespoon at a time and whisk, until you have a smooth thick mixture. Stir in the nutmeg and season with salt and pepper
Combine the cooked leeks and mushrooms with the sauce and leave to cool completely
Make sure your puff pastry is at room temperature (if using frozen, leave at room temperature overnight) and preheat the oven to 200C.
Add the leek and mushroom mixture to a pie dish and top with the puff pastry, cutting off any excess pastry around the edges.
Crimp the edges using a fork and score a criss-cross pattern on the top with a sharp knife. Finally, dip a pastry brush in the aquafaba (or a little dairy-free milk) and brush the top of the pie, to help it brown, plus secure the edge of the pie crust to the dish.
8. Cook for 25 minutes until golden brown. Serve straight away.
Recommended Products
As an Amazon Associate and member of other affiliate programs, I earn from qualifying purchases.