Viennese Whirls are two buttery shortbread halves, sandwiched together with jam and buttercream. This vegan version is every bit as delicious as the kind you know and love!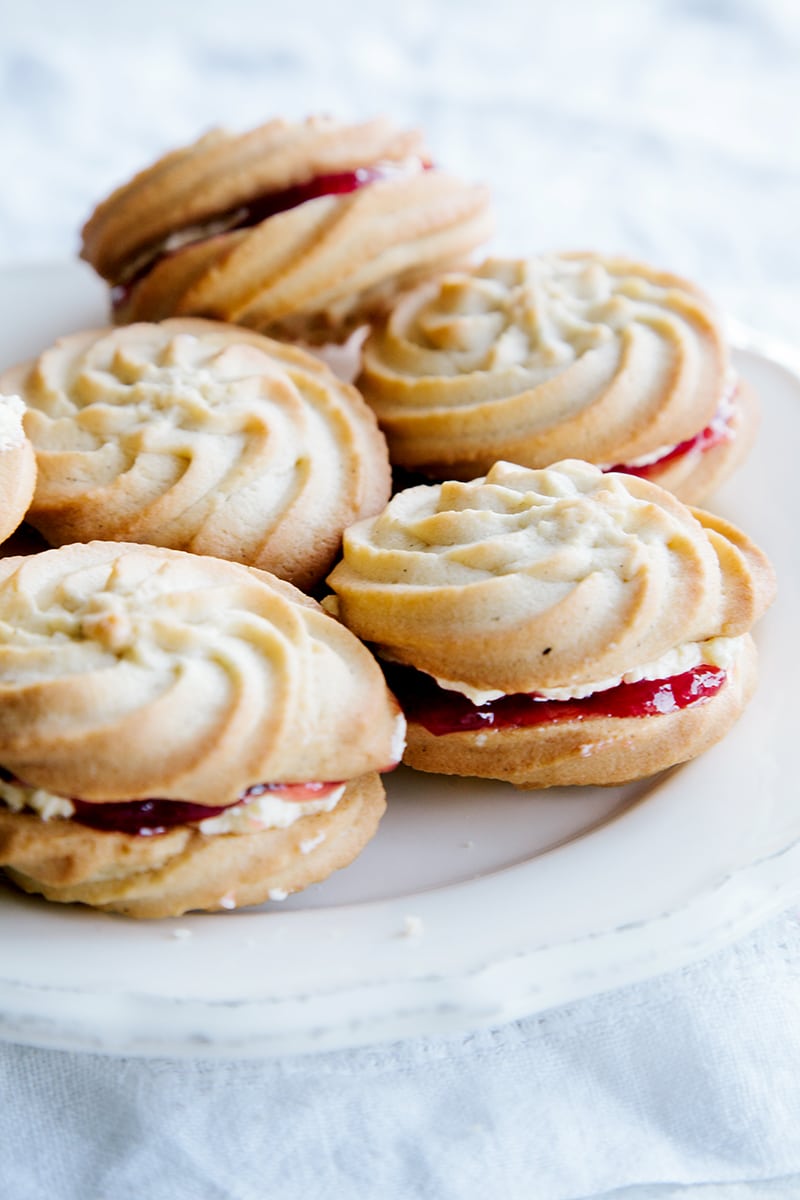 Last year, I half attempted to do a vegan bake along whilst watching 'The Great British Bake Off' and it was my intention to do the same this year.
But committing to a blog-worthy bake once a week is a little unrealistic for me so I'm just going to play it by ear this time…
When I saw a clip of this week's episode (biscuit week) I caught a glimpse of some Viennese Whirls.
I've been wanting to make vegan viennese whirls for so long so it was the perfect opportunity!
What are Vienesse Whirls?
Vienesse Whirls are a delicious but preposterous creation, originating from Britain.
They're said to be inspired by Austrian Pastries but are completely unrelated.
They consist of two butter biscuits, sandwiched together with jam and buttercream.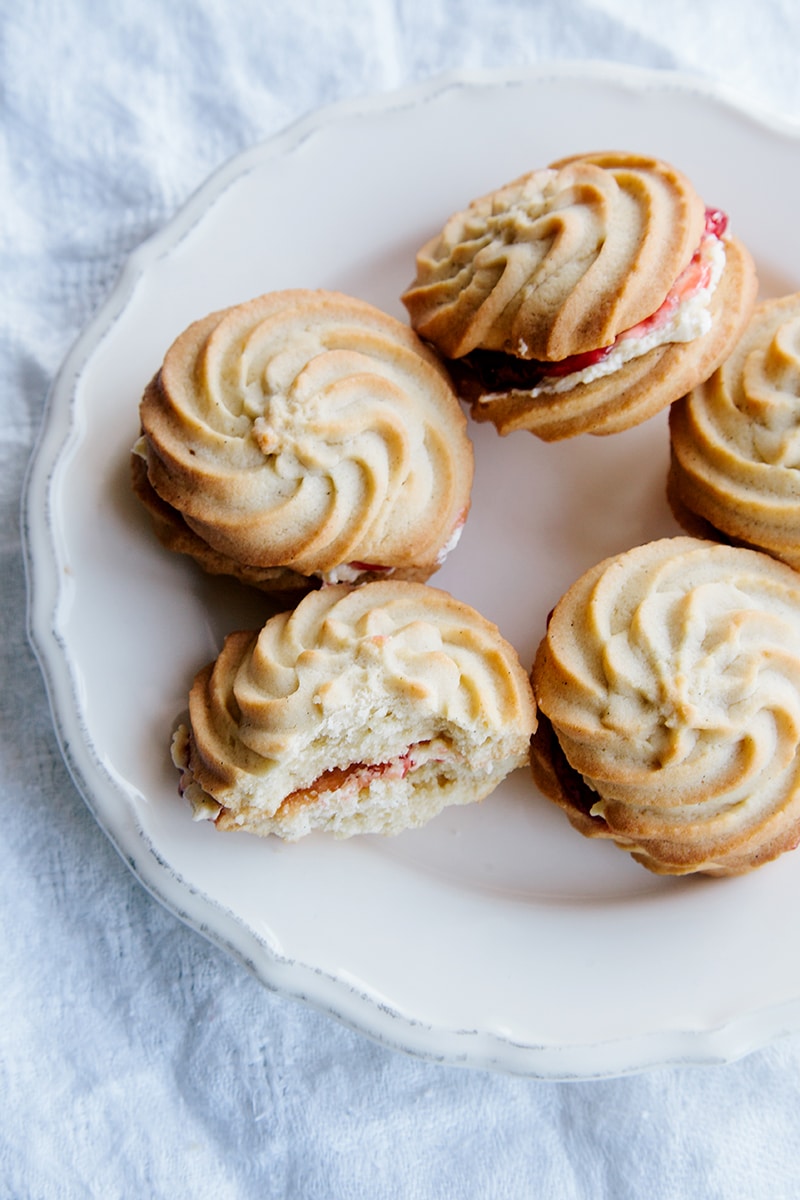 How to make dairy-free Viennese Whirls
Follow the tips below and the recipe card at the bottom of this post to make the most delicious Viennese Whirls!
For the biscuit
I used my Vegan Danish Butter Cookie recipe because I wanted that same buttery, light texture and it worked wonderfully!
The really important thing with this recipe is to use a good-tasting vegan butter.
My favourite vegan butters to bake with (in the UK) are Naturli's baking block and Vitalite. I've heard Earth Balance Buttery is a great option for those in the US.
Creating the swirl
To be precise, you can draw circles about 2 ½ inch diameter – approximately 2 inches apart. Place some baking paper of the drawings and begin piping.
Starting from the outside of the circle, apply an even pressure and swirl the pastry around into the centre. Release the pastry bag and press into the centre slightly to create a "star" shape.
It can be tricky to get right first time but practise makes perfect!
For the buttercream
Again, a good tasting butter is required, as above!
Whipped together with some confectioner's sugar for a smooth, light vegan buttercream and piped onto one of the biscuit halves.
For the jam
I recommend a seedless raspberry or strawberry jam, but feel free to experiment with other jam flavours.
Dollop one teaspoon of the jam onto the other biscuit half and sandwich them together. Voila!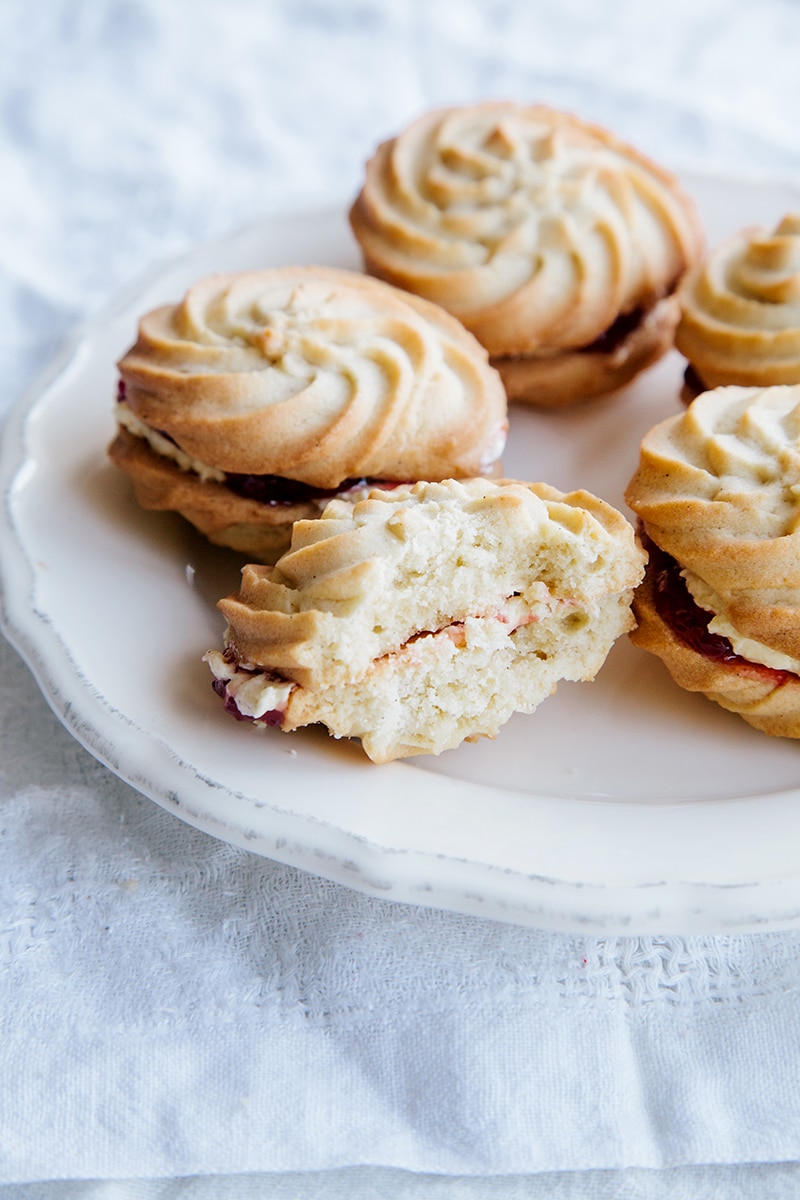 A few tips:
If it's very cold in your kitchen and you're struggling to pipe the swirls, massage the icing bag (lol) for a minute, to loosen it up.

But be careful not to overwork the dough in the bowl, as it can cause a tough mixture.

You can also add a tiny drop of milk until you have a more pipe-able consistency.


Unless you're using precise measurements, keep the whirls smaller than you think they should be as they will expand ever so slightly in the oven.


I would recommend keeping these cookies refrigerated until serving. Reason being, the buttercream may not hold up at room temperature for long hours.
More British Baking Treats:
📖 Recipe
Vegan Viennese Whirls
Delicious shortbread biscuits, sandwiched together with vegan buttercream and raspberry jam.
Ingredients
200 g / ¾ cup + 2 tbsp dairy-free butter, choose a good-tasting one!
125 g / 1 cup icing sugar
310 g / 2 ¾ cup plain flour
1 tbsp corn flour mixed with 2 tbsp cold water
2 tsp vanilla paste, or extract
1 tbsp dairy-free milk, if needed
For the filling
75 g / ⅓ cup dairy-free butter
125 g / 1 cup icing sugar
Seedless raspberry jam
Instructions
Preheat the oven to 180C / 350F and line two baking trays with baking paper.
Mix the dairy-free butter and icing sugar together in a large bowl. Add the rest of the ingredients, except the dairy-free milk.
If the mixture is too stiff/thick, add the dairy-free milk to help thin it out until you have a soft but firm mixture.
Transfer to a piping bag with a large star nozzle. Pipe the mixture into small circular spirals. Starting from the outside, working your way in. Try and keep them all the same size!
Bake for approx 12-15 minutes until lightly golden.
Leave to cool completely.
Meanwhile, make the buttercream by simply whisking the dairy-free butter and icing sugar together until sweet and thick.
Spread about a tablespoon of the buttercream onto half of the cookies. Dollop a teaspoon of rapsberry jam onto the other half and sandwich together.
Serve or keep refrigerated for up to 2 days!