Iced Gems are a classic British childhood treat, made up of mini shortbread biscuits topped with royal icing. This vegan recipe uses dairy-free biscuit base and an eggless icing.
Iced gems are a childhood favourite of mine.
Colourful, sugary icing piped onto a small biscuit base… so simple, so cute and so delicious!
Now I've created an eggless royal icing recipe, these vegan iced gems were one of the first things I had to make with it…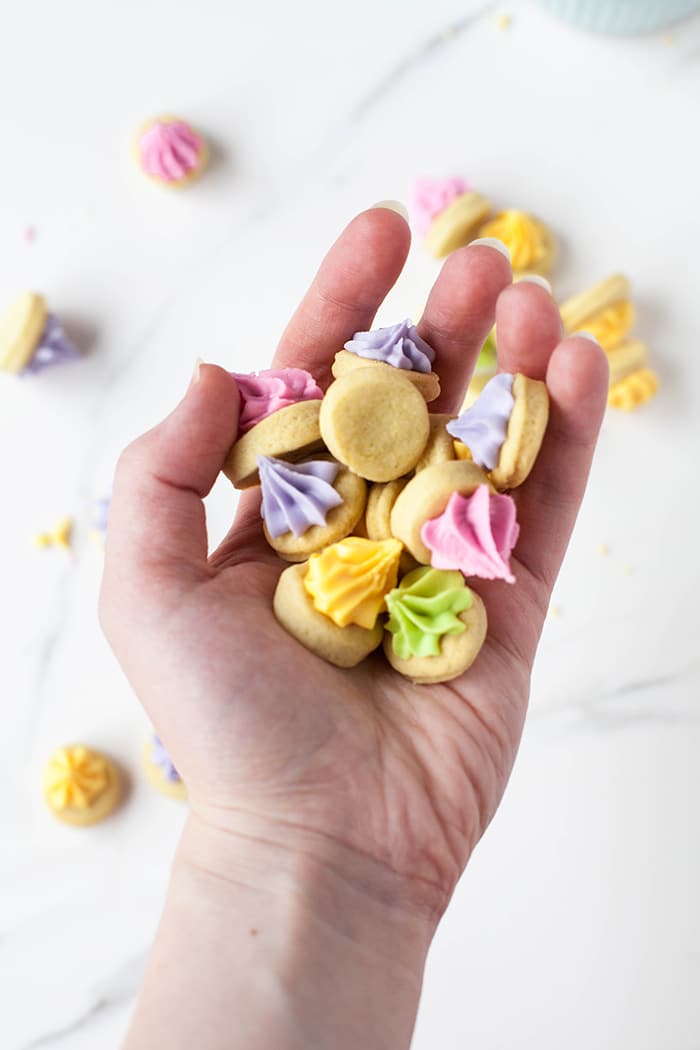 Apparently these biscuits have been around since the 1800's and first came about by accident.
After a batch of biscuits were made small than intended, a factory started selling them off, calling them "gems".
They then started adding a little icing on top and the rest was history!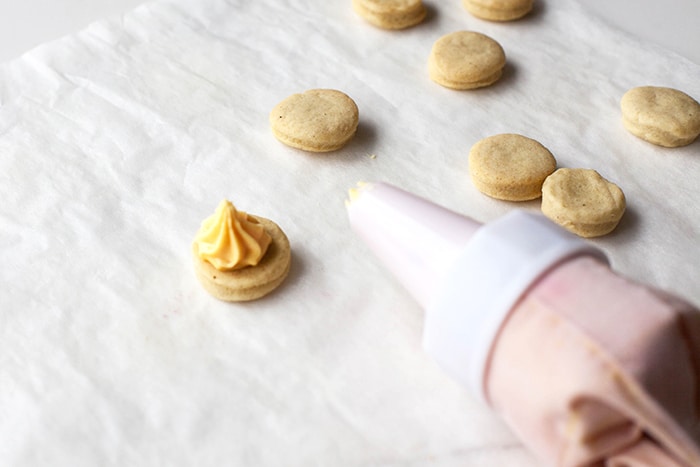 Who else has really fond memories of these biscuits? I used to eat the biscuit bit first and save the icing (best bit) for last, to melt in my mouth.
I always preferred a packet of them to crisps, in my lunchbox.
Recipe FAQ
How to make the royal icing
The instructions for making the eggless royal icing are found here.
To make it, you'll need some aquafaba (liquid from a tin of chickpeas), confectioners sugar and a piping bag to ice these gems.
How do you cut out the tiny biscuit shapes?
Get creative and use whatever you have in your kitchen! I've used a small plastic bottle cap or the base of an icing nozzle before and both have worked great.
You can get dedicated small cookie cutters but it seems silly to buy when you can usually find an alternative for free ;-)
How long do they take to set?
The royal icing hardens quite quickly, usually about 30 minutes before it gets really firm. However, it's best to give it an hour before serving for the perfect results.
What can I do with the leftover icing?
If you have any leftover icing, I recommend using it to ice some shortbread biscuits, gingerbread cookies or use one of my cupcake recipes as the base for a fairy cake and use the icing to decorate them.
📖 Recipe
Vegan Iced Gems
Adorable little vegan shortbread cookies, topped with an eggless royal icing in pretty pastel shades. These vegan iced gems are so much fun to make (and can be made gluten-free too!)
Ingredients
75 g / ⅓ cup vegan butter or coconut oil, softened
2 tbsp caster sugar
125 g / 1 cup plain flour or gluten-free flour
optional various vegan natural food dyes
Instructions
Beat the vegan butter and sugar together in a large bowl. Sift in the flour and mix until it forms a firm dough. Wrap in cling film and chill for approx 30 minutes.
Preheat the oven to 180C / 350F and line 2 baking trays with baking paper.
Roll the dough out to ¼ inch thick and use a 2cm cookie cutter (I used a small bottle cap) to create the biscuit bases. Transfer them to the baking trays and bake for 8-10 minutes until lightly golden.
Leave to cool for 10 minutes before adding the icing.
Divide your royal icing into separate bowls if using multiple colours. Add a small drop of food colouring and mix. Transfer to a piping bag with a large star-shaped nozzle and pipe a small star on top of each biscuit.
Leave to set and harden for at least 30 minutes before serving.
These should last for up to 3 days in an air-tight container at room temperature.
Nutrition Information
Yield

100
Serving Size

1 gem
Amount Per Serving
Calories

18
Total Fat

1g
Saturated Fat

1g
Trans Fat

0g
Unsaturated Fat

0g
Cholesterol

2mg
Sodium

6mg
Carbohydrates

2g
Fiber

0g
Sugar

0g
Protein

0g