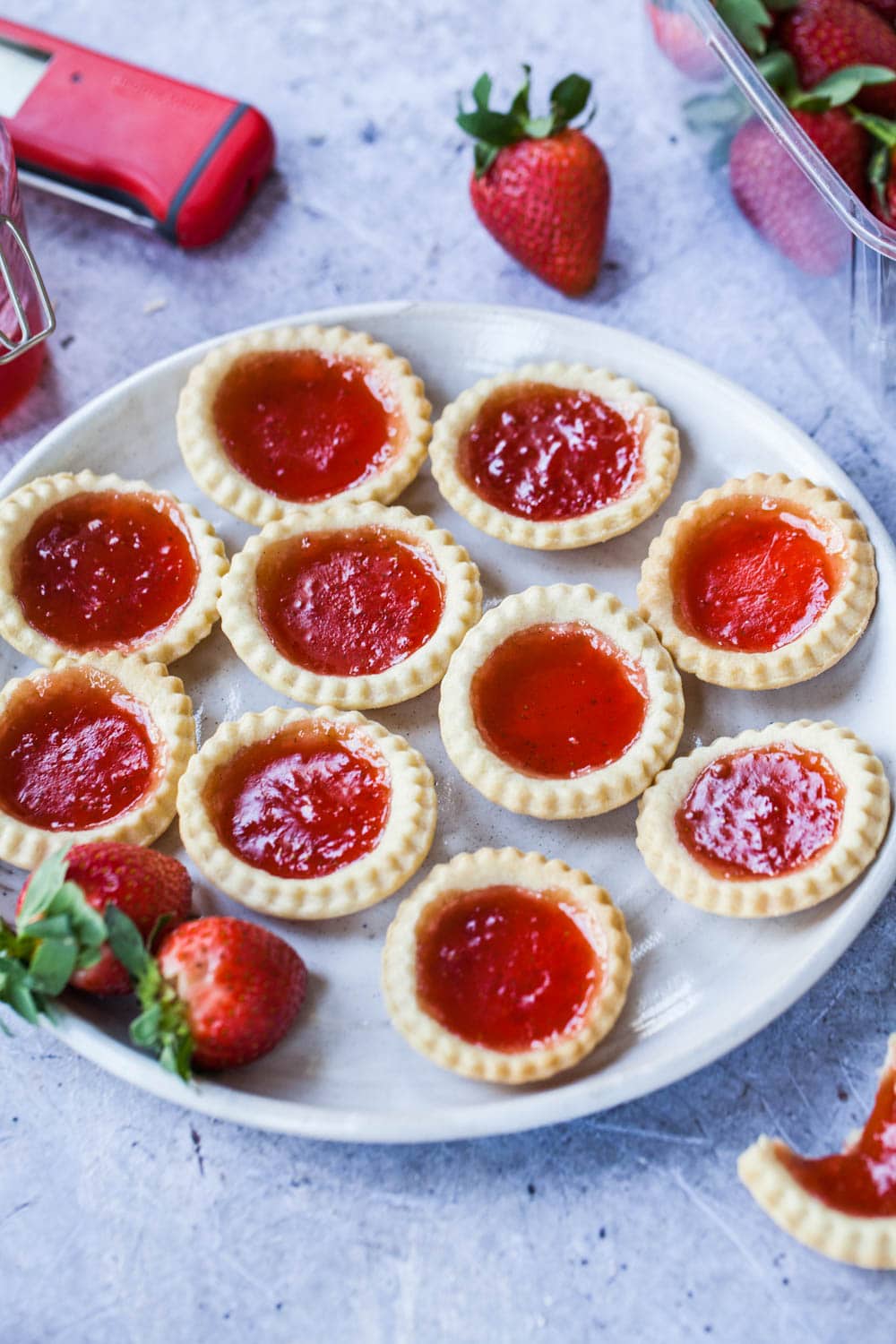 Thank you Thermapen for sponsoring this recipe!
The best recipes to share or give as gifts are the ones that people assume took you ages and required a lot of skill but were actually quite easy and fun to make.
This is one of those recipes. Yes, even with homemade jam. 
The other thing that people won't suspect from these tarts is that they're completely vegan but taste just like you remember them as a child!
Jam tarts are a classic British teatime treat.
Made with buttery short crust pastry rounds and filled with various fruit jams, marmalades and lemon curd.
I chose to use just strawberry jam in this recipe but you can use your favourite or perhaps a variety of jams.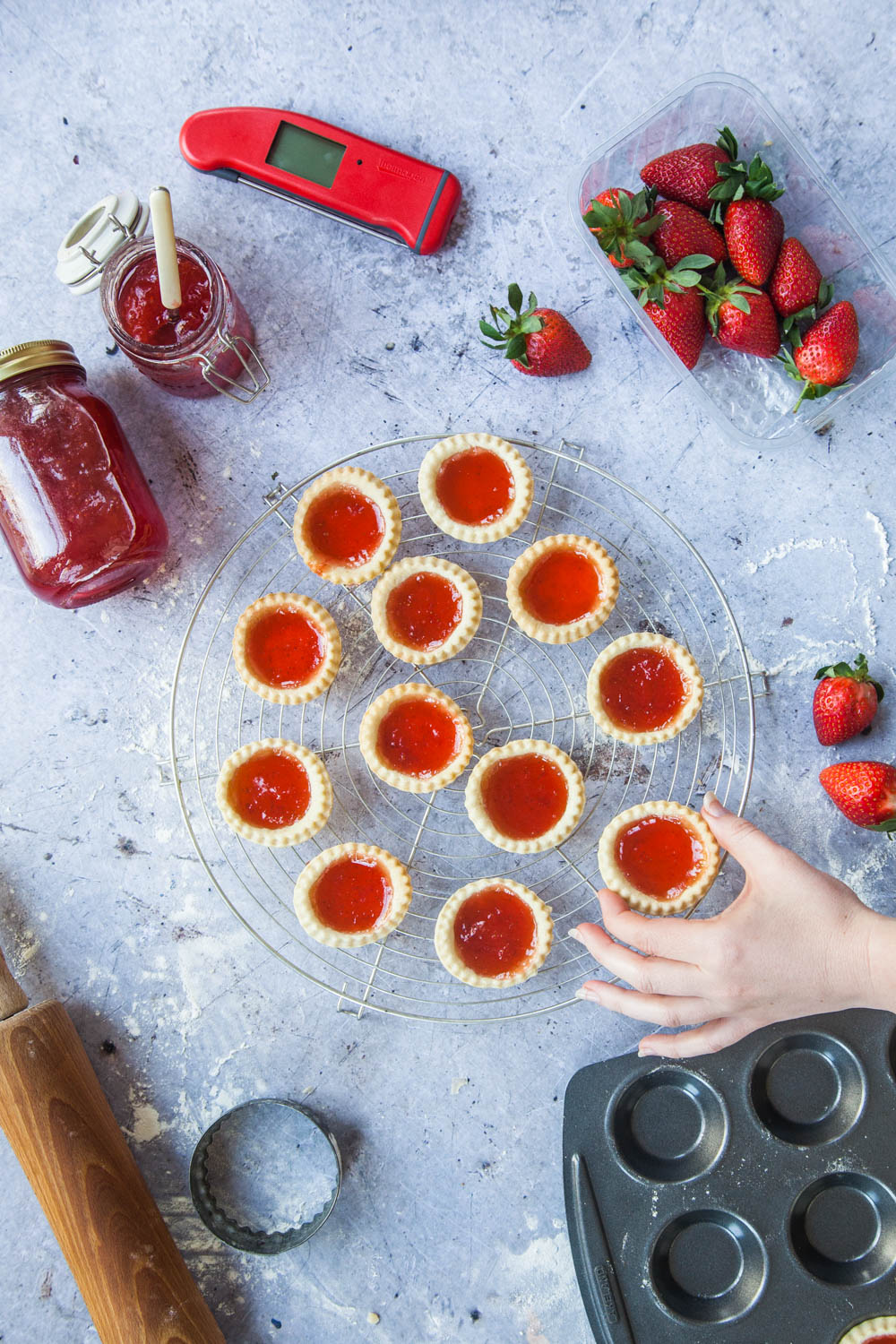 These tarts are a great recipe to make with kids, other than the jam-boiling part.
But making the pastry dough and topping the cases with dollops of jam is a lot of fun.
Using Thermapen to make homemade jam
Homemade Strawberry Vanilla Jam
So, as mentioned, I used homemade jam for this recipe (although, please feel free to use shop-bought to make things even easier!) and it's so much quicker than you might expect.
This jam was ready in under an hour. 
I decided to make strawberry jam and to make it a tiny bit different, added some vanilla at the end. SO GOOD.
Follow my simple recipe below if you want to make it from scratch. 
More British Baking Treats:
If you enjoyed this recipe, let me know in the comments, leave a rating and tag #WallflowerKitchen on instagram so I can share your creations in my stories!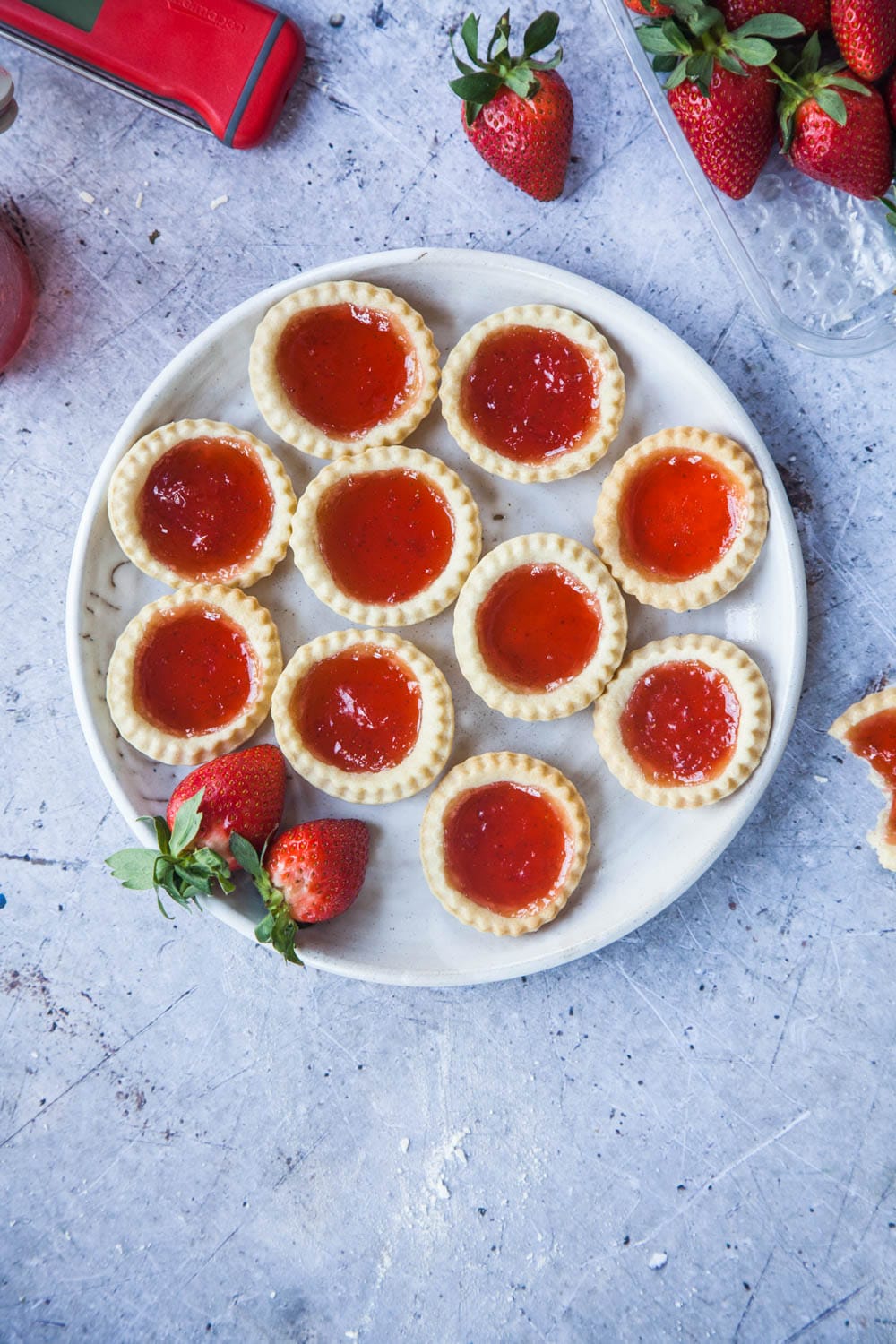 Easy Vegan Jam Tarts
Additional Time:
20 minutes
A very easy recipe for making jam tarts from scratch, including the jam! But feel free to use shop-bought jam instead, for ease.
Ingredients
Strawberry Vanilla Jam
800 g / 1.7 lbs strawberries, hulled
1 kg / 2.2 lbs jam sugar (sugar with added pectin, perfect for berries)
1 tsp vanilla extract
2 tsp vegan butter (can omit, if preferred)
Shortbread tart crusts
250 g / 8.8 oz plain flour
1 tbsp corn starch
30 g / 1 oz caster sugar
A tiny pinch of salt
140 g / 5 oz dairy-free butter
2-4 tbsp cold water
Instructions
To make the jam:
Add the strawberries to a large saucepan and mash with a potato masher until mushy.
Pour in the jam sugar and cook on a medium heat, until the sugar is dissolved. Don't let it boil yet.
Once the sugar has dissolved, turn the heat up high and bring to boiling. Use a thermometer to check the temperature reaches between 103-106C then remove from the heat.*
Stir in the vanilla and vegan butter.
Pour straight into some sterilised jam jars and seal.
It will be ready to use straight away for the below recipe but for spreading on toast, scones etc. - leave to set overnight and keep in the fridge once opened.
To make the tart shells:
Preheat oven to 180C.
Grease a shallow bun tin with some vegan butter or vegetable oil.
Add the flour to a large bow and stir in the corn starch, sugar and a pinch of salt. Add the butter and rub it into the flour with your finger tips.
Add a couple of tablespoons of cold water until you have a firm dough that holds it's shape without crumbling. If necessary, you can chill it in the fridge or freezer before cutting out the tart shells.
Cut the pastry with fluted or ordinary pastry cutters (choose ones that are about 1/2cm bigger than the tray holes). Place them into the tray and gently pat down the middle.
Fill each pastry shell with a generous teaspoon of jam and then bake for 15 minutes, until the jam is bubbling and the pastry is turning a light golden brown.
Carefully remove from the oven and leave to cool for at least 10 minutes but preferably until completely cooled.
Enjoy! Keep in an air-tight container for up to 5 days.
Notes
*If you don't have a thermometer, you can use the wrinkle test, outlined here.