Light and zesty vegan cupcakes with lemon buttercream. Topped with jelly beans! These make great treats for Easter or any time of year.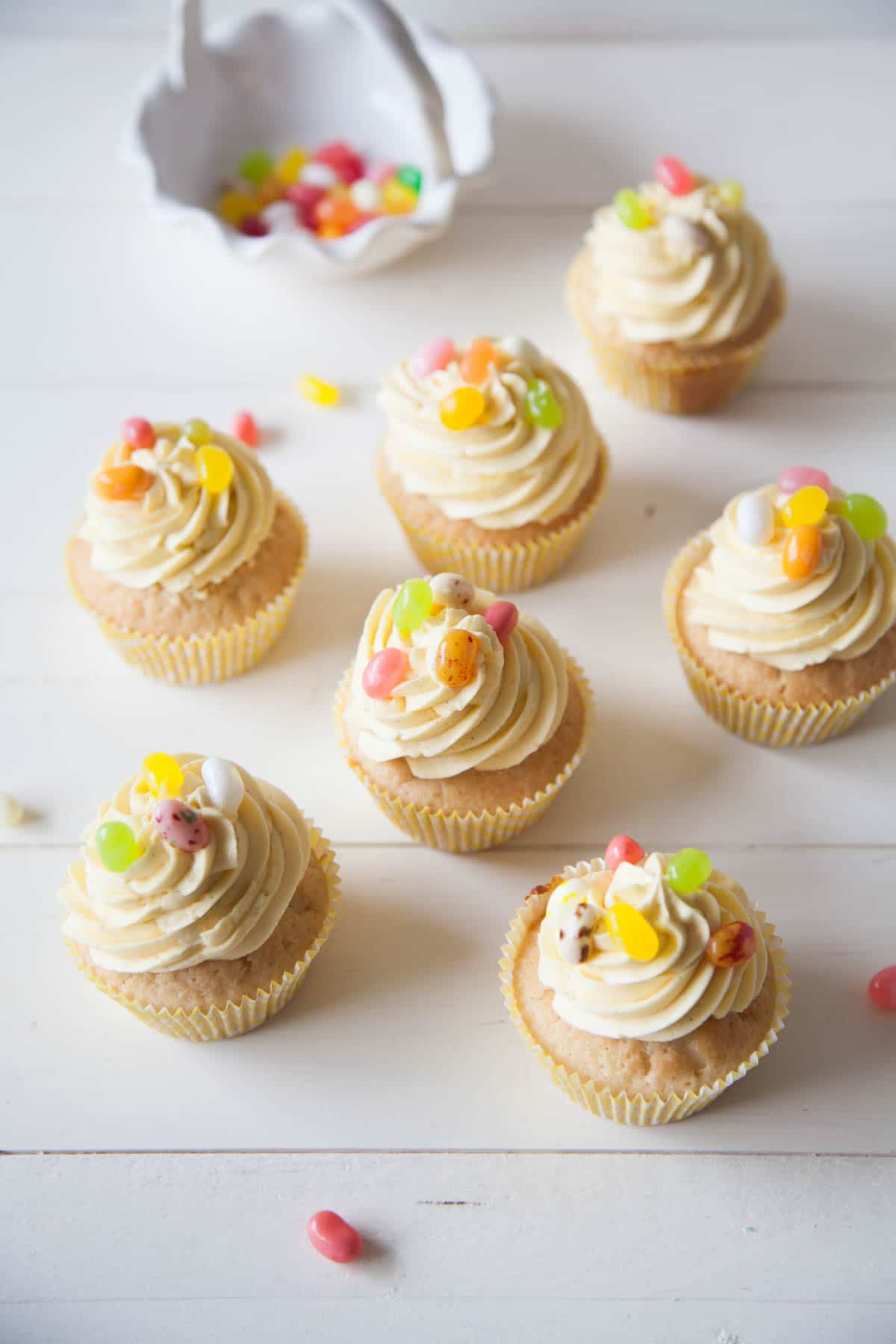 I'm so excited to share these adorable vegan lemon cupcakes with you!
With the fluffiest lemon cupcakes you'll ever try, topped with a zesty lemon buttercream and vegan-friendly jelly beans.
The jelly beans are a sweet and fun alternative to mini eggs, for Easter.
Although these cupcakes are great for any occasion and any time of year.
Kids will love these (and so will adults).
These cupcakes are so easy and fun to make! Using easy-to-find ingredients (nothing complicated or expensive).
See full recipe card at the bottom of the post.
Ingredients
For the cupcakes:
Dairy-free milk
Lemon
Self raising flour – If you can't find this, use plain flour with ½ tsp baking powder per 100g (so ¾ tsp for this recipe)
Corn starch
Sunflower oil – or other mild-tasting vegetable oil
Caster sugar – or granulated white sugar is fine
Vanilla extract
For the buttercream:
Dairy-free buttery spread – For the buttercream I recommend a good tasting spread, such as Naturli or Earth Balance Buttery
Confectioner's sugar
Vegan-friendly jelly beans, marshmallows or other sweets for toppings
Instructions
Starting by creating a "buttermilk" with the lemon and dairy-free milk, which will curdle and look weird – don't worry!
Then we simply combine the wet ingredients with the dry, being careful not to over mix, for a light fluffy cupcake texture.
The batter is divided into the 8 cupcake cases (you can use a ¼ cup or ice cream scoop to create the perfect serving sizes) and baked for 20-25 minutes at 180C / 350F.
Keep an eye on them and remove them when they're turning golden brown.
Leave to cool completely, whilst you prepare the buttercream.
Making the dairy-free lemon buttercream
Give the confectioners sugar and vegan butttery spread a really good mix, with a handheld or electric whisk, and add the juice in a bit at a time, so as not to thin it out too much.
Transfer to a piping bag and swirl a generous amount on top of each cooled cupcake.
Decorating & serving
For the fun part, you can use veggie jelly beans, vegan marshmallows, chocolates, sprinkles or whatever else you can dream up, to decorate.
Here, I've just scattered a few colourful jelly beans on top and it worked out wonderfully.
More Vegan Easter Treats:
📖 Recipe
Vegan Lemon Cupcakes for Easter
These cupcakes are made of the lightest lemon sponge, indulgent lemon buttercream and topped with adorable pastel-coloured jelly beans. Not only are these cupcakes cute and delicious but they're completely vegan-friendly. No dairy, no eggs. Vegan-friendly jelly beans make a festive alternative to mini eggs and kids will love them!
Ingredients
For the Base:
240 ml / 1 cup unsweetened dairy-free milk
Juice and zest from ½ medium lemon (save other half for frosting)
150 g / 5 ¼ oz self-raising flour*
2 tbsp cornstarch
80 ml / ⅓ cup sunflower oil
150 g / 5 ¼ oz caster sugar
1 tsp vanilla extract
For the Icing:
150 g / 5 ¼ oz dairy-free butter
280 g / 9 ¾ oz confectioner's sugar
Juice and zest of ½ lemon
Vegan-friendly jelly beans
Instructions
Preheat the oven to 180°C / 350°F and line a cupcake tray with eight liners.

Mix the almond milk, lemon juice and zest together in a jug to "curdle" slightly for a few minutes. Meanwhile, mix the flour and corn starch together in a large mixing bowl.

Add the oil, sugar and vanilla to the almond milk. ​Then mix the wet ingredients into the dry and whisk until smooth.

Divide the batter between the eight cupcake cases and bake for 20-25 minutes until golden brown and spongey to the touch. Tip, when you're dividing up your mix use a ¼ measuring cup to scoop the batter into the cases. This way, you know you're getting the same amount for each cupcake plus it helps to avoid any drips!

Leave to cool completely before decorating.

Prepare the buttercream by whisking the dairy-free butter, lemon juice, zest and icing sugar together until a thick frosting is formed. Add more icing sugar, if needed.

Transfer the buttercream to an icing bag with a star-shaped nozzle. Create buttercream swirls on top of the cupcakes.

Now the fun part! Decorate with your pastel-coloured jelly beans. Enjoy!
Notes
*If you can't find self raising, use plain flour with ½ tsp baking powder per 100g (so ¾ tsp for this recipe)