A light and zesty vegan lemon sponge cake with dairy-free lemon buttercream. Perfect for an Easter celebration.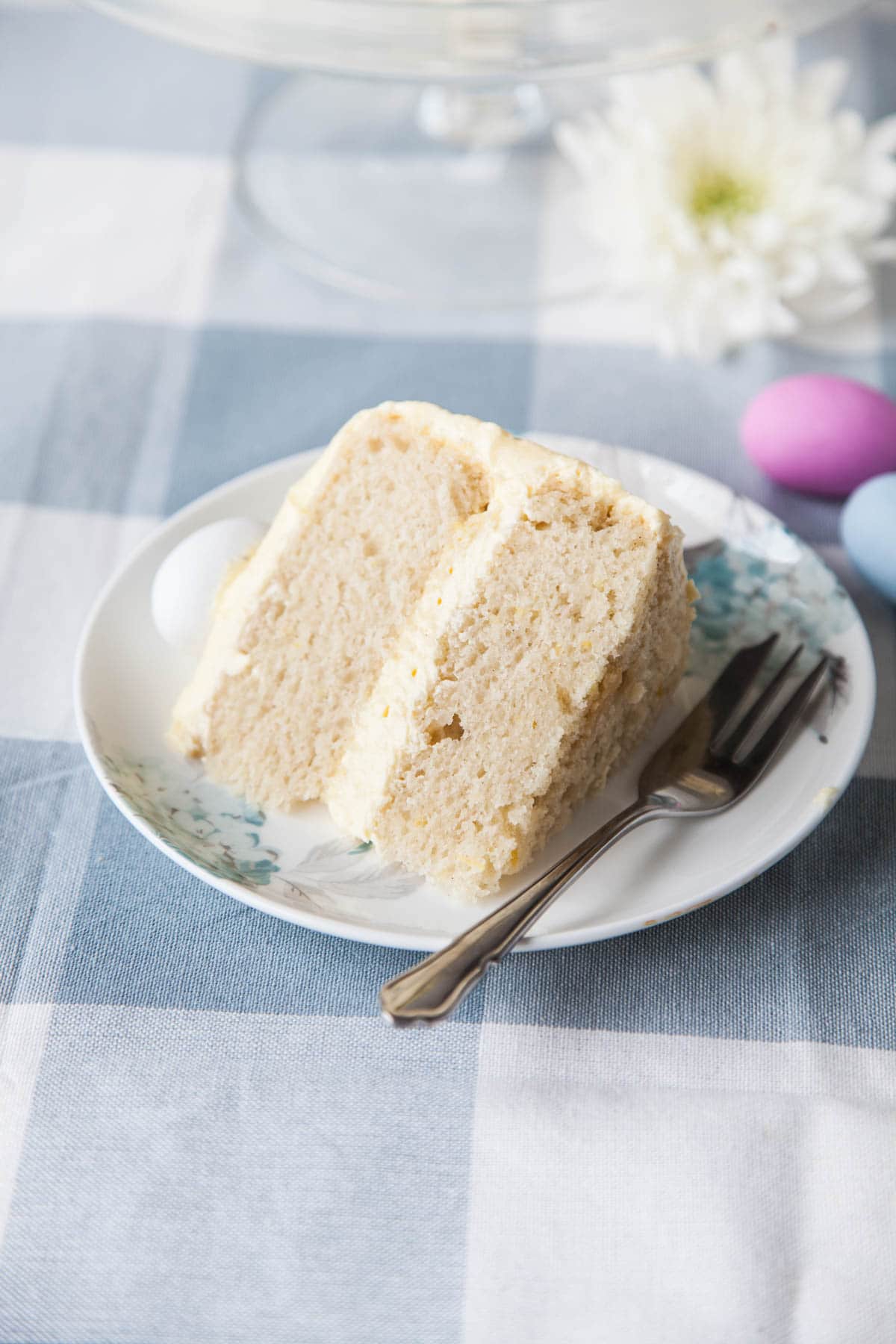 Spring is finally in the air! And I've got the perfect cake to celebrate this time of year.
This Easter Lemon Cake is made up of a light vegan lemon sponge, frosted with lemon buttercream and topped with colourful egg decorations.
Perfect for those avoiding eggs and dairy but still want something indulgent.
Vegan Mini Eggs
If you're wondering where on earth I found these vegan-friendly mini eggs – I happened to come across them in Carluccio's, of all places!
Edit: They no longer appear to stock these but now you can get vegan mini eggs from Doisy & Dam.
📖 Recipe
Vegan Lemon Sponge Cake
A soft, light and zesty vegan sponge cake with dairy-free lemon frosting and optional speckled chocolate. Perfect for Easter or as a treat for any time of year!
Ingredients
For the lemon sponge cake (adapted from cakemerchant.com)
360 ml / 1 ½ cups unsweetened dairy-free milk
Juice of half a lemon, save other half for frosting
Zest of 1 lemon
230 g / 8.1 oz caster sugar
110 ml / ⅓ cup + 3 tbsp sunflower oil
2 tsp vanilla bean paste, or extract
250 g / 8.8 oz self-raising flour*
2 tbsp cornstarch
½ tsp bicarbonate of soda
For the lemon buttercream frosting
300 g / 10.5 oz dairy-free butter
1 tsp vanilla paste, or extract
450 g / 15.8 oz confectioner's sugar
Juice of half a lemon
For the decoration
Dark chocolate, melted
(Optional) Vegan-friendly mini eggs or chocolates
Instructions
To make the lemon cake
Preheat oven to 180C / 350F. Grease and line two 8 inch cake tins.
In a large bowl or stand mixer, mix the lemon juice and zest with the almond milk and set aside for a few minutes to "curdle".
Stir in the sugar, oil and vanilla.
Add the dry ingredients a small amount at a time until well combined.
Transfer the batter to the cake tins, dividing the amount equally. Bake for 25-30 minutes until golden brown on top and a cake tester comes out clean.
Once baked, allow the cakes to rest in the pan for a few minutes before removing and cooling on a wire rack. Wait until completely cooled before decorating. I like to put the cakes in the freezer for a few hours or overnight so it's easier to decorate.
To make the lemon frosting
Simply whisk the butter with the vanilla, adding a small amount of icing sugar at a time until fully incorporated. Whisk in the lemon juice. Taste and add more sugar, butter or lemon juice as needed.
To decorate
You may need to trim your cake slices if domed on top, to create even layers.
Place one layer on your cake stand or board and add a large dollop of icing on top. Smooth to the edges, using an icing spatula and add more as needed until you have a thick filling.
Place the next layer on top and repeat.
Start smoothing the frosting around the sides of the cake to create a thin "crumb layer". At this stage, I like to put the cake in the fridge for about an hour to set slightly and help make the final layer much smoother.
Apply the rest of the frosting to the cake and work your way around, using a turntable if possible, to create a smooth layer.
Once frosted, use a pastry brush to dip into the melted chocolate and carefully flick the chocolate onto the cake to create a speckled effect.
Top the cake with mini eggs or chocolates to finish.
Keep refrigerated for up to 4 days. Enjoy!
Notes
*If you can't get hold of self-raising flour, use 2 teaspoons of baking powder + ½ tsp bicarbonate soda, mixed with the flour.