This is so easy to throw together and makes such a comforting meal. 
Chickpea flour does a pretty good job as an egg replacer but I do find that a few extra flavours help make this extra "eggy".
The number one ingredient is black salt or 'Kala Namak' which instantly gives food an amazing eggy taste. It can be bought online or in specialist food stores.
Secondly, I like to add some nutritional yeast or "nooch" as we like to call it! It's usually used to give food a cheesy flavour but it somehow really adds to the overall flavour here.
Lastly, a pinch of garlic powder seems to really lift the flavour.
These extras are optional but recommended if you want that eggy taste to come through. It will still taste great without, though!
This dish is:
Vegetarian and vegan
Gluten-free
Nut-free
Low calorie (only 223 kcal per serving)
Low fat (only 2.5g per serving)
Quick and easy to make – ready in 10 minutes!
📖 Recipe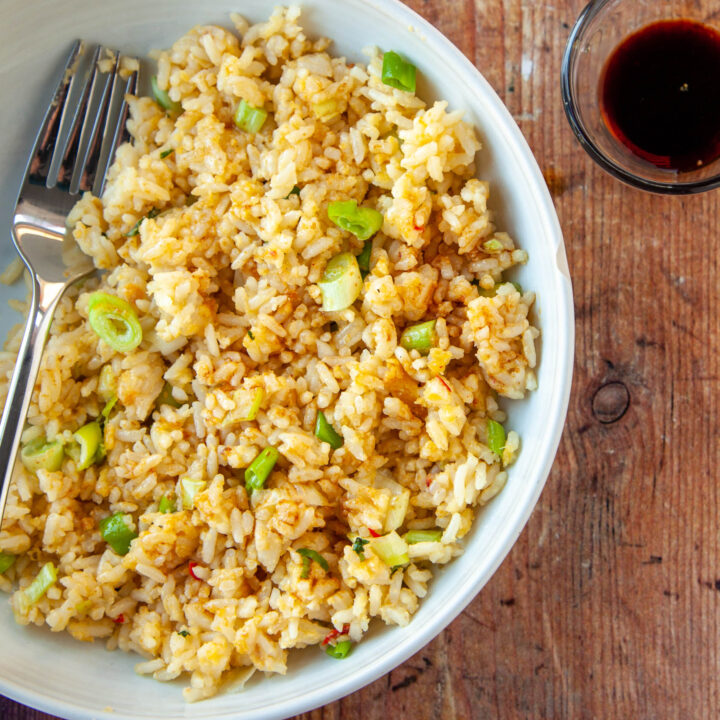 Vegan Egg Fried Rice
Do you miss egg fried rice? This dish will cure your cravings and is so easy to make!
Ingredients
4 tbsp chickpea flour (Besan / Gram flour)
160 ml (⅔ cup) water
1 low-salt vegetable stock cube
2 tbsp nutritional yeast
1 tsp black salt (see notes)
½ tsp garlic powder
1 tbsp sesame oil or other vegetable oil
500 g / 1.1 lb pre-cooked rice
5 spring onions
2 tbsp soy sauce / tamari sauce
Instructions
In a medium bowl, whisk together the chickpea flour and water until smooth. Add in the nutritional yeast, black salt, stock cube and garlic powder.
Heat the oil in a wok or frying pan and add the "egg" mixture. Leave to firm up for a few seconds before breaking up with a wooden spoon.
Once the chickpea mixture has turned into an eggy scramble, add the rice, onions and tamari sauce and cook until well combined and the rice is hot. Serve and enjoy!
Notes
Black salt, also known as Kala Namak, gives a sulphuric "eggy" flavour so is highly recommended but not essential - Just use ordinary salt instead if you prefer. You can find it in Asian supermarkets, some health food stores or online.
Nutrition Information
Yield

2
Amount Per Serving
Calories

223
Carbohydrates

41.1g
Fiber

2.6g
Protein

6.6g