An easy, comforting one-pot meal with vegan sausages, potatoes, carrots and caramelised onions.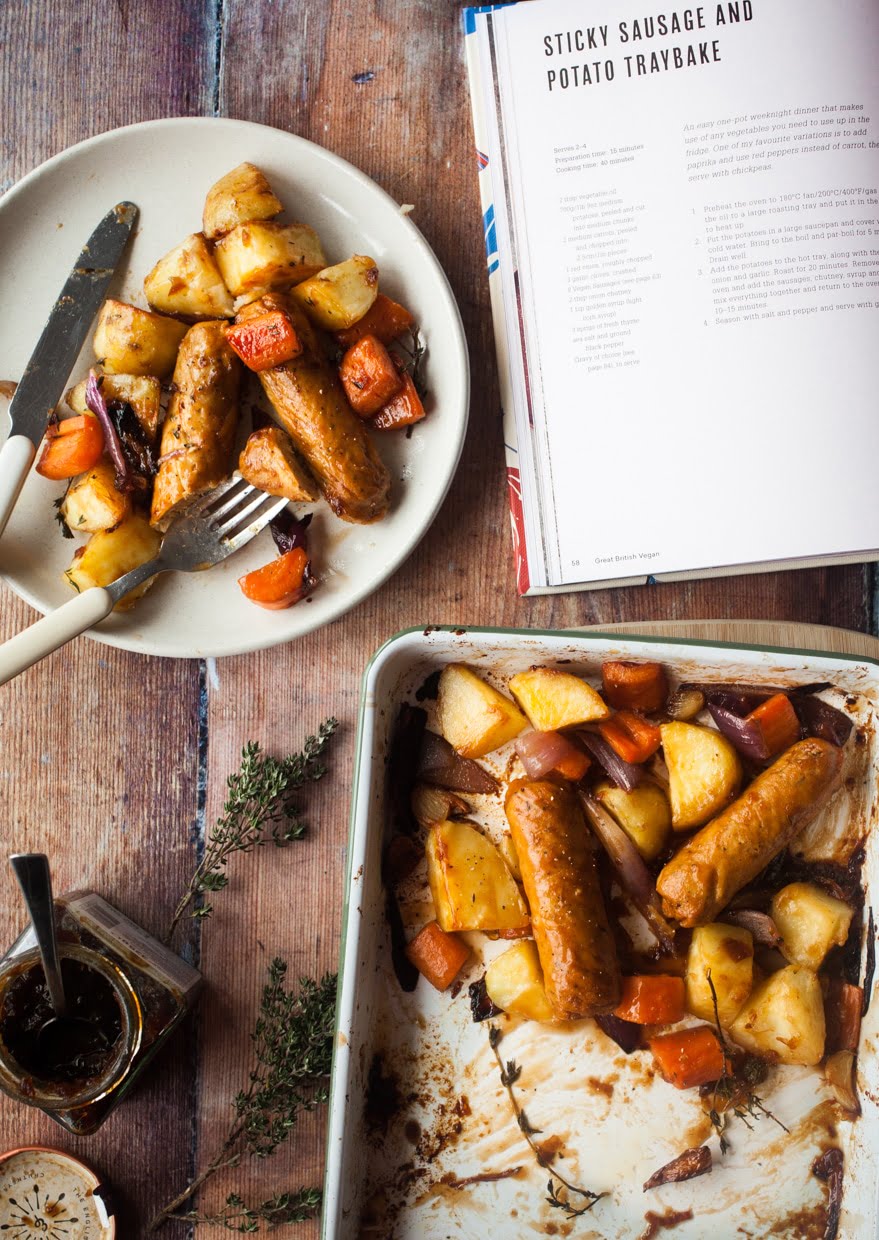 Nearly every single recipe in my cookbook 'Great British Vegan' has an accompanying photograph but the 'Sticky Sausage & Potato Traybake' on page 58, didn't get a chance to shine… so here it is.
Although, what you see here is about half the size of the actual recipe because there is just little old me to feed and don't want anything to go to waste!
And since I wanted to show people a visual of the end result, I thought I would share the full recipe too, for those who don't have a copy of the book (yet 😉.)
This sticky veggie sausage traybake is a really tasty, wholesome recipe that is soooo easy to throw together.
Great to share with vegans, vegetarians and omnivores alike.
One of my favourite twists is to add ½ tsp paprika to the potatoes, swap carrots for red peppers and stir in some cooked chickpeas in the last few minutes of roasting.
You can use your favourite vegan sausages but here I am using Linda McCartneys which are so readily available and great for storing in the freezer.
I also have a recipe for homemade sausages in the book which are really easy and very healthy too – using just wholefood ingredients and no soy.
Recipe featured in my cookbook 'Great British Vegan' – Get your copy now for more vegan British classics!
📖 Recipe
Sticky Vegan Sausage & Potato Traybake
An easy and versatile veggie traybake that feeds four (or two very hungry) people. Easy to halve for smaller portions.
Ingredients
2 tbsp vegetable oil
700g/1lb 9oz white potato, cut into medium chunks
2 medium carrots, peeled and chopped into 1in pieces
1 red onion, roughly chopped
3 garlic cloves, crushed
8 frozen vegan sausages
2 tbsp onion chutney
1 tsp golden syrup
3 sprigs of fresh thyme
sea salt and ground black pepper
Vegetable gravy, to serve
Instructions
1. Preheat the oven to 180ºC fan/200ºC/400ºF/gas 6. Add
the oil to a large roasting tray and put it in the oven to heat up.
2. Put the potatoes in a large saucepan and cover with cold water. Bring to the boil and par-boil for 5 minutes. Drain well.
3. Add the potatoes to the hot tray, along with the carrots, onion and garlic. Roast for 20 minutes. Remove from the oven and add the sausages, chutney, syrup and thyme, mix everything together and return to the oven for 10–15 minutes.
4. Season with salt and pepper and serve with gravy.

Nutrition Information
Yield

4
Amount Per Serving
Calories

415
Total Fat

15g
Saturated Fat

1g
Sodium

22mg
Carbohydrates

61g
Fiber

13g
Sugar

6g
Protein

21g