Thank you to Natural Balance for commissioning this recipe!
A morbid but fun and delicious dessert, made up of a raw vegan chocolate mousse, topped with chocolate crumble "dirt" and cookie tombstones.
Vegan, gluten-free and with unrefined sugars for healthy a healthy Halloween treat.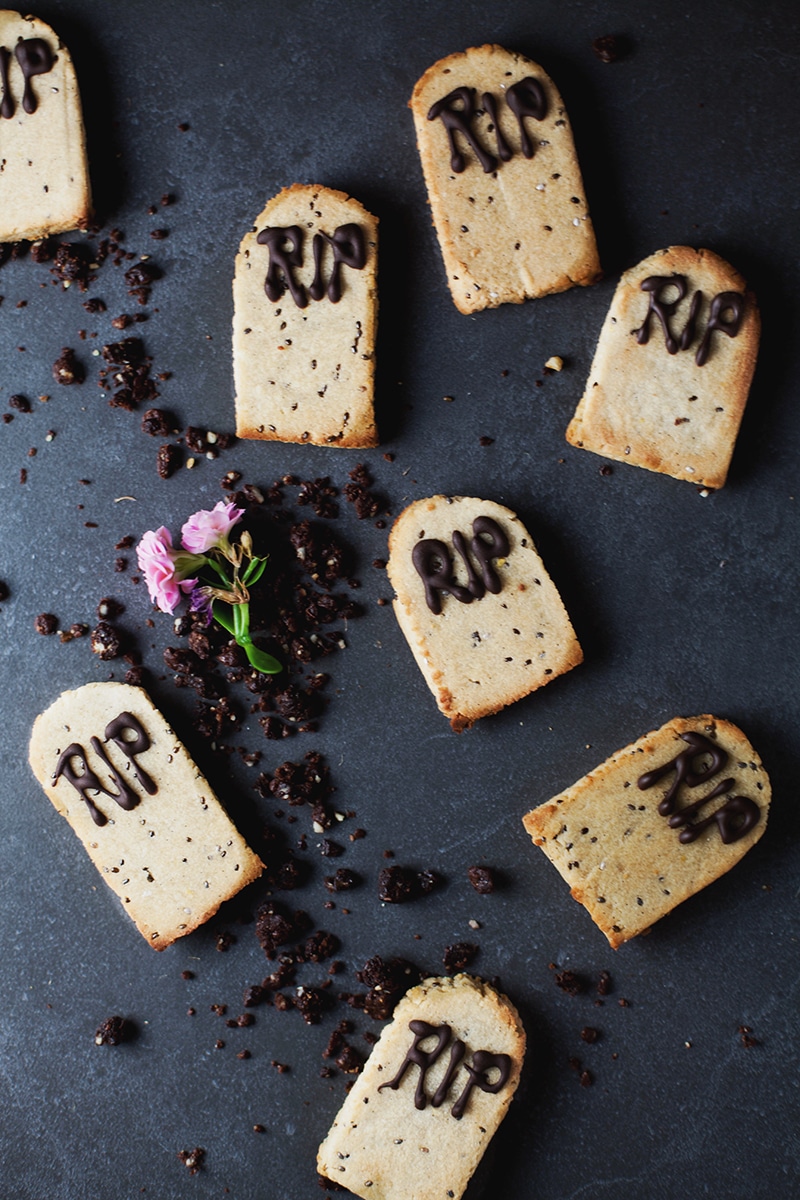 I created this recipe for Natural Balance, using their Nakd bars – you can use any of the chocolate ones here.
However, if you can't get hold of them – don't worry, you can still make this recipe! Just follow the notes at the end of the recipe card for alternative instructions.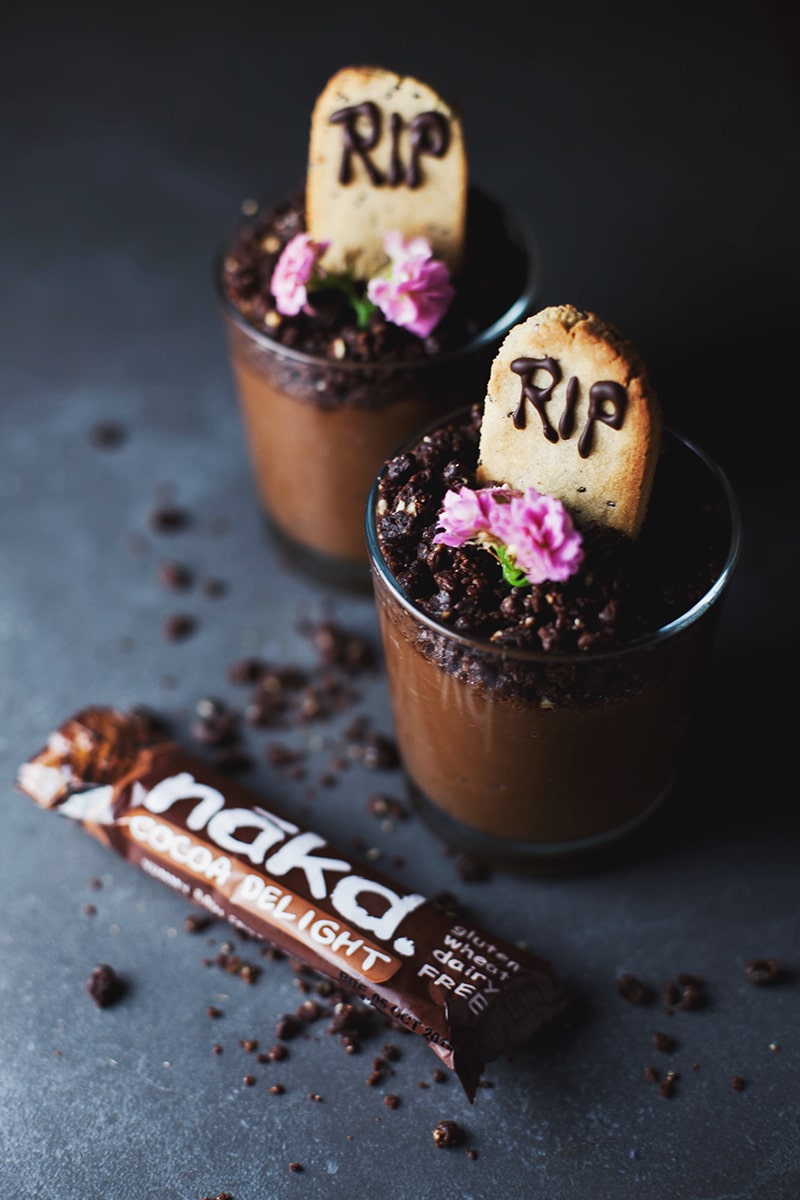 More Halloween Treats
Vegan Chocolate Ghost Cupcakes
📖 Recipe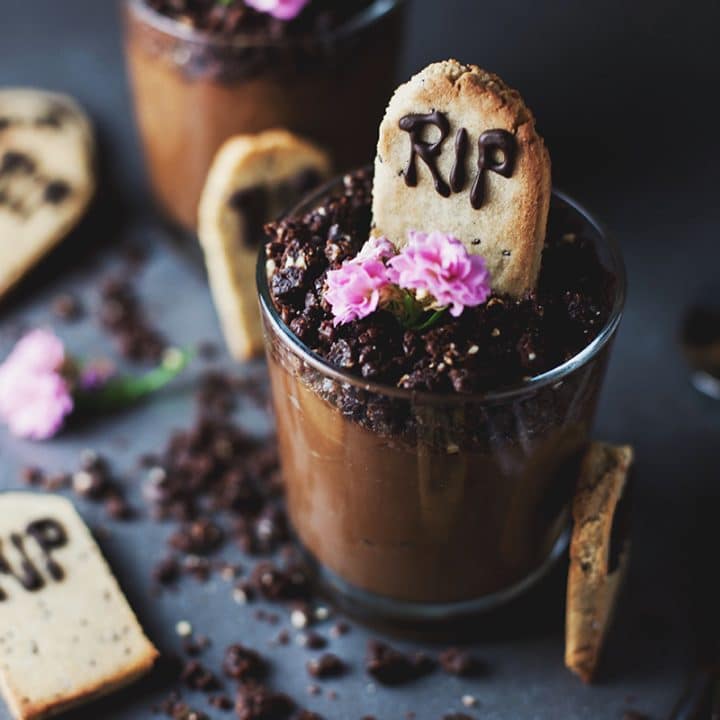 Graveyard Raw Chocolate Mousse Pots!
Lemon poppyseed tombstone cookies paired with velvety chocolate mousse with a Nakd bar crumble topping. A deliciously spooky dessert perfect for Halloween!
Ingredients
For the chocolate mousse:
2 ripe avocados
8 tbsp cocoa powder
8 tbsp maple syrup or agave nectar
120ml dairy-free milk
For the topping:
4 x Nākd Cocoa Delight bars (see notes if you can't get hold of these)*
For the tombstone cookies
175 g / 1 ¾ cup ground almonds
1 tbsp arrowroot powder
2 tbsp coconut oil
2 tbsp agave nectar
1 tbsp vanilla extract
Zest of 1 medium lemon
1 tbsp poppy seeds
For the chocolate icing
2 tbsp coconut oil
2 tbsp cocoa powder
1 tbsp agave nectar
1 tsp vanilla extract
Instructions
To make the mousse
Scoop the flesh out from the avocados and add to a blender, along with the cocoa powder, sweetener and milk. Blend until smooth and creamy.
Divide the mousse equally and spoon into your serving glasses. Leave in the fridge for at least 30 minutes before serving
Add the Nākd Cocoa Delight bars (see notes if making from scratch) to a food processor and grind until it turns to rubble.
To serve, spoon the crumbled bars on top of the mousse pots and top with a few edible flowers.
To make the cookies
Preheat the oven to 180c / 350f and line a baking tray with parchment paper.
In a food processor or mixer, mix together the ground almonds and arrowroot powder. Add the coconut oil in a small bit at a time so it's evenly distributed throughout the dough.
Mix in the rest of the ingredients and turn the dough out onto a board.
Roll the dough so it's about ¼ inch thick and using a small sharp knife, cut out your tombstone shapes. Or , if you have tombstone cookie cutters, even better!
Transfer to the baking sheet and bake for 5-8 minutes until golden brown around the edges. Leave to cool before icing.
To make the icing
Melt the coconut oil over a bowl of hot water. Stir in the cocoa powder, agave and vanilla extract. Leave to cool in the fridge for a few minutes.
Transfer the chocolate to an icing bag with a narrow nozzle, suitable for writing. Test a small amount to see if the icing is too runny. If so, return to the fridge to firm up slightly. Once it's the perfect texture, pipe your RIP letters onto the top of the tombstone cookies and leave to set in the fridge for at least 10 minutes.
To assemble
Stand the tombstone cookies on top of your mousse pots.
Optional: Add a few small edible flowers to complete the look.
Notes
*If you can't get hold of Nakd bars, you can use another kind of raw chocolate bar OR simply blend 35g / ¼ cup soaked raw cashews, 2 tsp cacao powder and about 3 Medjool dates, until you have a crumbly dense mixture.