Crunchie bars are a classic British chocolate bar with a honeycomb centre. This dairy-free version is just like the original and fun to make too!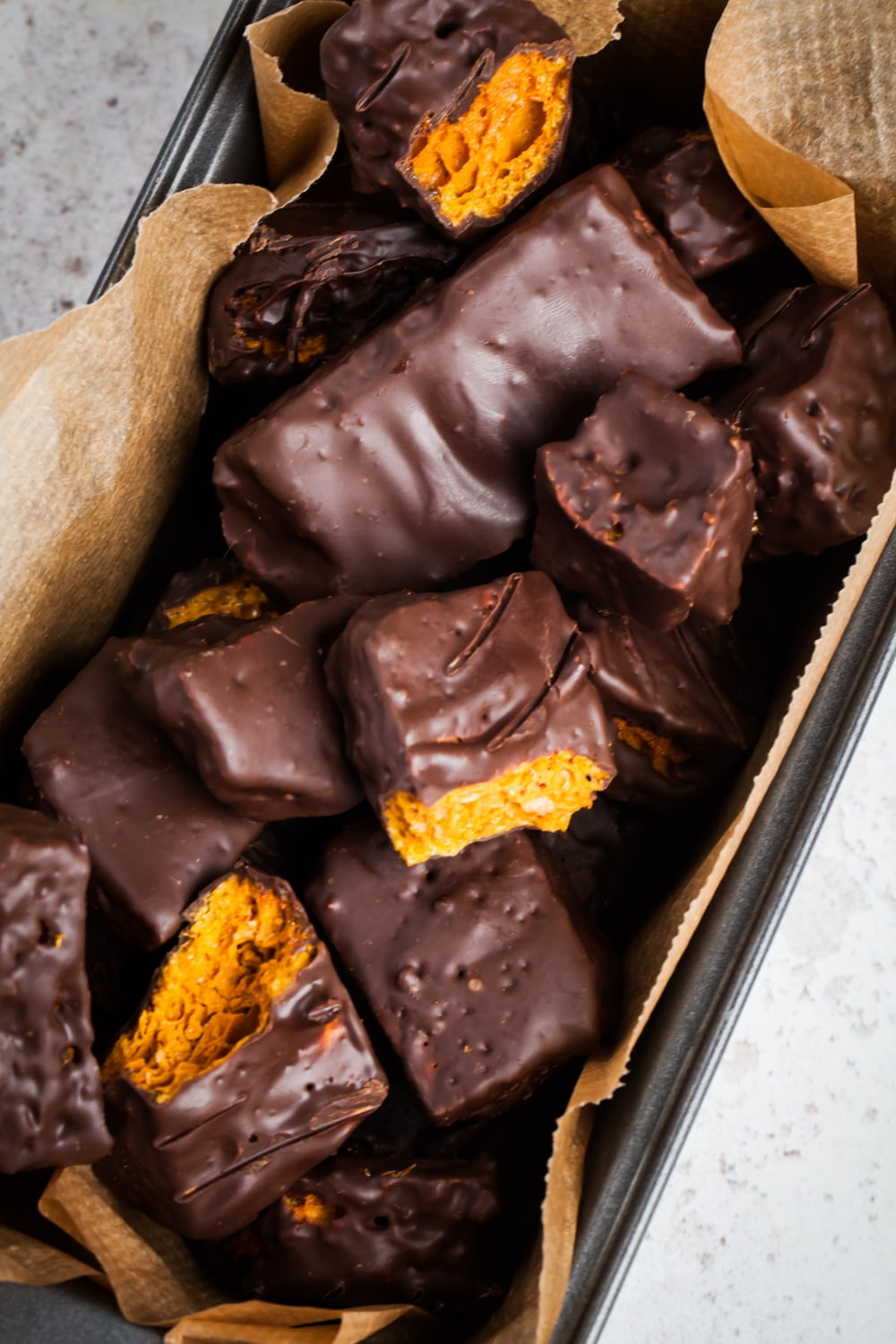 It had been far too long since I had a Crunchie bar.
For those unfamiliar with this chocolate bar, it is basically just honeycomb wrapped in chocolate.
Sweet, crunchy and very light.
Jump to:
Since Halloween is coming up, I figured a confectionary treat of some kind was in order. So some vegan crunchie bars were in order!
Also, I always associate honeycomb candy with Halloween. Probably because it is also sometimes referred to as 'Hokey Pokey'.
AND because it is also referred to as 'Cinder Toffee' which is traditionally eaten around Bonfire Night, which is coming up too…
The good news, is this recipe is super simple and needs only 4 ingredients.
The challenging part is you have to work quickly so make sure you have everything prepared before you begin, such as your tin lined or greased and everything measured out and to hand.
Follow the photo instructions below or scroll straight down to the bottom of the post for the full text.
How to make vegan Crunchie Bars
Ingredients:
You will need:
Sugar,
Golden syrup,
Bicarbonate of soda,
Dark or dairy-free chocolate chips
The equipment
You will need:
A large deep pan,
Wooden spoon or whisk
20cm / 8 inch square tin lined with greaseproof paper
Medium heatproof bowl
Fork
Wire rack
(optional) a knife or toffee hammer.
Instructions:
Melt the sugar with the syrup on a low heat, until the granules have dissolved.
Bring to a boil then immediately reduce to a simmer for 5 minutes or so until the mixture turns golden amber. Be careful not to burn.
Once a nice, rich golden colour, remove from the heat and add the bicarbonate of soda.
Work quickly to whisk until dissolved. Then immediately tip into your prepared tin.
Allow to set for 1-2 hours.
When completely cooled, remove the honeycomb from the tray and break into pieces. You can use a knife or hammer (it is tricky to create neat pieces as it breaks up so easily!)
Add the chocolate to the heat proof bowl or dish and microwave/gently heat on a double boiler until melted. Allow to cool slightly.
Then dip the honeycomb pieces in to coat and allow to set on a wire rack.
Scroll down for the full recipe and a video.
Video
📖 Recipe
Vegan Crunchie Bars
Total Time:
1 hour
15 minutes
Homemade version of one of my favourite chocolate bars! Crunchy toffee honeycomb, covered in chocolate.
Ingredients
200 g / 7 oz caster sugar
5 tbsp golden syrup
3 tsp bicarbonate of soda
300 g / 10 oz dark chocolate or dairy-free milk chocolate chips
Instructions
Line or grease a 20cm square tin. Have the tin nearby when you are cooking.
Add the sugar and golden syrup to a large, deep saucepan. Put on a low heat and allow the sugar to gently dissolve.
Once the granules have disappeared, bring to a boil then immediately lower to a simmer and cook for 5-8 minutes until the sugar turns a golden amber colour.
Remove from the heat, add in the bicarbonate of soda and work quickly to stir until dissolved and immediately pour the bubbly mixture into the prepared tin.
Allow to set for 1-2 hours.
Meanwhile, add the chocolate to a heat-proof bowl and melt on a double boiler or in the microwave. Allow to cool slightly.
Once the honeycomb is completely set, remove from the tin and paper and break into pieces. You can use a knife to try and gently break into squares but be warned - it breaks easily!
Dip each chunk or bar into the melted chocolate and transfer to a wire rack with paper or a tray underneath to collect the drips. Allow to set in the fridge for 1 hour before serving.
Notes
Best kept in the fridge or a cool, dark place. Will keep for about 3 weeks in an air-tight container.