Hi everyone! I must apologize for my absence these past couple of weeks… but it's been for a good reason, I assure you.
You see, I have been busy writing a book and this past month or so has been about me manically testing recipes and proofing text to make sure everything is ready as soon as possible.
I'm happy to say I am now finished and the book will be available next week, listen out for more details in the next few days!
Anyway, for now I am sharing this very refreshing drink I made over the weekend. A fresh lemonade, sweetened with maple syrup and infused with peach and thyme flavours.
It's been very muggy these past few days and this really hits the spot in terms of hydration and taste.
It has everything you love about homemade lemonade but with the sophisticated pairing of peach and thyme along with a healthier sweetener.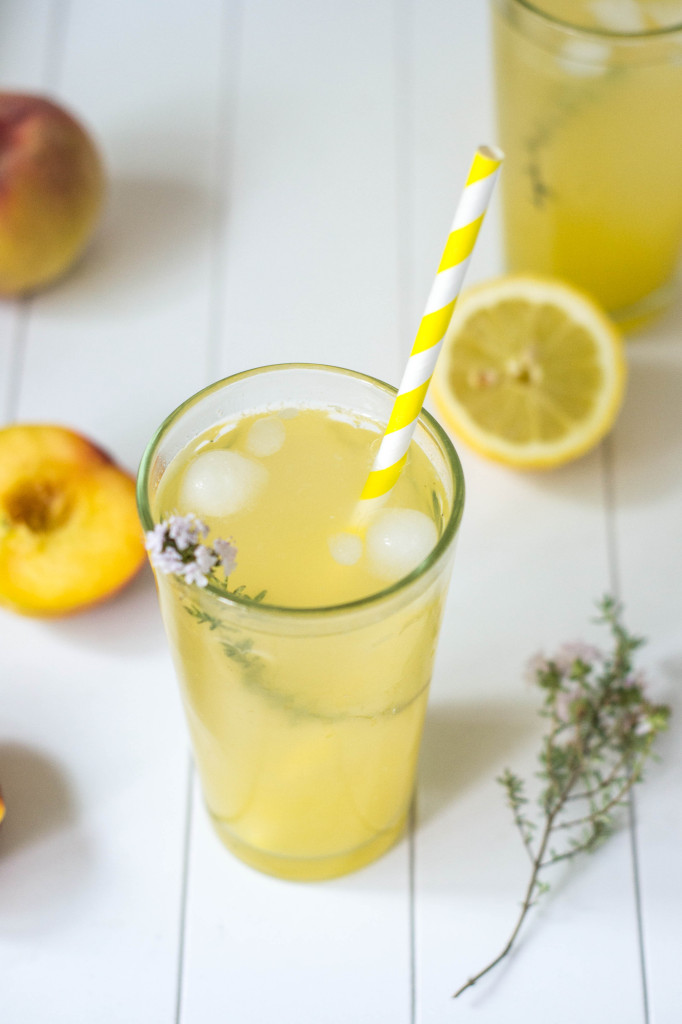 📖 Recipe
Maple Lemonade with Peaches & Thyme
A delicious, thirst-quenching, homemade lemonade infused with maple, peach and thyme flavours.
Ingredients
3 peaches, sliced
Zest of 1 small lemon
A few sprigs of fresh thyme, reserve some for serving
120 ml / ½ cup maple syrup
720 ml / 3 cups water, still or sparkling
120 ml / ½ cup freshly squeezed lemon juice
Instructions
In a blender, combine the peaches, lemon zest, thyme, maple syrup and ½ cup of the water. Blend until smooth.
Strain the mixture through a fine-mesh sieve and into a large pot or bowl. Discard the leftover pulp.
Stir in the lemon juice then top up with the water until you reach a desire taste / sweetness. Add more if needed.
Pour into jugs or bottles and keep in the fridge for up to 5 days.
To serve, pour some over a glass of ice and add a few sprigs of fresh thyme and lemon slices to the glass, if you wish.