This smoothie not only tastes like a blended cinnamon cookie but it's also a hormone balancing smoothie! With maca, cinnamon and almond for great taste and nutrition combined.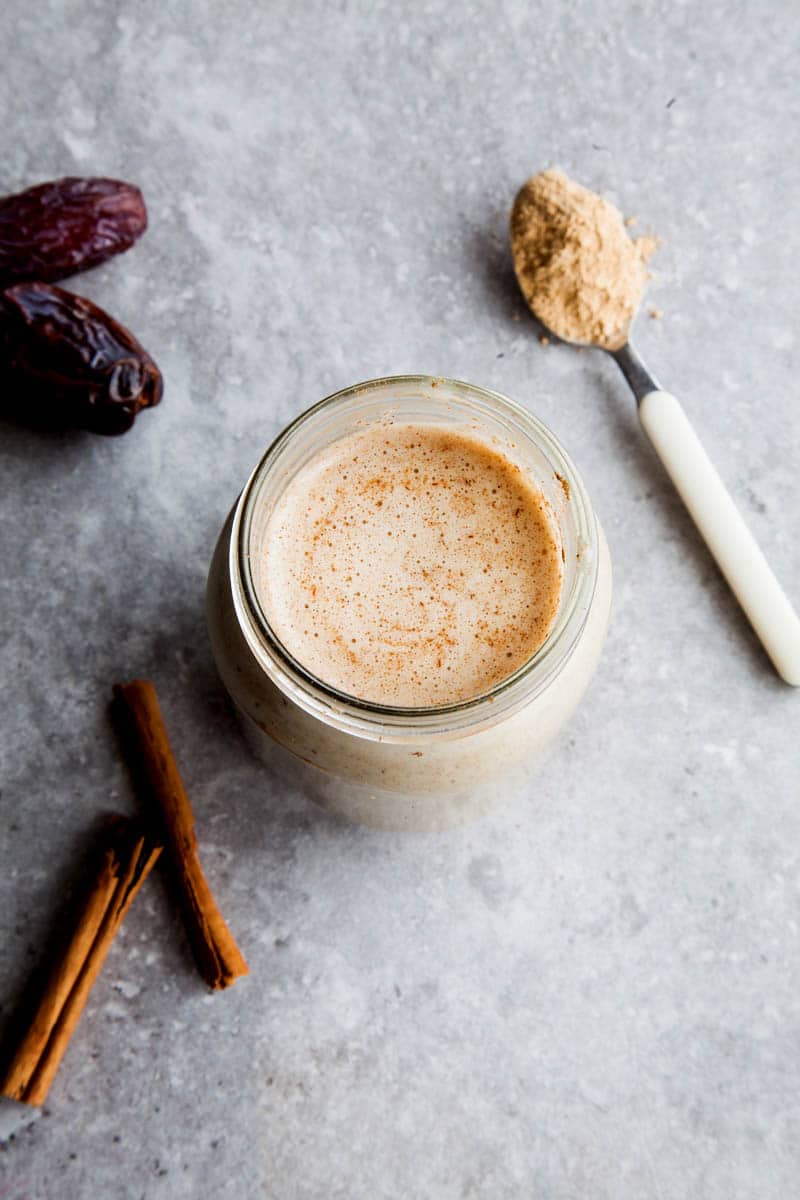 It is so delicious, regardless of any health benefits, so I make this quite often. But I am definitely nutritionally conscious when it comes to hormones too.
This would be a great recipe to add to your seed-cycling regime, if that's something you're trying.
Please bear in mind that I am not a health professional and this is just a recipe based on what tastes good + some information I have collected from elsewhere. It might not be for you though, so consult with a professional if you're unsure.
Hormone-Balancing Smoothie Ingredients
This smoothie contains ingredients that are known to help balance hormones, such as:
---
Maca – Maca root is a herbal adaptogen that can provide nutritional support to help our bodies balance hormones and protect us from stress. It also happens to taste SO GOOD. It has a slight malted milk flavour.


Flaxseed – Flaxseed are rich in lignans (which function as phytoestrogens), omega 3 and fibre.


Almond butter – Almonds can help regulate your hormone-producing glands and balance blood sugar levels. The almond butter tastes amazing in this smoothie, plus adds a rich texture.


Ground cinnamon – Cinnamon is known to decrease insulin resistance in women with PCOS, lowers inflammation and will give this smoothie an incredible flavour!
---

Other ingredients you'll need:

(Optional) Raw vegan protein powder – I sometimes use pure hemp protein powder here, but it's totally optional and I often have it without. It's just if you want to get some extra protein into your breakfast.


Vanilla extract – To add more of that cookie flavour


Unsweetened dairy-free milk – Of your choice. I love almond milk but oat and coconut will work well too.


Ice cubes – To give it a frosty shake texture!


Medjool dates – For natural sweetness. You can use other kinds of dates but Medjool gives a slight caramel taste too, which I adore.
And that's it! Find the full recipe below.
More healthy vegan smoothies
Hormone Balancing Smoothie with Almond, Maca & Cinnamon
A delicious, comforting smoothie that has a sweet cookie flavour but contains lot's of hormone-balancing nutritional goodness, including almond, maca and cinnamon.
Ingredients
2 tbsp almond butter
2 tbsp ground flaxseed
1 - 2 tsp maca powder
½ tsp ground cinnamon
(Optional) 1 tbsp raw protein powder, (I used hemp)
1 tsp vanilla extract
360 ml / 1 ½ cups unsweetened dairy-free milk
Approx 10 ice cubes
2 medjool dates, pitted
Instructions
Simply add everything to a blender and mix until smooth.
Taste and adjust flavours, if necessary.
Serve and enjoy!
Nutrition Information
Yield

2
Serving Size

g
Amount Per Serving
Calories

280
Total Fat

14g
Saturated Fat

2g
Trans Fat

0g
Unsaturated Fat

11g
Cholesterol

11mg
Sodium

82mg
Carbohydrates

34g
Fiber

6g
Sugar

23g
Protein

16g