Penne, fresh tomato, cucumbers, red onion and a homemade vegan almond feta make up this fresh and tasty Greek pasta salad. Gluten-free option.
I've stated before that I'm not a salad sort of person. Meaning I'm not a fan of the stereotypical salads made up of mostly leaves.
The ones that so many people seem to think vegans live on.
But lettuce and I don't really get on so when it comes to salads, they're a no-go.
Instead, I opt for veggie-filled salads such as the classic Greek Salad, which was always one of my favourites.
I've made this Greek salad even more substantial, I've turned it into a pasta salad!
Using brown rice penne which is not only gluten-free but high in protein and much more healthy than ordinary wheat pasta.
To veganize it, I've made a feta cheese from almonds and don't worry it's SUPER quick and easy to make, with no expensive ingredients…
Quick Vegan Almond Feta
I've seen a few almond feta recipes around that look fantastic but they all require baking, setting and sometimes fermenting. For this recipe, I wanted something really quick and easy to throw together so I came up with this easy vegan feta.
I was inspired by the process of making nut milk. After you've drained the milk, using a cheesecloth or bag, you're left with a dense, crumbly mixture and that's exactly the texture I wanted for the feta!
It still retains lot's of flavour and nutrition, plus you get a creamy milk to use for cooking out of it too.
So to make this almond feta, all you need to do is:
Add ½ cup ground almonds, juice from 1 large lemon, 2 tablespoons of nutritional yeast, ¼ cup almond milk and 1 tsp mixed herbs to a high-powered blender.


Mix until smooth then add then strain through a cheesecloth. I used the nut milk bag that came with my blender but a muslin cloth will work just as well also.

Drain the liquid into a bowl, squeezing out as much of it as you can until you're left with a dense, crumbly almond meal.


Keep the liquid as it's delicious and great for cooking! You can add it to risottos, pasta, soups etc.


The "feta" should be soft and crumble easily, making it perfect to scatter over salads. However, it also spreads quite well too and would be delicious on a slice of crusty bread.


Now you have the perfect feta substitute to add to your Greek salads. Or, in this case, Greek Pasta Salad!
Like I say, this also spreads well so would be delicious to serve with crackers or spread on some bread, or pizza!
Anyway, back to the salad. Because that's what the feta is really for…
This pasta salad is:
Vegetarian & vegan
Dairy-free & eggless
Gluten-free
Soy-free
High in plant-based protein
📖 Recipe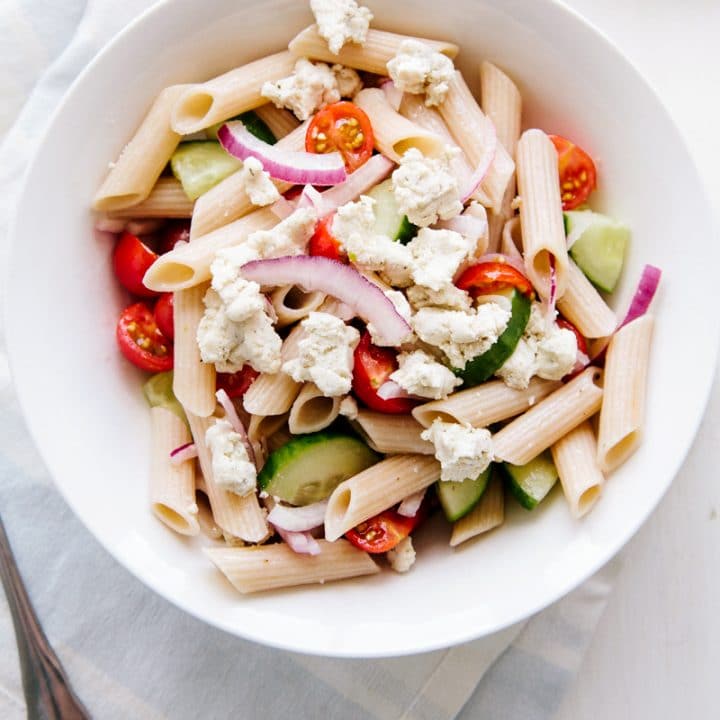 Greek Pasta Salad with Almond Feta (Vegan + Gluten-free)
A Greek salad with cucumbers, tomatoes and a vegan feta, made into a gluten-free pasta salad. A great lunch for warm days.
Ingredients
2 portions of cooked gluten-free pasta (approx 150g / 5 ¼ oz dry pasta, cooked)
½ small cucumber, diced
1 small red onion, thinly sliced
Approx 10 cherry tomatoes, halved
Almond feta
60 g / ½ cup ground almonds
60 ml / ¼ cup unsweetened dairy-free milk
2 tbsp nutritional yeast flakes
Juice of 1 large lemon
1 tsp dried mixed Italian-style herbs
Dressing
1 tbsp olive oil
1 tsp apple cider vinegar
½ tsp garlic granules/ powder*
Salt and pepper, to taste.
Instructions
To make the almond feta
Blend all the ingredients in a high-powered blender until smooth. Pour into a nut milk bag or cheesecloth and squeeze out as much liquid as you can. Don't throw the liquid away, it can be used for cooking in other recipes!
You should be left with a soft, crumbly "feta".
Make the dressing
Simple stir together the ingredients and add seasoning, to taste.
To assemble the salad
Toss the pasta in the dressing and add the chopped vegetables. Crumble the "feta" over the top and mix through.
Serve straight away or keep refrigerated for up to 2 days.
Notes
*If you can't find garlic granules, use garlic olive oil.
Nutrition Information
Yield

2
Amount Per Serving
Calories

429
Saturated Fat

2.1g
Sodium

10.7mg
Carbohydrates

45.4g
Fiber

6g
Sugar

6.6g
Protein

10.9g