A plant-based twist on a classic Brussels Sprouts dish, perfect for the Christmas dinner table. Tasty sprouts, paired with a mushroom "bacon".
People who are obsessed with bacon, are really just obsessed with that smoky, salty flavour.
And you don't need meat to create that. Mushrooms make the perfect perfect base as they absorb flavour so well, plus the umami adds to the deliciousness.
So I'm confident that meat-eaters would enjoy this and not miss the real deal. It's an incredible side dish for Thanksgiving, Christmas or just a Sunday roast!
Easy Mushroom "Bacon"
I've seen and tried a few mushroom bacon recipes in the past but most use liquid smoke (which makes me gag) and it never really ends up looking like bacon.
For this dish, I really wanted that pop of red that you get with the traditional dish, so I had the idea to use beetroot juice!
It works really well to give that pinky colour, without imparting any weird flavours. You could also use a natural red food dye if it's easier for you.
You simply slice approx 1lb white mushrooms as thin as you can and add them to a bowl with 2 tablespoons of olive oil, 1 tablespoon of maple syrup, 1 tablespoon of smoked paprika, 1 teaspoon of salt (smoked salt works best but ordinary is fine too) and a couple of tablespoons of beetroot juice, or red food dye.
Stir together until well combined then fry on medium-high heat for 5-10 minutes, depending on how crispy you want them. They start to lose their colour as they reach room temperature so it's best to serve straight away.
📖 Recipe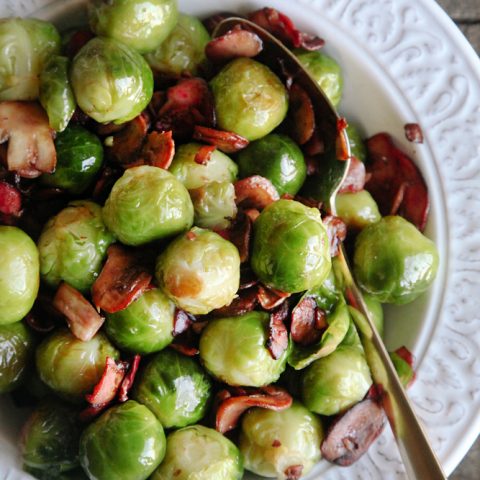 Brussels Sprouts with Mushroom "Bacon" (Vegan + GF)
A classic Christmas or roast dinner side-dish - made vegan!
Ingredients
For the mushroom "bacon"
500 g / 1lb white cup mushrooms, thinly sliced
2 tbsp olive oil
optional 2 tbsp beetroot juice, for colour
1 tbsp maple syrup
1 tbsp smoked paprika
1 tsp salt, preferably smoked salt
For the sprouts
1 tbsp vegan butter or olive oil
750 g / 1 ½ lbs Brussels sprouts, trimmed and outer leaves removed
Instructions
Make the mushroom "bacon"
In a medium bowl, stir all the ingredients together until well combined.
Heat a frying pan or skillet on medium-high and cook for 5-10 minutes until dark and crispy on the edges.
Remove from the heat and set aside.
Cook the sprouts
In a medium saucepan, melt the vegan butter or drizzle in the olive oil. Add the Brussels sprouts and coat.
Add 60ml / ¼ cup hot water, cover with a lid and leave to cook on medium heat for 5-8 minutes until the sprouts are tender.
Once cooked, add the mushroom bacon and stir on a medium heat for a couple of minutes to warm through.
Serve right away.