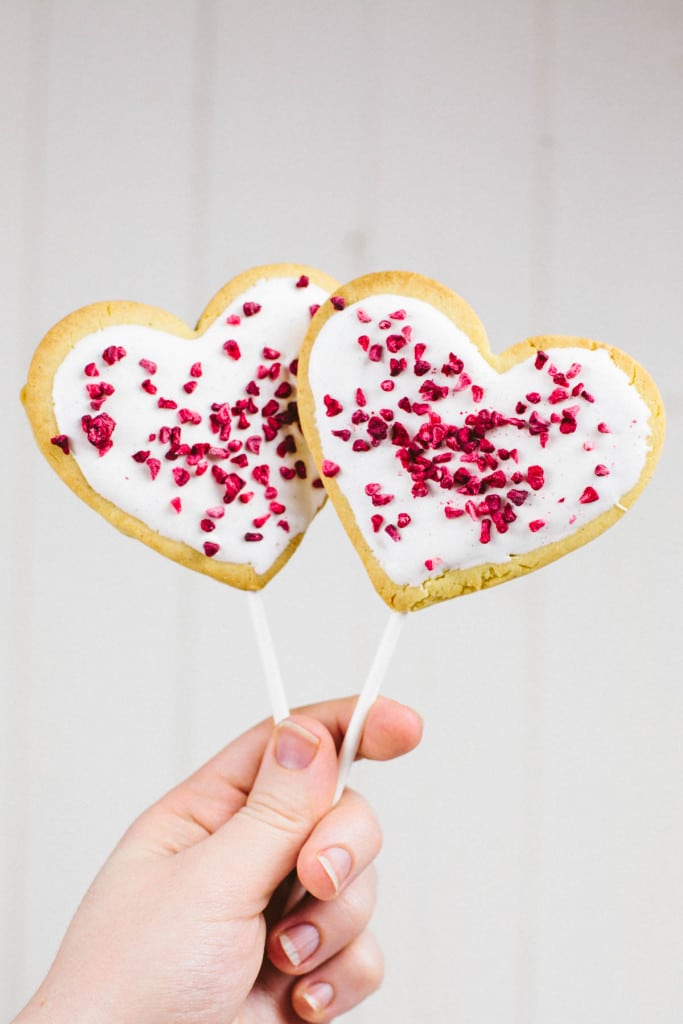 Valentines day is nearly here! And who doesn't love getting home baked treats for Valentines?
These cookie pops are made with a shortbread cookie base, eggless royal icing and freeze-dried raspberries on top!
I have made this recipe with both plain flour and gluten-free plain flour and am pleased to report they both turned out delicious!
In fact, the ones in the photos are the gluten-free ones that I made for a friend. They look a little bit cracked on the sides but stayed together perfectly and tasted wonderful.
📖 Recipe
Vegan Cookie Pops for Valentines
These cookie pops make adorable valentines day gifts and are super easy to make gluten-free too (tested recipe).
Ingredients
For the cookies
200 g / 7 oz dairy-free butter
1 tsp vanilla paste
100 g / 2.5 oz caster sugar
300 g / 10. 5 oz plain flour, sifted (Or equal amounts of gluten-free flour)
For the decoration
Freeze dried raspberries, chopped into small pieces
Instructions
To make the cookies
Cream the butter, vanilla and sugar together. Stir in the flour and mix into a dough. Wrap in cling film and chill in the fridge for at least 30 minutes to firm up.

Meanwhile, preheat the oven to 180c / 350f and line a baking tray with greaseproof paper.

Once the dough is firmed up, remove from the fridge and roll to approximately 0.75cm thickness. These cookies will need to be fairly thick to allow for the lolly sticks.

Use a heart-shaped cookie cutter to cut shapes and transfer to a baking tray. Use a lolly stick to poke a hole through the bottom up to about half way up the cookie so it's easier to insert after they've baked.

Bake for 10-15 minutes or more, depending on the size of your cookies.

Insert the lolly sticks through the bottom of the cookies, using the holes you made earlier.

Leave to cool completely before decorating.
To decorate
Use my eggless royal icing recipe here.
Spread the royal icing onto the cookies and top with the freeze dried strawberries.
Allow to set for 15 minutes until the icing has firmed up then enjoy!