What if I told you this delicious, flavourful, spicy, cheezy, crispy-based pizza was only 180 calories, low in fat and 2 of your '5 a day'?
Well, this vegan tortilla pizza is all those things.
The base is simply a low-fat tortilla wrap (you can buy low-fat shop-bought ones or make your own gluten-free ones).
It's topped with tomato pizza sauce, mixed with some nutritional yeast (optional, for a cheesey flavour), onion, a selection of chopped veg, lightly fried with water or a low-cal olive oil spray and some fresh basil.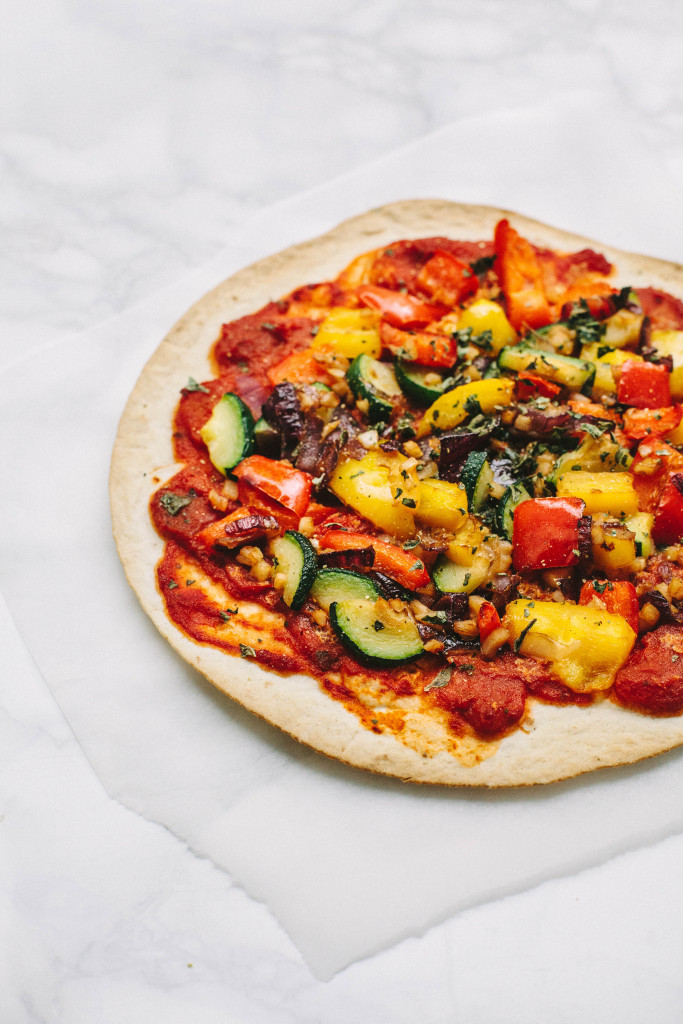 This pizza is also really nice served cold, making it the perfect healthy (and ridiculously tasty) lunch to take to work!
📖 Recipe
Healthy Tortilla Pizza (Vegan)
This low-fat, low-cal vegan pizza is 2 of your '5 a day' and tastes so delicious! Includes gluten-free option.
Ingredients
2 low-fat tortilla wraps (gluten-free, if needed)
Tomato pizza sauce or Arrabbiata sauce (see below)
(optional) 2 heaped tbsp nutritional yeast
Olive oil spray
1 small onion, sliced
Mixture of chopped vegetables
Fresh basil, chopped finely
Quick Arrabbiata sauce
¼ cup tinned tomatoes or passata
½ tsp dried chilli flakes
1 clove garlic
Fresh basil
Instructions
Preheat the oven to 190C / 375F and make sure you have a grill rack or pizza tray (so the pizza can cook underneath).
(Optional) Make the spicy sauce by mixing the tomatoes, chilli flakes, garlic and basil together in a food processor until smooth.Or use jarred pizza sauce.
Top the wrap with 2-3 tbsp of the sauce and mix in with the nutritional yeast.
Heat a frying pan to medium heat and lightly cook the onion and vegetables, using a splash of water or a low-cal olive oil spray.
Arrange the vegetables on top of the wraps and transfer to the oven using a spatula.
Cook for 10-12 minutes, turning if necessary to ensure even cooking, until the edges are golden brown and crispy.
Top with some fresh basil.
Serve hot or cold. Keeps in the fridge for 1-2 days, covered.
Nutrition Information
Yield

2
Serving Size

1 pizza
Amount Per Serving
Calories

181
Carbohydrates

30g
Fiber

5g
Protein

7g