This classic Turkish confectionary flavoured with rose water has been given a makeover to make it sugar-free, gluten-free, vegan and naturally coloured.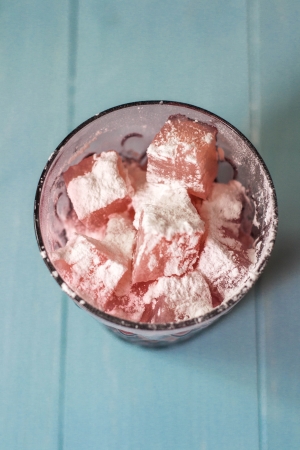 📖 Recipe
Sugar-free Turkish Delight
A beautiful rose-scented treat made sugar-free, vegan and gluten-free.
Ingredients
800 ml water
80 g / ⅔ cup arrowroot powder or tapioca flour
4 tbsp agar powder
150 g / ¾ cup xylitol
1 tsp beetroot powder or juice, for colouring
1 ½ tbsp rose water
For dusting:
4 tbsp arrowroot powder
4 tbsp xylitol
Instructions
Mix 100ml of the water with the arrowroot powder in a bowl and set aside for later. Line a small tin with parchment paper.
Add the remaining 700ml of water to a large saucepan and sprinkle the agar powder on top. Bring to a medium heat and whisk in the xylitol. Allow the mixture to come to a boil and then reduce to a low simmer, whisking until the xylitol and agar have dissolved.
Once dissolved, add the mixture to a blender and mix with the beetroot powder and the arrowroot mixture you made earlier. Blend until smooth and thick. Return to the saucepan.
Bring back to a low-medium heat and stir gently until the mixture becomes very thick and stretchy. Remove from the heat and stir in the rose water until well combined.
Transfer the mixture into the prepared tin and smooth it out evenly. Leave to cool and set in the fridge overnight.
The next day, prepare an icing sugar by blending the arrowroot and xylitol together until it forms a fine powder. Warning: it will create a lot of dust! Alternatively, use a mixture of ordinary icing powder and arrowroot powder. The arrowroot powder is necessary to stop the Turkish delight from sticking or going soggy.
Remove the Turkish delight from the fridge and cut into small squares. Coat in the powdered sugar and enjoy!
Notes
Xylitol is a natural low carb sweetener that can be found in most supermarkets or health food shops.