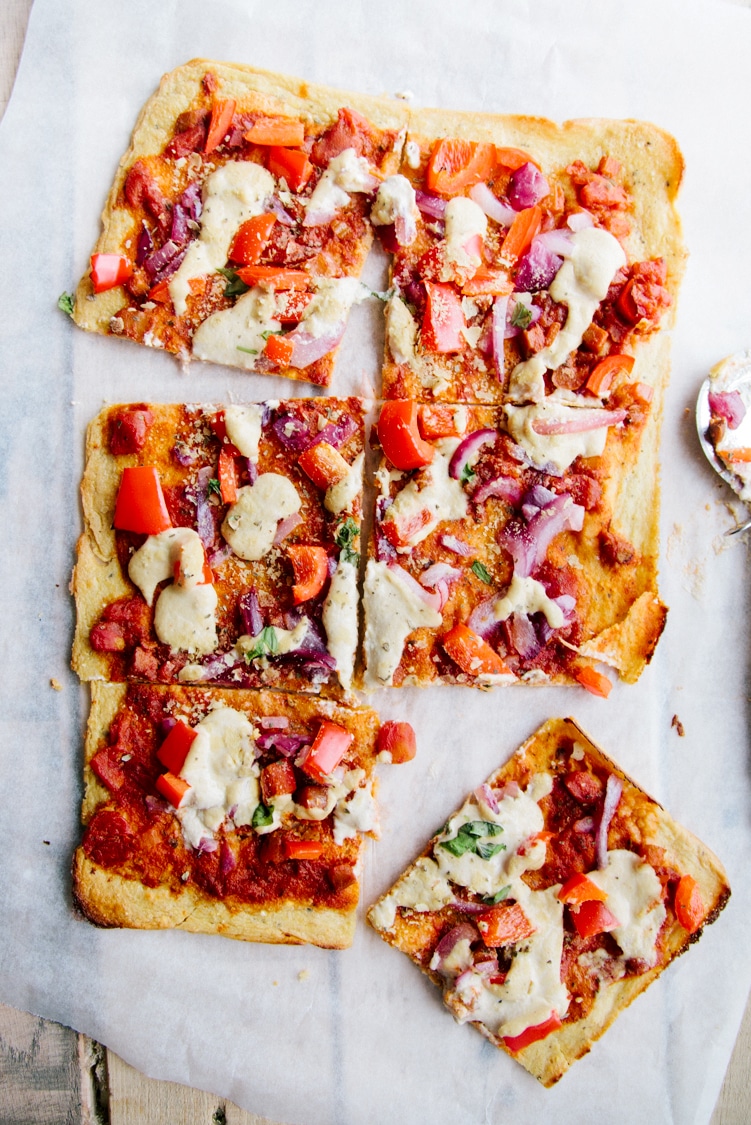 Recipe testing can be stressful, expensive and very frustrating but when something comes together (be it the first time or the 50th time) there is no better feeling!
This was one of those rare occasions where it just worked on the first try and has worked perfectly twice since. I think that means I can declare this recipe "foolproof"?
I think I will also declare it my new favourite dinner because it really is so delicious, so easy to make and healthy too!
Taste-wise, this really hits the pizza spot. Texture-wise, it's very close but isn't quite a replacement for a wheat or gluten-free flour based pizza.
It's a much softer dough. Still, it's in no way less delicious! If you're on a vegan & grain-free diet, this will definitely cure your pizza cravings :-)
The base of the pizza is a socca or "farinata" flatbread, made from chickpea flour.
As you can probably guess from the name, it originates from Italy and is made very simply by mixing chickpea / garzbonzo bean flour with water and a bit of olive oil, adding to a pan and baking at a high heat.
You can find chickpea flour at the supermarket in the world food aisle or in Asian markets, health food shops or online.
This socca pizza is:
Vegetarian & vegan
Dairy-free
Gluten-free & grain-free
High in plant-based protein
Healthy
📖 Recipe
Healthy Pizza (Vegan + Gluten-free)
The most delicious and healthy grain-free pizza you will ever make! Made with a "socca" base (chickpea flour) and cashew-based cheese sauce.
Ingredients
2 tbsp mild olive oil or rapeseed oil
90 g / 1 cup chickpea flour
240 ml / 1 cup water
½ tsp garlic powder
1 tsp mixed dried italian seasoning, basil, oregano etc.
Salt and pepper, to taste
Super easy pizza sauce
120 g / ½ cup tomato passata
2 tbsp tomato puree
½ red onion
3 garlic cloves
1 tbsp dried Italian seasoning mix
Toppings
Fresh chopped basil
Chopped veggies of choice (I used red onion and pepper)
Instructions
Preheat the oven to 230C / 450F and brush a 35x20cm / quarter sheet baking tray with one tablespoon of the oil. Alternatively, you can use a large, round pizza tray.
Meanwhile, in a medium bowl, mix together the remaining one tablespoon of oil, chickpea flour and seasonings. Slowly add the water and whisk until completely smooth.
Pour the batter onto the baking tray and carefully tilt to make sure the tray is evenly coated. Cook for 10 minutes until golden and slightly crisp around the edges. Remove from the oven but keep the oven hot.
Meanwhile, make the pizza sauce by simply blending the ingredients in a blender until smooth. Spread on top of the pizza base.
Drizzle dollops of the cashew cheese over the sauce and scatter some chopped vegetables on top. Bake again for a further 5-10 minutes. If you prefer you can drizzle the cheese on after the pizza has baked, for a more creamy cheese.
Cut into 6 slices and enjoy!
Nutrition Information
Yield

2
Serving Size

½ pizza
Amount Per Serving
Calories

364
Carbohydrates

35.3g
Fiber

6.6g
Protein

12.6g