Upgrade your apple pie with some indulgent salted caramel! This vegan dessert will impress family and friends but is deceptively simple to make, with easy-to-find ingredients.
Thank you Studio William for sponsoring this recipe!
What's better than a warm, comforting apple pie? Salted caramel apple pie, that's what.
I've been wanting to try this recipe out for a while now and always knew it would be good (how could caramel + apple pie not be good?) but after tasting it, I think it might be one of the most delicious things I've ever tasted!
Adding a dollop of coconut milk ice cream on top and a drizzling of my 5-minute vegan salted caramel sauce and I was in total heaven. YUM.
I'm a little disappointed that I didn't share this sooner this year because it would make the most amazing Thanksgiving dessert.
But, of course, it works wonderfully as a Christmas dessert too or just a great dessert all year round.
Now onto the recipe…
Please don't think that this apple pie is complicated because it really isn't.
The pastry can be whizzed up in a food processor, then it's a simple matter of splitting it in half and rolling out one piece for the bottom of the pie dish and another for the top.
This can also be done in advance.
Lattice and other decorative elements are totally optional, but again it's much easier than you'd think! I love this simple lattice pastry tutorial.
The caramel sauce really couldn't be any quicker or easier and I suppose the most time-consuming part is peeling and chopping the apples!
As you can see, my apple pie isn't perfect but (and I know this sounds like a cop-out) it's not meant to be…
Apple pie is a rustic, homey dessert and as long as it tastes good, then you're going to love it.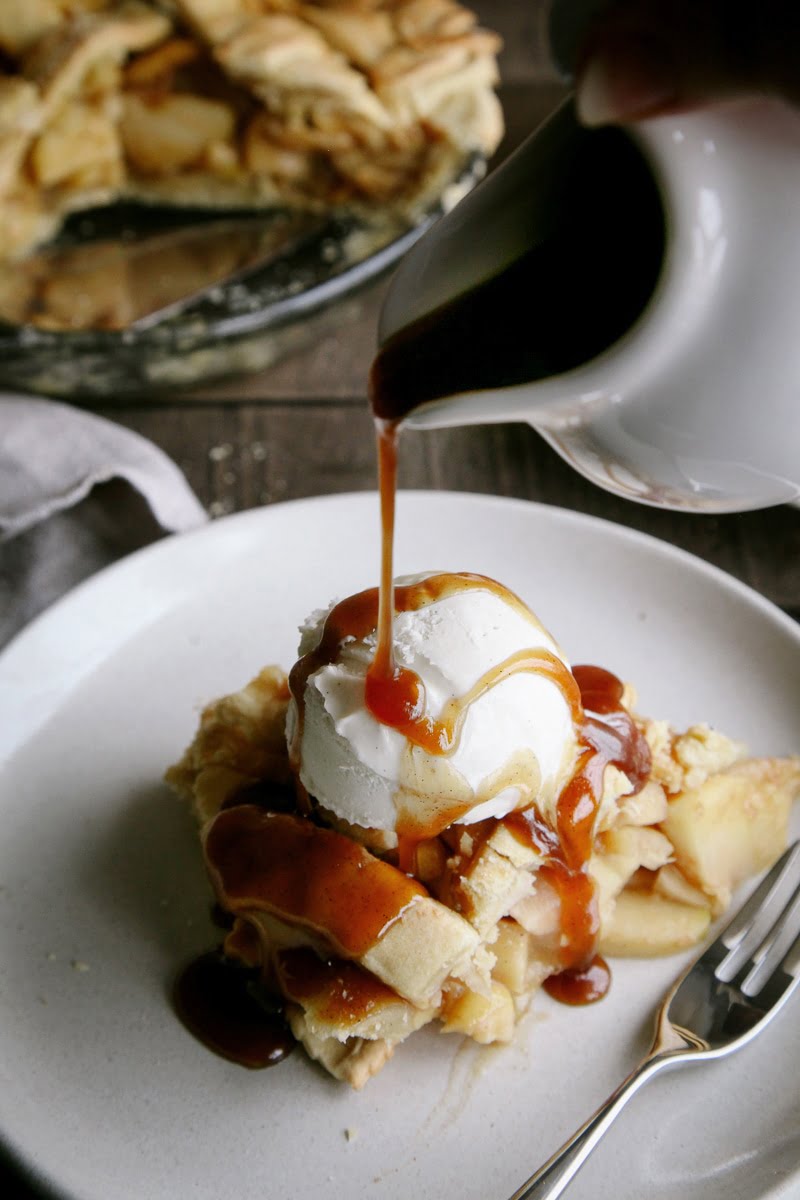 Recipe FAQ
Can I prepare this pie in advance?
Yes. You can prepare the base crust in the dish, wrap with clingfilm and leave in the fridge for up to 2 days, or freeze for a couple of weeks.
The other half of the dough (for the top) will have to be chilled separately.
The filling can be made in advanced and chilled in the fridge for a couple of days, before adding to your prepared pie crust.
Can this recipe be used to make individual / hand pies?
Apparently, yes! One or two readers have tried this with success. Reduce the baking time to about 20 minutes.
Why is there no sugar in the apples?
Because they will be mixed with the caramel which already provides plenty of sweetness!
More Vegan Desserts
📖 Recipe
Vegan Apple Pie with Salted Caramel
Total Time:
1 hour
10 minutes
A drool-worthy apple pie filled with sweet salted caramel for an indulgent vegan dessert.
Ingredients
For the pastry
350 g / 2 ¾ cups plain flour
4 tbsp icing sugar
225 g / 8 oz dairy-free butter, I recommend Naturli block or Earth Balance Buttery
80 ml cold water
A small pinch of sea salt
For the apple pie filling
1 kg / 2 lbs cooking apples
1 tsp ground cinnamon
1 tsp mixed spice, or pumpkin pie spice mix
1 tbsp corn starch
To serve (Optional)
Instructions

Make the caramel
Follow the instructions here for how to make this quick caramel sauce.
Make the pastry
Add the flour, icing sugar and dairy-free butter to a bowl and rub together with your fingertips (or use a food processor to gently mix) until well combined. Add the water a tablespoon at a time until the dough clumps together. Add more if needed.
Turn the dough out onto a roll of clingfilm and roll into a ball. Refrigerate for at least 30 minutes.
Prepare the apple pie filling
Preheat the oven to 170C / 340F and brush a 9-inch pie dish with a little melted spread. Set aside.
Peel the apples and chop into approx ½ cm slices. Add to a large saucepan with the spices and corn starch. Stir to combine then switch the hob onto a medium heat and let the apples stew for a few minutes until slightly softened.
Remove from the heat and stir in half of the caramel sauce (save the rest for glazing and serving.)
Make the pie
Remove the dough from the fridge and divide in half.
Roll out one half to fit the bottom of the pastry dish. Don't worry about any overhanging pastry bits.
Fill the pastry with the apple and caramel mixture so it's mounded on top.
Now roll out the rest of the pastry and either lay on top and cut a hole in the centre, to allow steam to escape, or create a lattice design.
Trim the sides of the pastry to make it look neat and use any scraps to make designs (optional).
Bake for 35 minutes until golden brown. You may need to cover the top or sides with tin foil if it starts to brown too much, during baking.
To serve
Leave to cool for at least an hour before serving, so the caramel can set and the pastry is easier to cut.
(Optional) Serve with a dollop of vegan ice cream and extra caramel sauce!