Paired with pistachios, these olive oil shortbread cookies have a Middle Eastern vibe to them but also a Christmassy feel and make wonderful Christmas gifts!
The twist is that these shortbread cookies use olive oil in place of butter.
Surprisingly, it results in the most delicious, melt-in-your-mouth biscuit, you definitely won't miss the butter.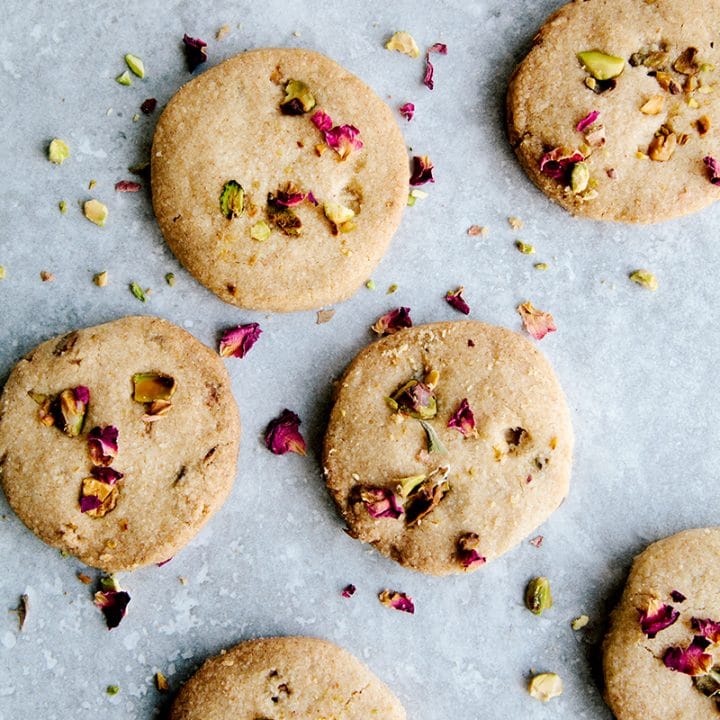 Rose, Pistachio & Olive Oil Shortbread (Vegan)
Delicate, crumbly shortbread with rose & pistachio. Uses oilve oil in place of butter!
Ingredients
300 g (2 ½ cups) white spelt flour, (you can also use plain white flour)
1 tbsp corn starch
100 g (½ cup) golden caster sugar
160 ml (⅔ cup) mild olive oil
1 tsp rosewater
50 g (½ cup) chopped pistachios
Dried rose petals, to decorate (optional)
Instructions
Mix the spelt flour, corn starch and sugar together in a food processor.
Add the olive oil and rosewater and mix until it forms a soft dough.
Add to a floured board and kneed in half the chopped pistachios.
Chill the mixture in the fridge for about one hour.
Preheat the oven to 180C / 350F and line a baking tray with parchment paper.
Roll the dough out to about ¾ cm thickness. Use a cookie cutter or upside down glass to cut into shapes and place on the baking sheet.
Use the remaining chopped pistachios to press into the tops of the cookies.
Bake for 15 minutes until golden brown.
Leave to cool before serving. Decorate with dried rose petals!