Flavourful squash (or sweet potato) and cauliflower, roasted with cumin and turmeric, mixed with quinoa, puy lentils, seeds, kale and radicchio (or red cabbage) - all mixed together in the most creamy, delicious tahini & garlic dressing.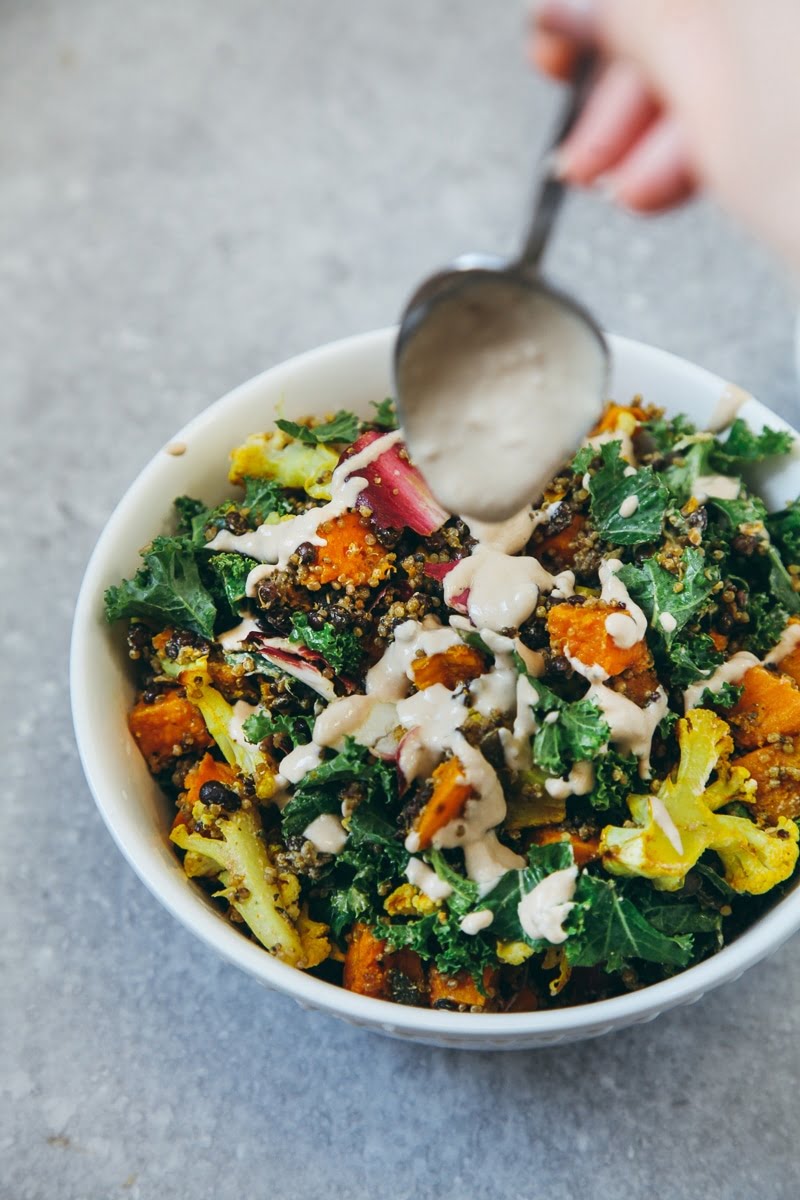 I'm not usually a fan of salads. I normally prefer something warm or carb-y for lunch but this vegan high protein salad is an exception.
So much flavour and satiation!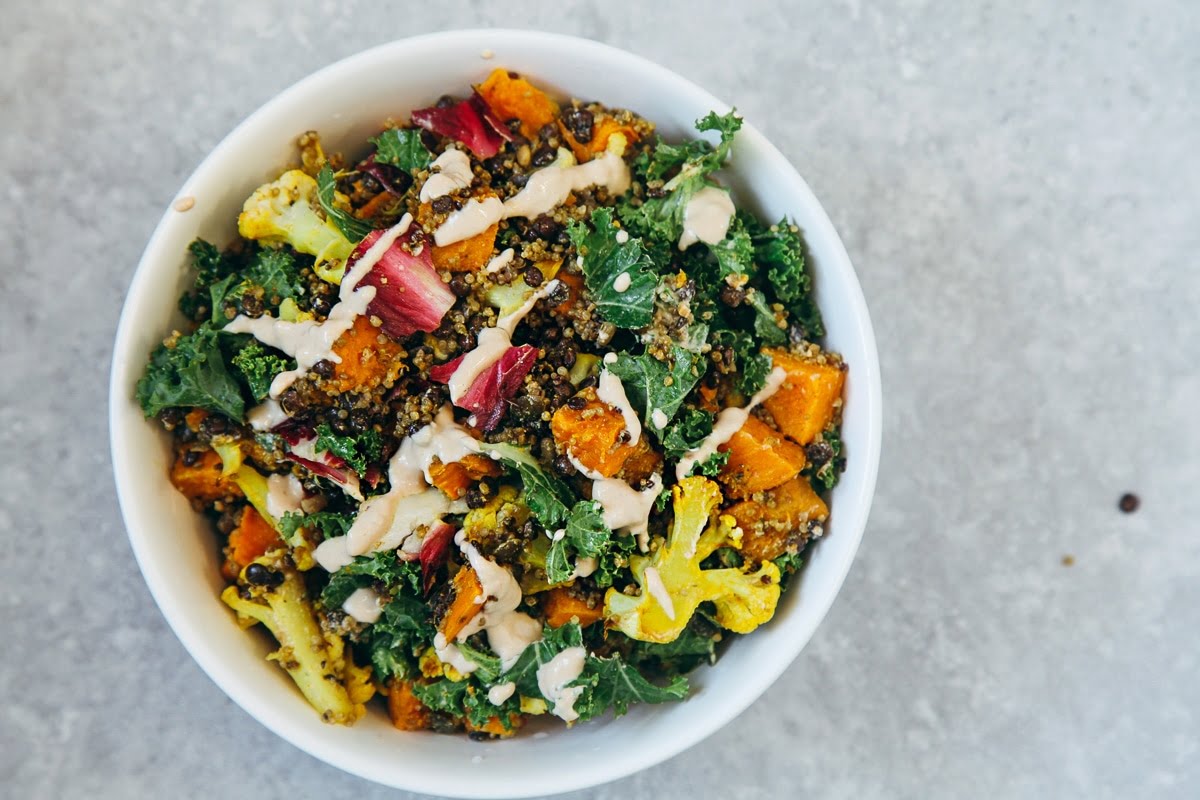 Ingredients to make a Plant-based High Protein Salad
You will need:
Quinoa - A pseudo-grain that is high in protein and fibre. You can use ready-made as a shortcut, if you wish.
Lentils - For more protein and a great texture. I use pre-cooked puy lentils in this recipe.
Butternut squash - You can use sweet potato instead, if you prefer.
Cauliflower
Kale
Raddichio - Or red cabbage.
Seasonings - Turmeric, Cumin and salt & pepper.
Olive oil
To make the dressing, you'll need:
Tahini - For the creamiest texture as well as extra protein
Balsamic vinegar - Or apple cider vinegar.
Garlic powder
Optional extras: Miso paste, for depth of flavour and nutritional yeast for a subtle cheesy flavour, plus extra protein and nutrition.
How to make this Roasted Veggie Salad
The full instructions are in the recipe card below but here is a visual to show you how easy it is to prepare:
Roast the veggies
First roast the squash in some olive oil, for about 10 minutes.
Then add the cauliflower florets and spices, roasting for a further 20 minutes.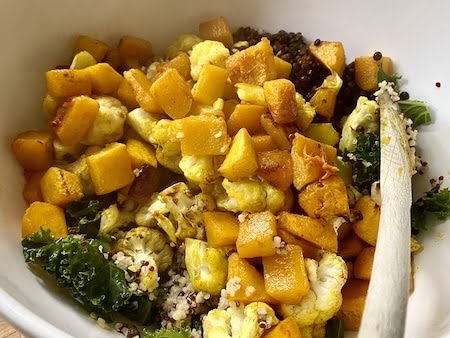 Toss with the rest of the ingredients
Once the veggies are cooked, add to a large bowl with the kale, radicchio, cooked quinoa and lentils.
Toss everything to combine.
Make the dressing
The dressing is simply the tahini, vinegar, garlic powder and some hot water, all whisked together into a smooth, thick and creamy dressing. To thin it out, simply add more hot water.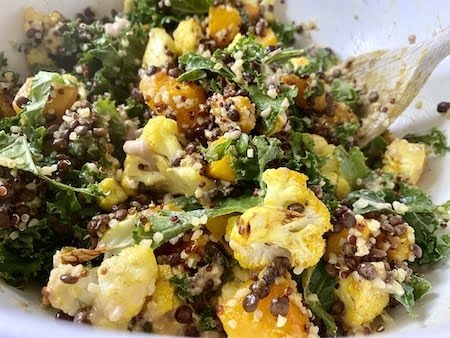 Mix it all together and serve
Pour the dressing on top, just before serving and mix everything together.
You don't have to wait until just before serving to add the dressing though, if you prefer to prepare everything in advance. This salad keeps really well, even with the dressing already added.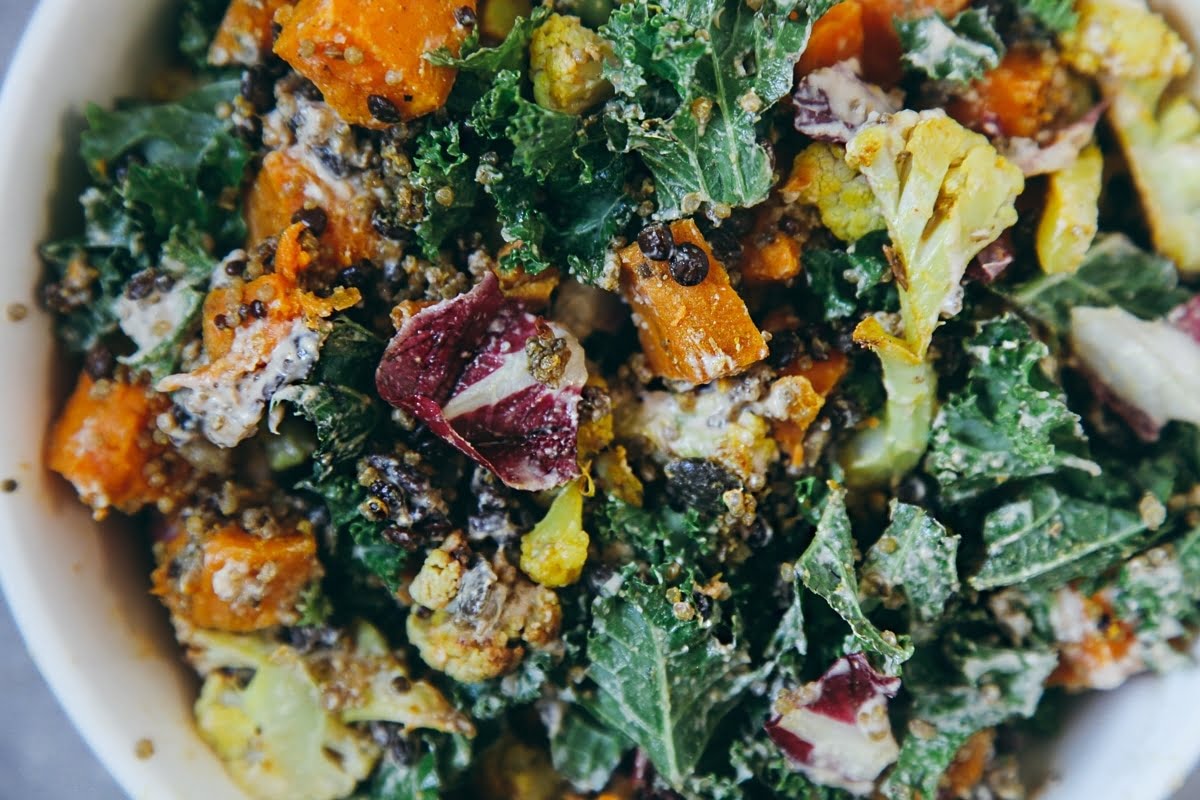 Recipe notes
The recipe below makes up a BIG bowl, giving you 4 large or 6 medium servings.
So feel free to halve the recipe if you want something a bit smaller.
You can keep it in a container in the fridge for up to 3 days - You can keep the dressing separate, although I've had no problems eating the leftovers mixed in dressing days later.
This salad does involve a bit of cooking but I promise it's worth it for the taste and convenience of having 3 days of lunches sorted for 2 people.
Plus, it's ideal if you're meal planning, especially for post-workout meals. This salad packs 18g protein per portion.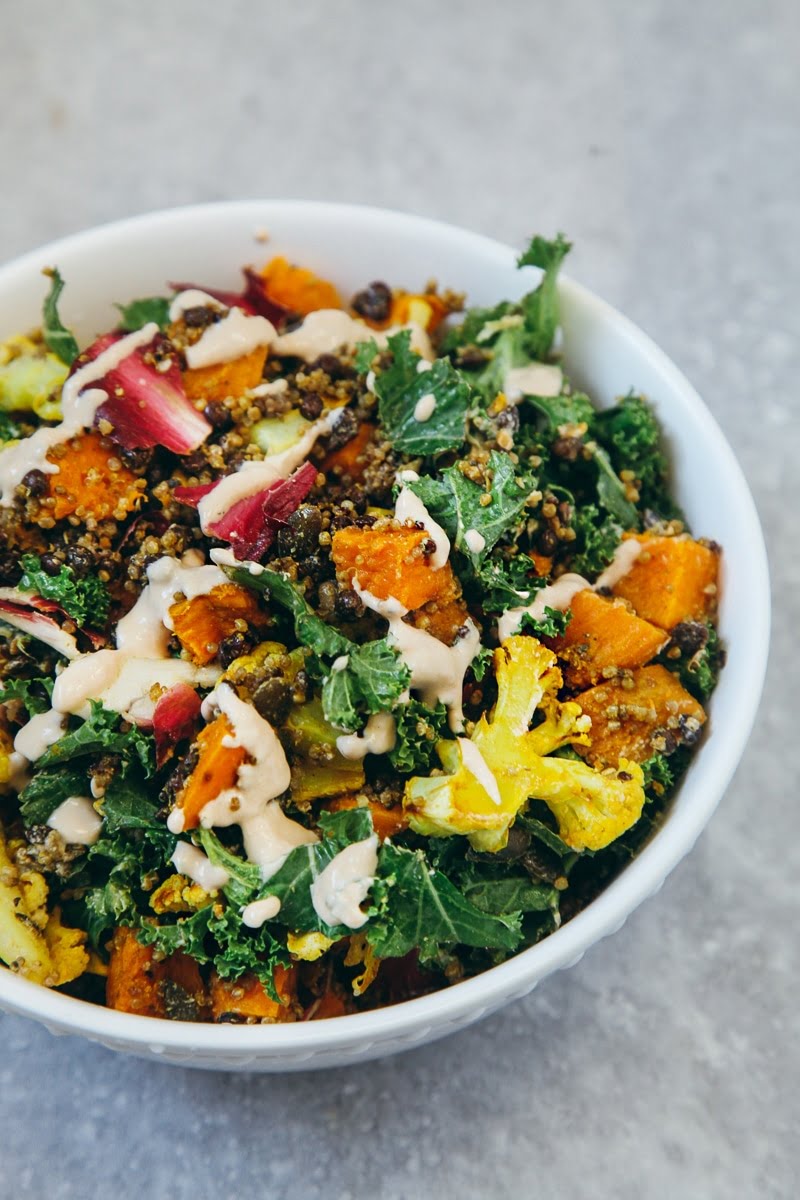 📖 Recipe
Vegan High Protein Salad with Tahini Dressing
A super delicious salad with roasted vegetables, quinoa, lentils, kale & a creamy tahini dressing. High in protein and super satiating. Makes 4 large salads or 6 small/medium servings.
Ingredients
1 tbsp olive oil
1 medium butternut squash (approx 800 g) peeled and cubed
1 large head of cauliflower, cut into small florets
1 tsp ground cumin
1 tsp ground turmeric
A pinch of salt and pepper, to taste
250 g / 8.8 oz cooked quinoa*
150 g / 5 oz kale, chopped with stalks removed
1 medium radicchio, (or ½ small red cabbage) chopped
Tahini & Garlic Dressing
1 tbsp balsamic vinegar
4 tbsp boiled water
½ tsp garlic powder
(optional) 2 tbsp nutritional yeast
(optional) 1 tsp miso paste
Instructions
To make the salad
Preheat the oven to 180C / 350F and add the olive oil to a large roasting tray.
Add the squash or sweet potato and toss in the oil. Roast for 10 minutes. Then add the cauliflower with the spices, salt and pepper. Roast for a further 20 minutes.
Meanwhile, add the cooked quinoa and lentils to a large bowl and mix in the kale and radicchio leaves.
Once the veg is cooked and cooled slightly, mix into the salad with the leaves, quinoa and lentils.
To make the dressing
Simply mix everything together until smooth. Taste and add a pinch of salt and pepper, if needed. If it's too thick, stir in some more hot water.
Pour over the salad and use your hands to rub it into the leaves and mix it in well.
(optional) Top with a mixture of seeds, such as sunflower, chia and pumpkin seeds for added crunch and protein.
Serve and enjoy! Can be kept in a container in the fridge for up to three days.
Notes
*Or to cook from scratch, use 90g / ½ cup dry lentils + 85g / ½ cup dry quinoa and cook according to packet's instructions.
Nutrition Information
Yield

4
Serving Size

1
Amount Per Serving
Calories

355
Total Fat

15g
Saturated Fat

2g
Trans Fat

0g
Unsaturated Fat

12g
Cholesterol

0mg
Sodium

128mg
Carbohydrates

44g
Fiber

14g
Sugar

7g
Protein

18g
More vegan high protein recipes: