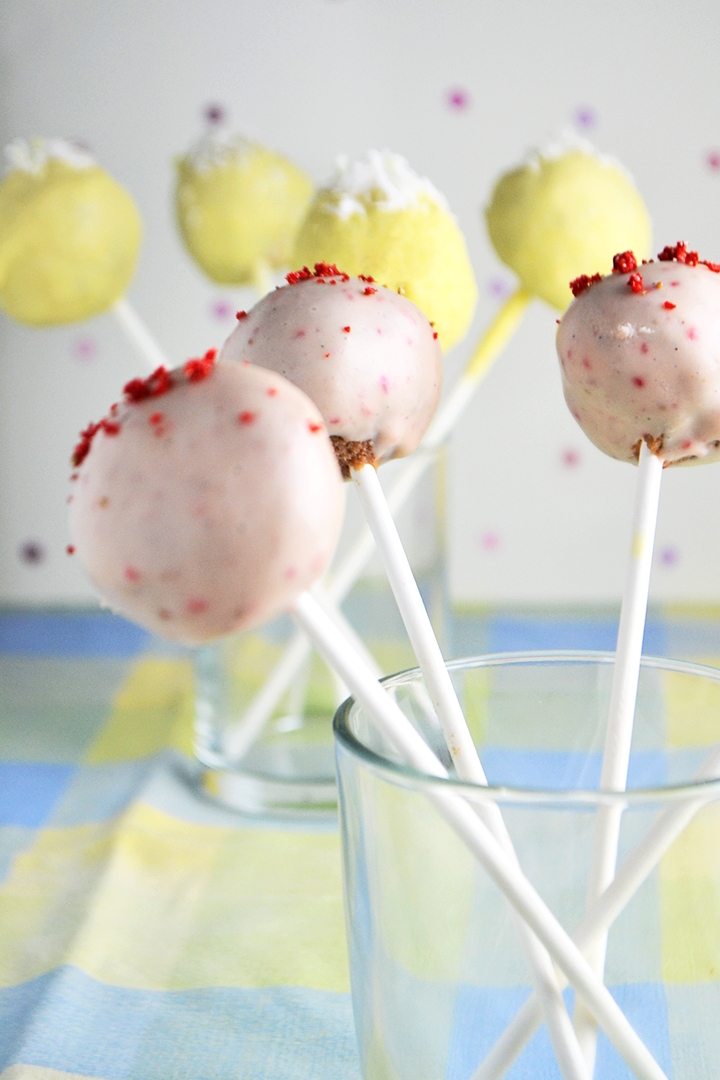 These cake pops are very nutritious as they are packed with superfoods and contain no refined ingredients.
Some raw cake recipes I've seen resemble more of an energy bar texture, they look great and taste delicious but they're not very cake-like.
However, the mixture of coconut flour and cashews in this recipe, give a really light, fluffy cake texture and taste.
It's like biting into a moist sponge cake!
I have made 2 different flavours: Lemon Poppy Seed and Chocolate Strawberry.
But the possibilities are endless.
You could use matcha powder and lime zest to make green coloured lime pops, you could make orange carrot cake cake pops, or acai powder and lavender for a perfumey purple pop!
Experiment and see, they're lot's of fun to make. Kids will love them too.
For the lemon chia seed flavour, the chia seeds act as poppy seeds to recreate a classic flavour combination whilst adding more nutritional value.
And for the chocolate strawberry, you can either have strawberry cake batter covered in chocolate or chocolate cake batter covered in a strawberry "icing."
To decorate the pops, there are plenty of options, including; desiccated coconut, raw chocolate shavings, a dusting of strawberry powder, dried lemon zest or if you have a dehydrator, you could make these cute 'raw sprinkles'
📖 Recipe
Raw Cake Pops
Raw cake pops made in lemon chia seed and chocolate strawberry flavours
Ingredients
50 g ½ cup raw coconut flour
70 g ½ cup raw cashews, soaked in water for 1 least an hour or overnight.*
An extra 130ml, ½ cup of water or more if needed
2 tbsp raw honey or maple syrup, or more, to taste
1 tsp raw vanilla extract or powder. See here to learn how to make your own
Flavourings: 2 tbsp lemon zest and 1 tbsp chia seeds, for the lemon chia seed pops or 1 tsp raw cacao powder (for the chocolate strawberry pops)
To decorate:
50 g ¼ cup cacao butter
35 g ¼ cup cashews, soaked for at least an hour or overnight*
3 tbsp water
2 tbsp raw honey or maple syrup, or more, to taste
1 tsp raw vanilla extract or powder
1 tsp turmeric powder and 1 tsp lemon zest, for the lemon chia seed pops
2 tbsp strawberry powder**, for the chocolate strawberry pops
Instructions
Drain the cashew nuts and add to a blender or food processor. Add the coconut flour, agave nectar, vanilla, water, flavouring of your choice and blend until well combined and a dense breadcrumb mixture is made.
The batter should be light and crumbly but stays firm when molded. If it's still too crumbly, add more water or if it's too dense, add more coconut flour.
Wet your hands and gently roll a tbsp of the batter into a ball shape. Do this until all the batter is used up, then place them on a baking tray. Leave in the freezer for about 30 minutes to firm up.
Whilst the cake balls are in the freezer, make the cacao coating by melting the cacao butter on a low heat.
Add the cashews, water, agave, vanilla and either the turmeric or strawberry powder and blend until velvety smooth. Add the melted cacao butter and blend again until the consistency is thick but runny.
Once the cake balls have firmed up, gently push a lolly pop stick into each of them.
One by one, dip the lollipops into the cacao mixture, submerging them until they are fully coated, then gently lifting them out and placing them in a cake pop stand or a glass. The coating shouldn't drip but if it does, slowly twist the pop so the chocolate coating settles.
Do this for each of the pops and decorate how you please.
The cake pops will last 3 days in a cool dark place.
Notes
* You could skip the soaking process but I like to soak them because it activates enzymes and aids digestion.
** You can make your own strawberry powder by grinding up freeze dried strawberries, available in the baking section at most supermarkets
Nutrition Information
Yield

30
Amount Per Serving
Calories

42
Carbohydrates

3g
Protein

1g