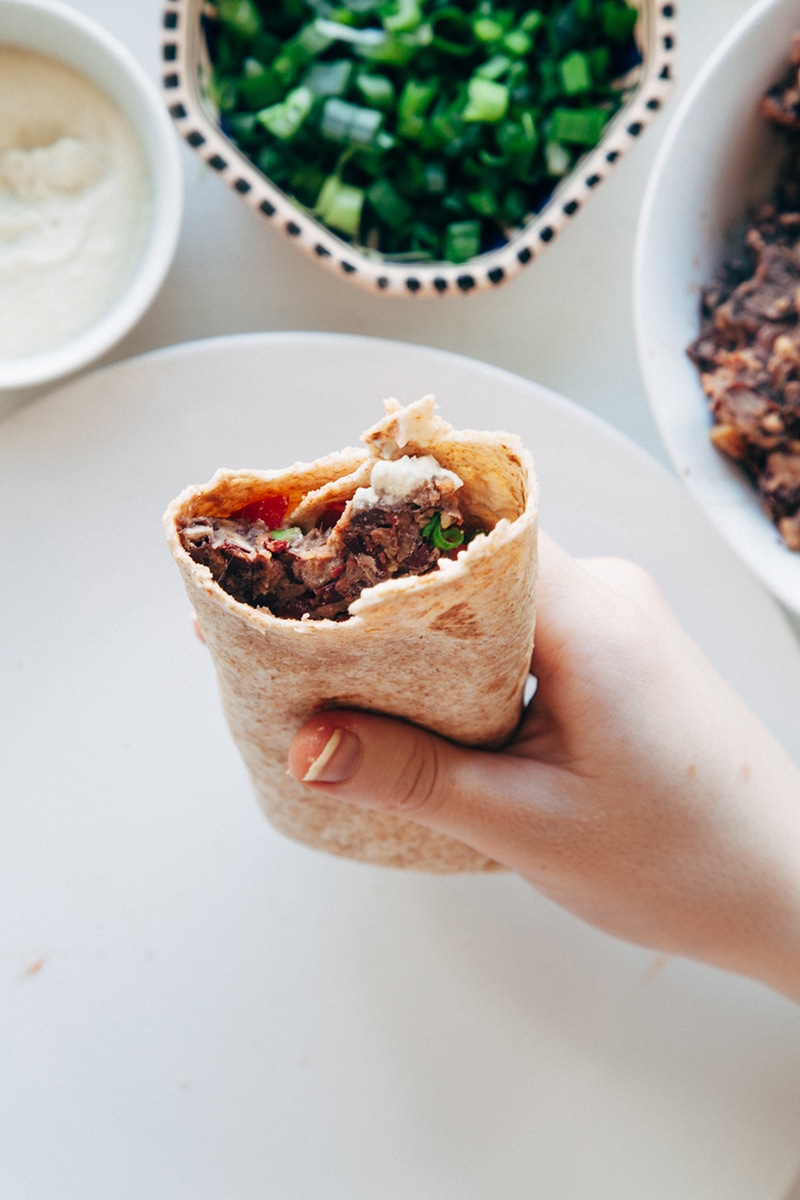 As burritos used to be one of my favourite fast food choices, I decided to make a healthy remake of them.
When I worked in London, there was a Mexican food stall nearby my office that sold the most amazing veggie burritos and I'd always look forward to them.
Since then, I've had a burrito-shaped hole in my heart, so this is my recreation of that – my favourite fast food. Made healthy!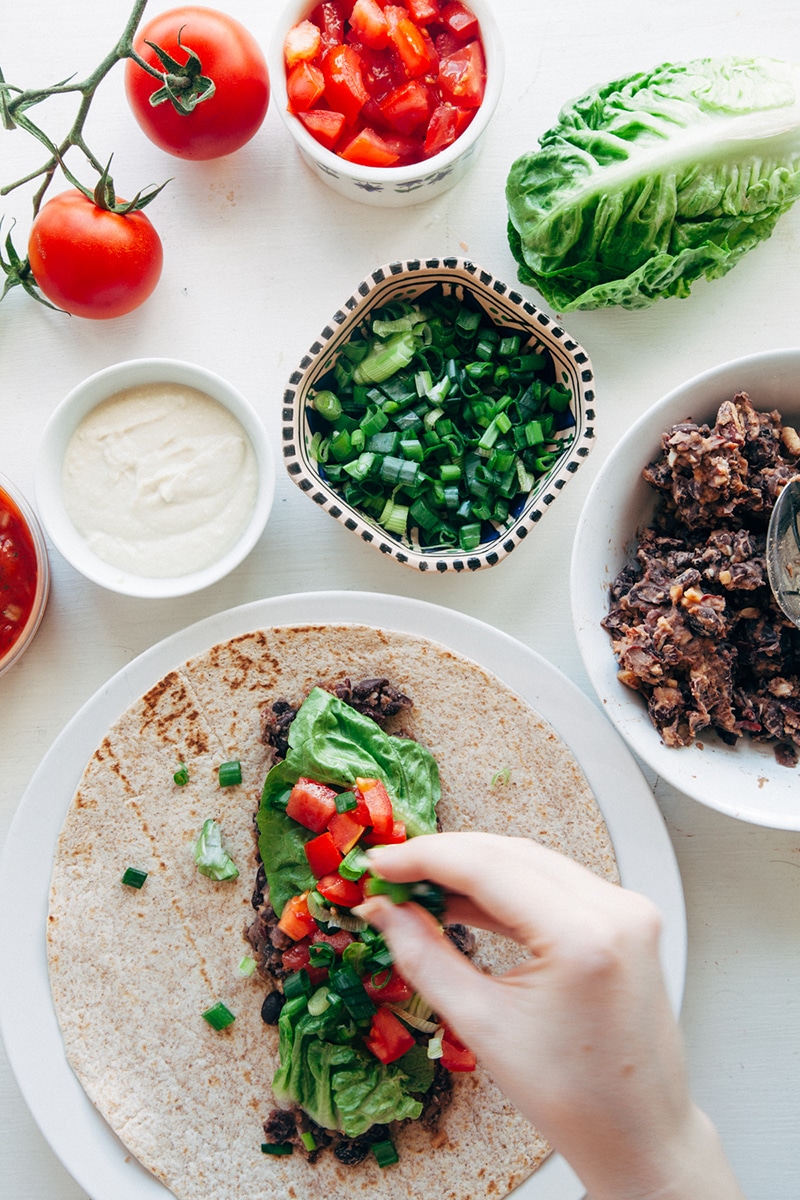 This healthy bean burrito is quick, it's healthy, it's easy to freeze or chill – ready to heat up at a moment's notice, it's portable, you don't need cutlery and it tastes AAAMMAAAAZZIINNG.
Spend 15 minutes preparing these, bung them in the freezer and feel comforted knowing you have a whole supply ready for when you want to heat them up.
According the a study in the New York Times, a veggie burrito at Chipotle's is a whopping 860 calories! Plus they're very high in saturated fat and sodium. Imagine the effects of eating this every day.
In comparison… these burritos are: 342 calories each (WITH vegan sour cream and cheese) plus half the fat and sodium!
If you want to be even healthier, serve it without the dairy-free cheese or sour cream to make it just 273 calories and only 5g fat.
How to wrap your burrito
I have no business telling anyone how to wrap a burrito. Mine are messy to the point they don't even look like burritos.
But the idea is… Once you've added your fillings, fold one side over and hold it tightly, sliding your hand back to the centre of the wrap slightly. Keeping your fingers in place, fold up the bottom edge.
Now continue rolling that first folded edge to meet the other side, until you have a wrap!
Proper folding means no leaking but if you want to be extra safe, or if you suck at wrapping them, like me, you can wrap the burrito in some kitchen paper or foil.
Freezer Burritos
I told you this recipe was "fast food" which means that you want it to be ready FAST.
Even though it only takes 15 minutes to prepare and you can eat them straight away, you can also make them in advance and freeze them so that they're ready to heat in the oven or microwave at a moment's notice!
I like to wrap them in foil, place them in a freezer bag and when I want to heat them, I keep them in the foil and cook them in the oven for about 30 mins at 180C / 350F.
If you want to microwave them, use a microwave-safe container, NOT foil!
📖 Recipe
Healthy Vegan Bean Burritos
Burritos get a healthy makeover with these easy, vegan make-ahead bean burritos!
Ingredients
6 wholemeal tortilla wraps
2 cloves garlic, minced
½ tsp chili powder
2 x 400 g / 14 oz tins kidney or black beans, drained and rinsed
A few lettuce leaves
1 large tomato, diced
2 spring onions, chopped
A small tub of fresh salsa
optional vegan cheese, grated or nutritional yeast
(optional) Vegan sour cream
50 g / ⅓ cup raw cashews, soaked in water for at least an hour or overnight
A squeeze of lemon juice
60 ml / ¼ cup dairy-free milk, I used unsweetened almond milk
Instructions
If serving immediately, preheat the oven to 200C. Wrap the tortillas in some tin foil and let them heat up for about 15 minutes.
In a frying pan, add the garlic and a small splash of water. Cook on a medium heat for a minute, then add the chili powder and beans. Add some more water (about 60ml / ¼ cup) and cook for a few minutes, until the beans are softened and moist. Partially mash them with a fork or masher so you have a chunky bean paste.
Make the vegan sour cream
Simply blend all the ingredients together in a high-powered blender or food processor until smooth. Add more water or dairy-free milk, if needed.
Assemble the burritos
Remove the tortillas from the oven and place one on a plate. Spread about 3 tbsp of the bean mixture down the middle.
Top with some lettuce, tomatoes, salsa, cheese and sour cream (if using) and wrap.
Serve right away or cover with tin foil and freeze to reheat later.
Enjoy!
Nutrition Information
Yield

6
Amount Per Serving
Calories

342
Saturated Fat

4g
Carbohydrates

50g
Fiber

8g
Protein

11g