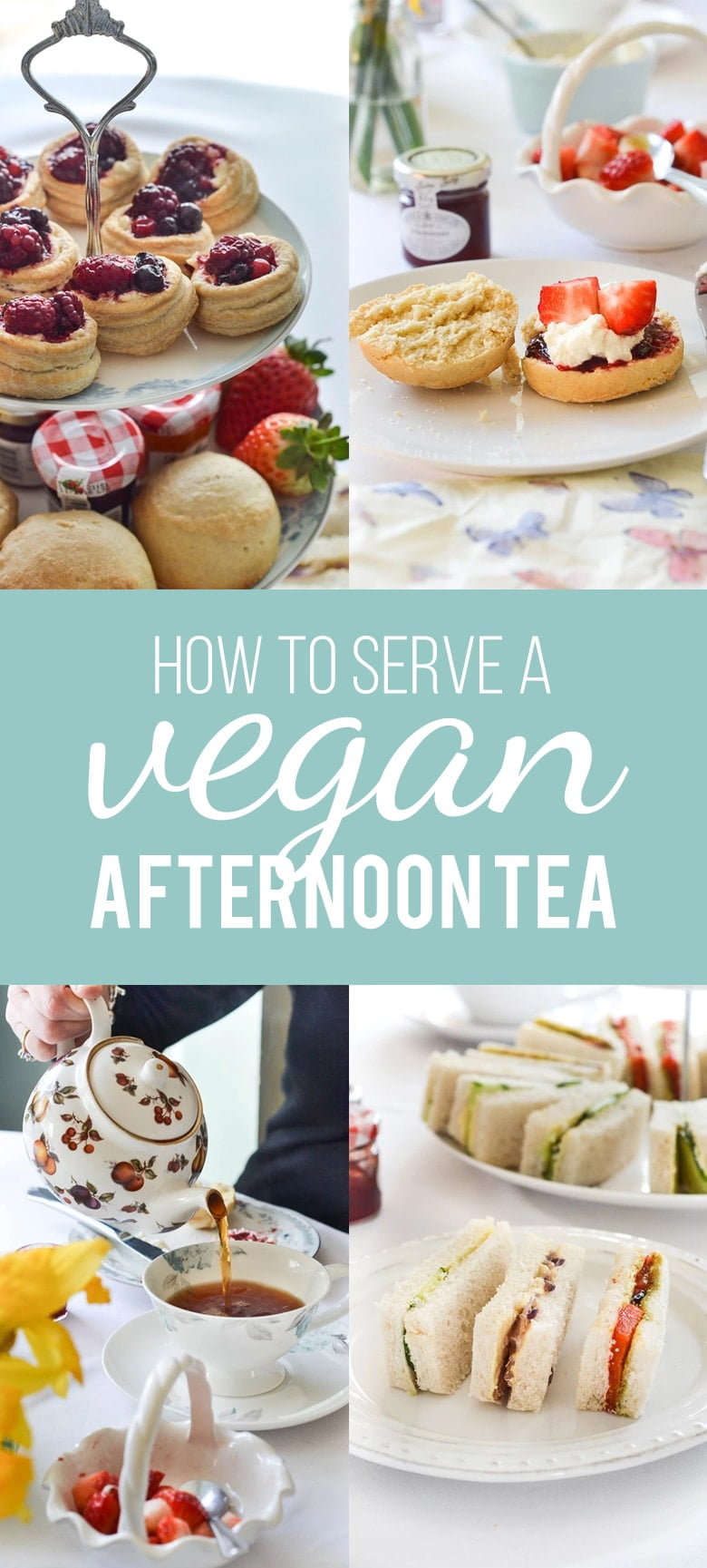 Love cream teas but feeling left out by the lack of vegan-friendly options? Here's how to make your own Afternoon Tea at home that is completely vegan (but everyone will enjoy)!
Setting up the perfect afternoon tea table at home:
Start with a clean and clear room with a freshly laid white table cloth. Decorate the table with a small vase of fresh flowers and an assortment of pretty plates, teacups, saucers and napkins.



Use a glass or jar to hold an assortment of cutlery.




Use a three-tier cake stand to display the three "courses" – Finger sandwiches, scones and mini desserts.

Not only does it look beautiful but it allows people to easily pick and choose without over-crowding the table.

To ensure the food stays fresh, keep the food covered in cling film until it's time to eat.


Serve a small jug of milk, a sugar bowl, a jug of water and glasses and any other extras you think your guest(s) might need or like.


Add some quiet background music – classical music is perfect.


Dress the part. Your poshest outfit or prettiest dress to afternoon tea but do what makes you and your guest(s) feel comfortable!

I'm not a tea drinker but I am sometimes partial to a herbal or fruit tea so I served some peppermint tea for myself and Earl Grey with lemon for the tea-drinkers.
If every one wants a different sort of tea, you could serve them individual teapots with the tea of their choice so they can top up as they please.

Afternoon Tea Menu
See my recipes & tips on making delicate and delicious vegan tea sandwiches, including cucumber, roasted pepper & pesto and caramelised onion & hummus fillings. Plus more filling ideas!

The perfect British scones topped with your choice of jams, an amazing coconut "clotted cream" and fresh strawberries.

And lastly, for some miniature dessert inspiration – 10 recipes to try!
The picture above shows a very simple dessert I put together for Summer Fruits Vol-au-vents.
To make, simply use some vegan-friendly puff pastry to make vol-au-vents (or use ready made if you can find them) and fill with some vegan custard cream (recipe), topping with some gently cooked summer fruit berries.
This would be the perfect treat for your mum this Mother's day! Would you give this a try at home?