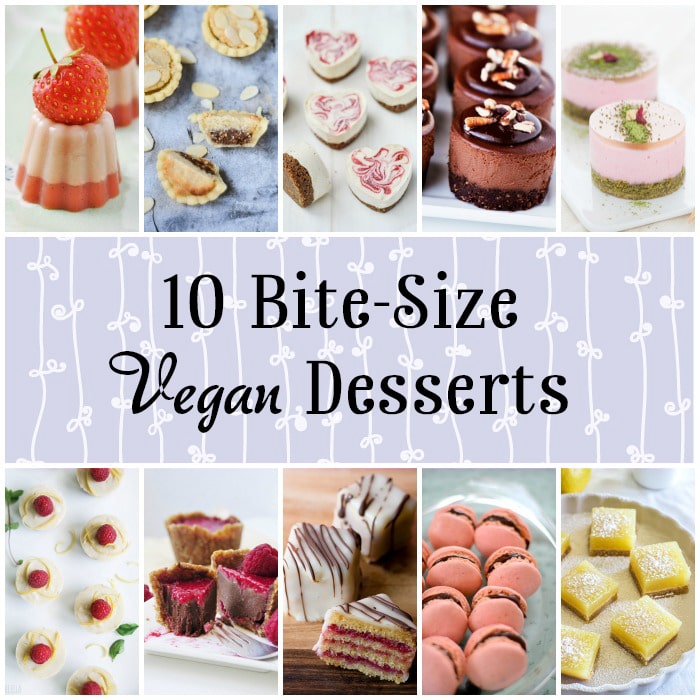 I'm putting together a guide on 'How To Serve a Vegan Afternoon Tea' and have been looking for some mini patisserie and desserts inspiration. These are 10 of my favourite recipes from around the web (including some of my own!) for miniature vegan desserts. These bite-sized treats would be perfect for parties, get-togethers, afternoon teas, gifts or simply something cute and delicious to enjoy for yourself!
Tiny panna cotta desserts made using agar agar flakes with rose and strawberry flavours! Delicious and pretty, perfect for serving bite-sized treats at a party.
.
I made this recipe for Nakd's Bakewell Tart bars. These mini tarts are so delicious and more-ish, party guests would love them. They're gluten-free too!
.
This is another recipe I made for Nakd, this time using their Strawberry Crunch bars as the cheesecake base but you could substitute for any base you prefer. They're delicious, adorable and perfect for Valentines Day or Mother's Day.
.
How amazing do these look? It's hard to believe these professional looking miniature desserts are in fact raw and healthy!
.
Note: Recipe is in French (click here for English translation). These are one of the most beautiful vegan desserts I've ever seen. They would be perfect served at a posh afternoon tea!
.
Fresh and flavourful little vegan cheesecakes. Ideal for a Summer party!
.
These treats look so decadent, you won't believe the ingredients – they're so healthy! I love the combination of chocolate and raspberry… Mmmm
.
.
Vegan Petit Vours
The perfect mini dessert: Bite-sized cake! These petit fours would be ideal for an afternoon tea treat or would make an adorable gift for someone.
.
.
.
These look so delicious and refreshing. The perfect bite-sized treats for Summer parties or to snack on at home.
.
.
Vegan Macarons!!!!! I have to try these out some day as macarons are something I miss dearly in my egg-less kitchen. These would of course be perfect for an afternoon tea treat.
.
Part of my guide series on How To Serve a Vegan Afternoon Tea