Giant couscous with garlic and roasted vegetables. Perfect side dish for a BBQ or a delicious lunch by itself.
I like ordinary couscous and all but there is something about the look and the texture of giant couscous that makes it more delicious, somehow.
It's called Golden CousCous because of the generous sprinkling of turmeric powder, which not only makes the colour pop but gives a subtle spice and a big nutritional boost too.
This recipe is packed with flavour and dotted with colourful vegetables which make it look extra. Perfect for a summer BBQ side dish or for easy packed lunches. It's a really simple recipe but simple is a good thing when it comes to cooking, right?
I love making up a huge batch of this and making salads out of it throughout the week for lunches. Pair with some leafy green salad, roast sweet potatoes, hummus, falafel etc. and you're good to go!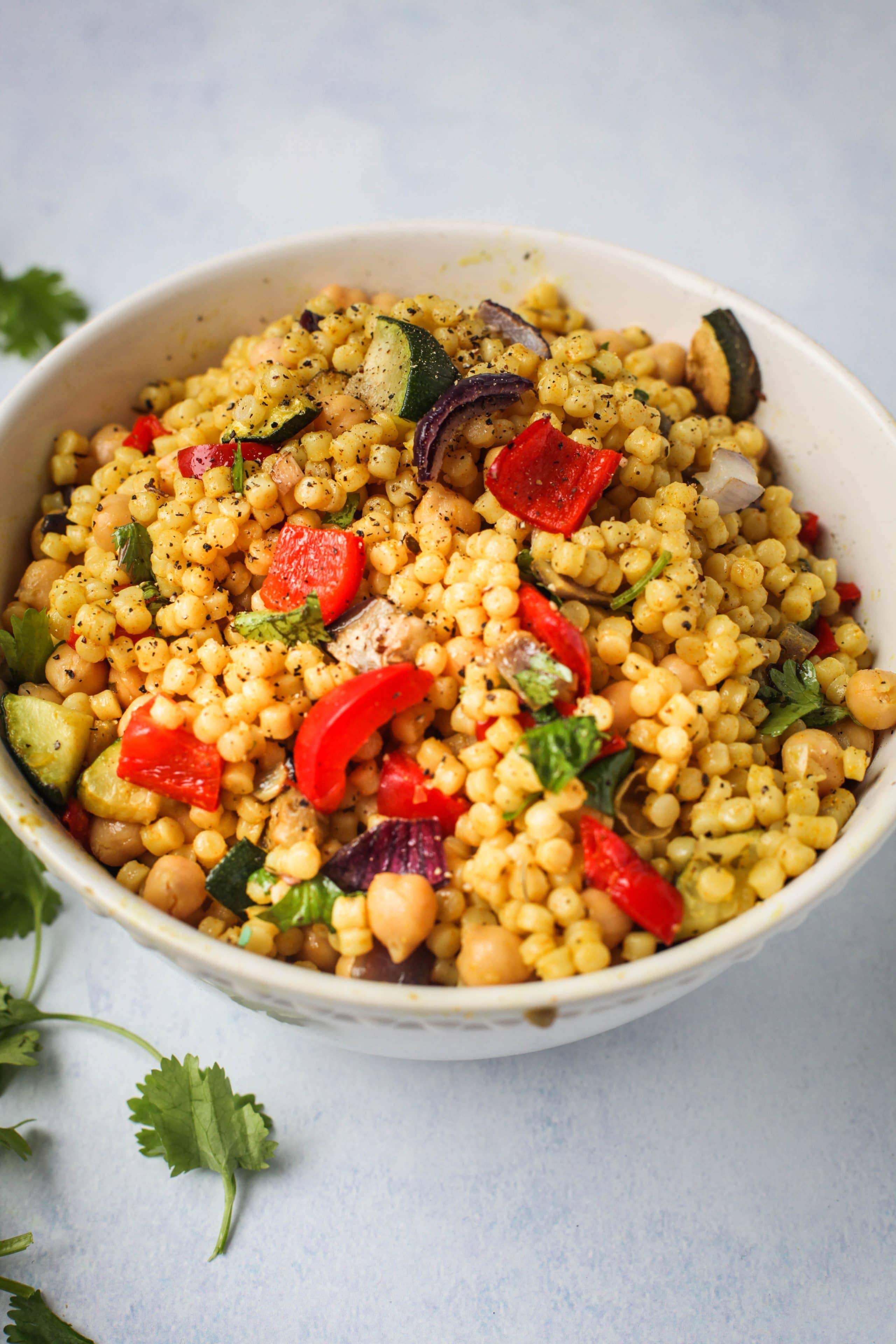 My hand model, in the first photo above, is my lovely food blogging friend Maria from Earth of Maria. She visited a few weeks ago to cook and photograph some recipes with me.
You can see her creations in the photo at the bottom of this post but please visit her blog to check them out. I've tasted them and can confirm they are delicious.
And the spoon in the photo below, is a homemade gift from my very good friend Jackie.
After recently attempting spoon whittling, I have come to appreciate how much work and skill is involved in making them.
From sawing the tree branch, axing it in half, the hours, days and weeks that go into carving enough wood off in the right places, sanding and finishing with oil to create this beautiful spoon.
A lot of love goes into it!
📖 Recipe
Golden Couscous with Veg & Chickpeas
A satisfying, flavourful giant couscous salad that can be a meal in itself or as a side dish to serve with other dishes. Delicious hot or cold - perfect for picnics and BBQs!
Ingredients
Cous cous
100 g / 3.5 oz giant couscous
1 vegetable stock cube
1 tbsp mild olive oil
1 red onion, diced
1 tsp brown sugar (or coconut sugar)
2 tsp balsamic vinegar
3 garlic cloves, minced
1 medium red bell pepper, cut into into ½-inch pieces
½ medium courgette (zucchini) cut into into ½-inch pieces
1 tsp turmeric powder
Salt and pepper, to taste
1 x 400 g / 14 oz tin chickpeas, drained and rinsed
To serve
1 tbsp garlic-infused olive oil (or plain olive oil)
A few coriander (cilantro) leaves, roughly chopped
Instructions
Bring a pan of water to the boil, add the stock cube and couscous and cook until al dente, for 10-12 minutes. Drain and rinse with cold water then set aside.
In a large frying pan, heat the olive oil on a low-medium heat and sauté the onion for 2 minutes until softened. Add the sugar and balsamic vinegar. Cook for a further 3 minutes.
Add in the garlic, red pepper and courgette. Fry for 10 minutes on a medium heat, until the vegetables are cooked. Add a little more olive oil or a splash of water if the pan gets dry.
In a large bowl, add the cooked cous cous, the turmeric, chickpeas and stir in the fried vegetables. Mix well and season with salt and pepper.
To serve, drizzle with some extra olive oil (garlic-infused preferably!) and some fresh coriander.
Nutrition Information
Yield

6
Serving Size

⅙th recipe
Amount Per Serving
Calories

191
Total Fat

6g
Saturated Fat

1g
Trans Fat

0g
Unsaturated Fat

5g
Cholesterol

0mg
Sodium

442mg
Carbohydrates

27g
Fiber

6g
Sugar

6g
Protein

7g