Thank you Schwartz for sponsoring this recipe!
Here we go… first official Christmas recipe of the year!
What do you do for Christmas morning breakfast? In my family we never have a "proper" breakfast because we're too busy with presents and watching films on TV. So we normally have something that you can eat at the same time.
I tend to bake a batch of my Orange & Cranberry Scones or whip up some Vegan Pancakes with extra Christmas spices.
This year though, I've got the perfect breakfast treat… Christmas Morning Muffins!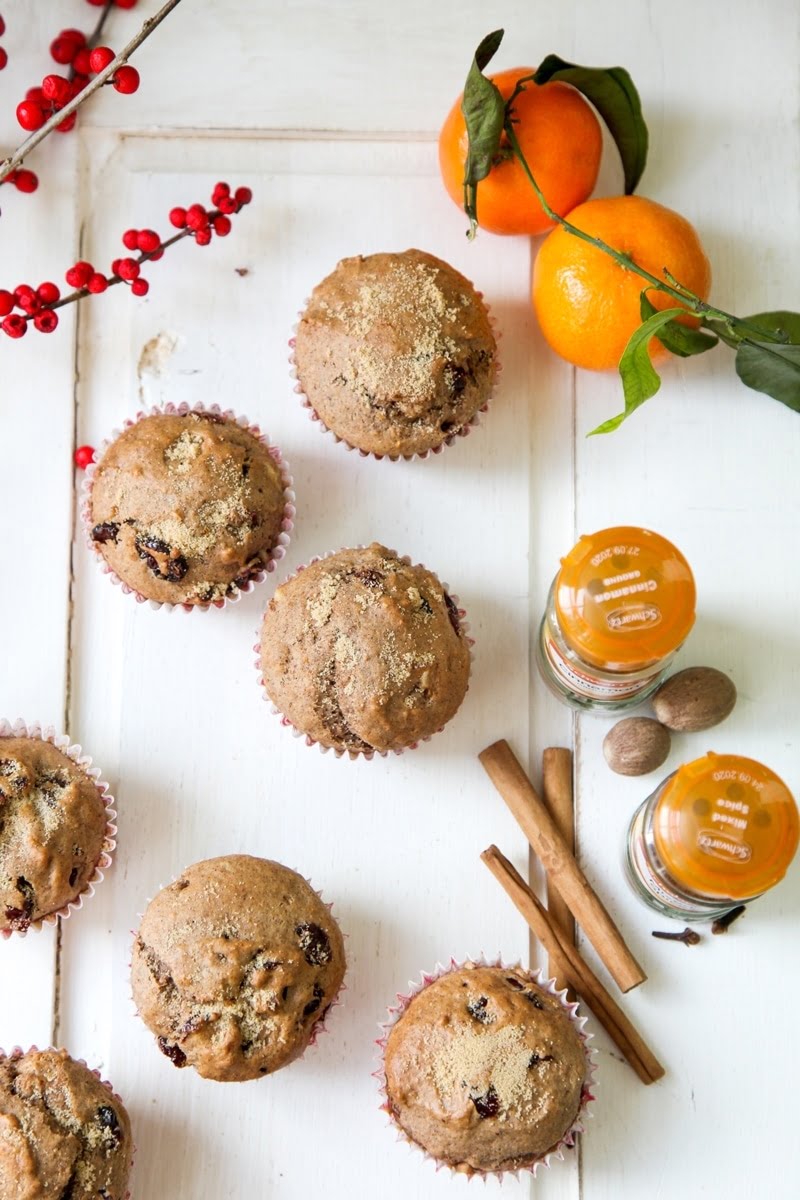 These muffins are filled with Christmas flavours and are perfect for snacking on as you open gifts and watch Home Alone on the TV.
For this recipe, I've focused on cinnamon (with some extra mixed spices) that compliments the clementine and cranberries so well.
The smell of all these Christmassy spices still lingers in my kitchen as I type this :-)
What is your favourite festive flavour?
📖 Recipe
Christmas Morning Muffins (Vegan)
Warm, comforting muffins filled with festive flavours such as cranberries, clementine and spices! Made without eggs or dairy. 
Ingredients
250g g self-raising flour
½ tsp bicarbonate of soda
100 g light brown sugar
½ tbsp ground mixed spice
½ tbsp ground cinnamon
1 tbsp ground flaxseed, mixed with 2 tbsp water
180 ml dairy-free milk
3 clementines, (zest and juice)
80 ml vegetable oil
100 g dried cranberries
50 g chopped walnuts
Instructions
Preheat oven to 180C / 350F and line a muffin tin with cupcake cases.
In a large mixing bowl, stir together the flour, soda and spices.
In a large jug, mix together the flax "egg", milk, zest and juice and oil.
Add the wet ingredients into the bowl of dry ingredients and mix to combine. Stir in the walnuts and cranberries.
Divide mixture between 10 muffin cases and bake for 20 minutes or until completely baked in the middle (if you insert a toothpick into the centre and it comes out clean - it's baked.)
Top with a sprinkling of extra sugar, if you wish and leave to cool before enjoying!