Mini bite-sized vegan pancakes, perfect for parties and snacks! Stack them up with fruit or enjoy them just as they are.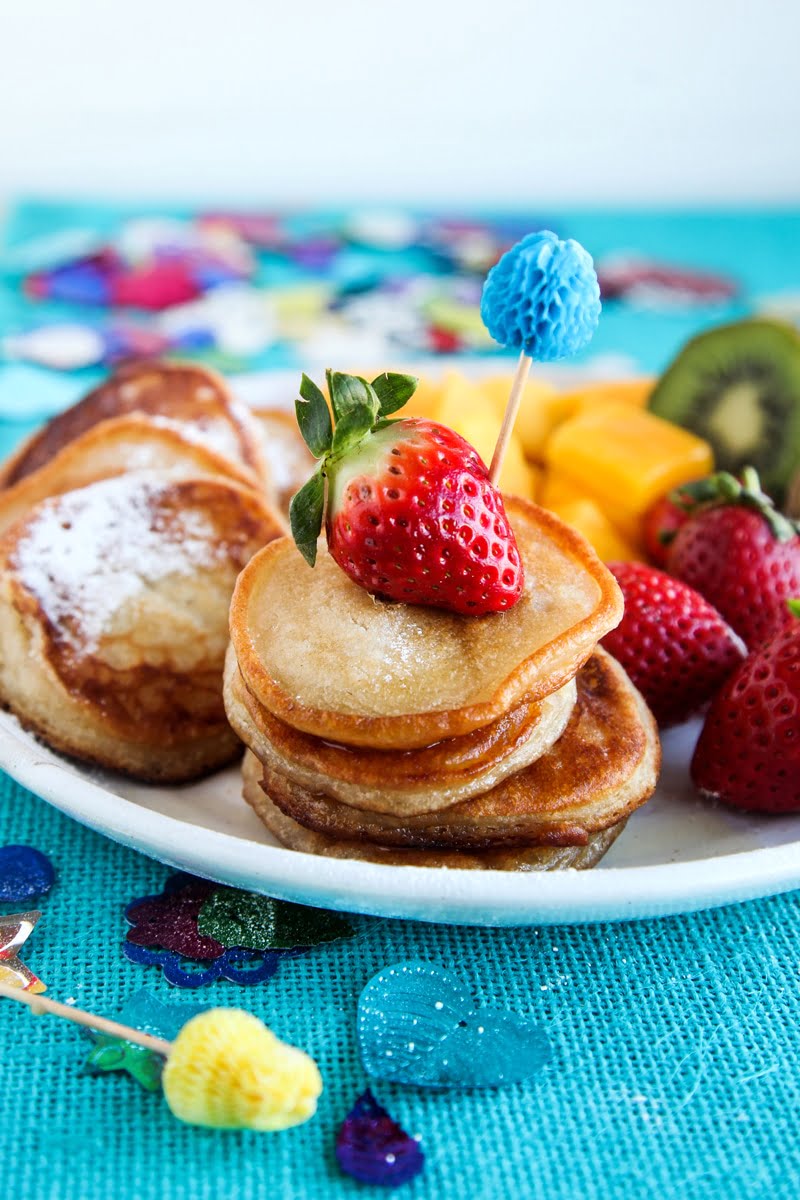 Thank you Monarch for sponsoring this recipe!
February is almost here which means it's nearly Pancake Day!
Since I have already perfected my vegan pancake recipe, I decided to create a twist, inspired by 'Tortillas de Carnaval'.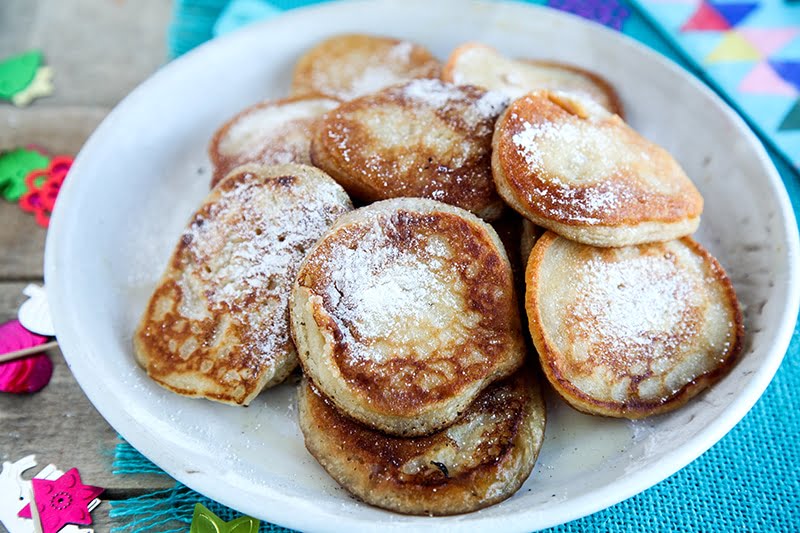 These are small pancakes which are flavoured with cinnamon and lemon then fried. Traditionally, these are served during The Carnival of Santa Cruz de Tenerife on Shrove Tuesday, before the celebrations end on Ash Wednesday.
It seems this has been going on for decades now and these pancakes have become a typical party dish around this time.
These are also inspired by "silver dollar pancakes' which are essentially smaller sized pancakes too.
So these are the perfect excuse to serve pancakes outside of breakfast. Although, if you do want to serve them for breakfast – go for it!
Perfect little delicious bites for parties and gatherings. Plus, an excuse to add a bit of sunshine and exotic flavour to this cold, grey time of year.
Traditionally, the pancakes are served with some warm honey but I used agave syrup instead.
I also sprinkled on a little powdered sugar and served with lot's of fruit. Stacking a few of the mini pancakes with some fruit and a cocktail stick is a super fun way to eat them.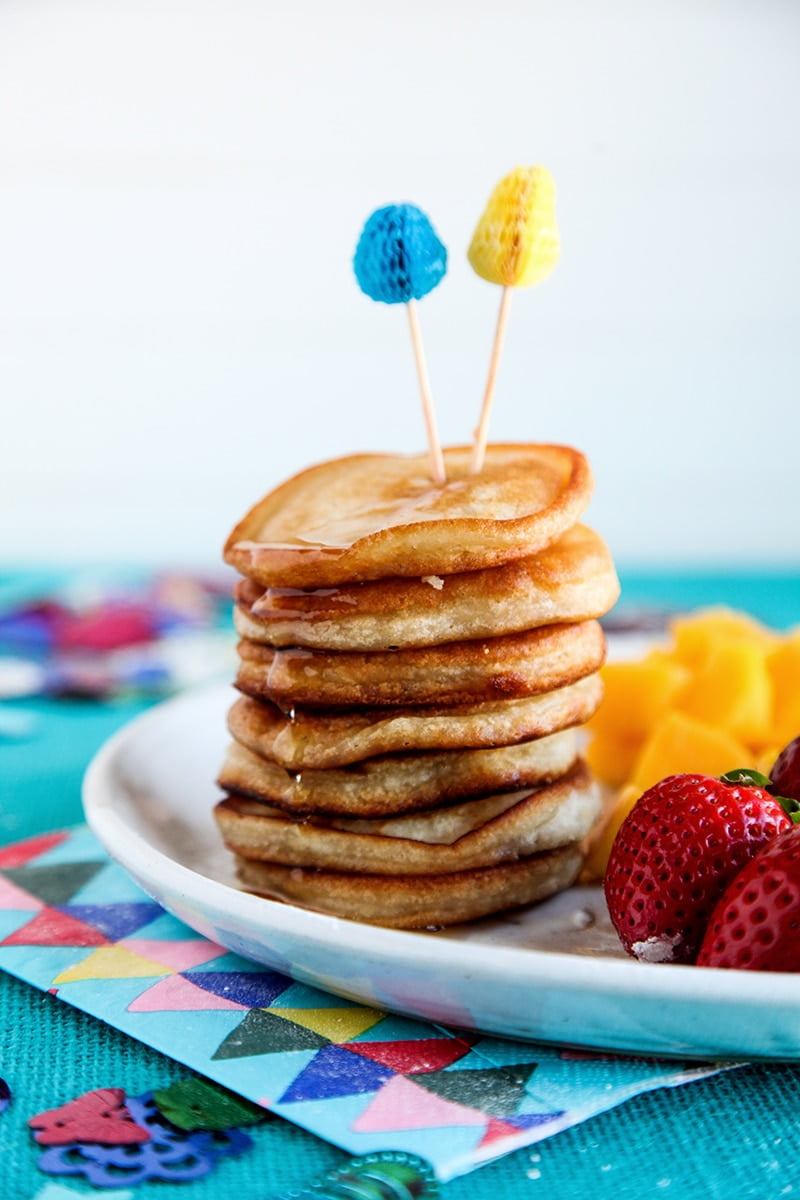 📖 Recipe
Vegan Mini Pancakes!
Sweet, mini pancakes inspired by Tortillas de Carnaval. Vegan, dairy-free and eggless recipe.
Ingredients
95 g / ¾ cup plain flour
1 tbsp arrowroot powder, or cornstarch
1 tsp baking powder
½ tsp ground cinnamon
Zest of 1 lemon
3 tbsp agave nectar or maple syrup
1 tsp apple cider vinegar
120 ml / ½ cup dairy-free milk
2 tbsp vegetable oil + extra for frying
To serve
Agave nectar or maple syrup
Fresh fruit
Instructions
Drizzle a frying with vegetable oil and put on a medium heat.
Mix the dry ingredients together in a large bowl.
Stir in the wet ingredients until well combined and the texture is runny but thick.
Ladle approximately 2 tbsp of the batter onto the dry pan and cook for 10-20 seconds before carefully flipping onto the other side. Cook for another 10-20 seconds.
Repeat with the rest of the batter. Makes approximately 10 mini pancakes.
Serve and enjoy!
Nutrition Information
Yield

10
Serving Size

1
Amount Per Serving
Calories

109
Total Fat

3g
Saturated Fat

0g
Trans Fat

0g
Unsaturated Fat

3g
Cholesterol

1mg
Sodium

56mg
Carbohydrates

19g
Fiber

1g
Sugar

9g
Protein

2g