Super fluffy vegan pancakes made with pumpkin puree and dotted with dark chocolate chips.
First pumpkin recipe of the year!
Since discovering you can buy pumpkin puree in the UK (Tesco & Waitrose both stock it) I have been crazy about baking with this ingredient.
It not only adds that comforting autumn flavour, but gives a wonderful spongey texture too.
I've already perfected (if I may say so myself) the classic fluffy pancake recipe so this is just a variation on that.
Just as fluffy but with some added pumpkin spice goodness. Oh, and chocolate chips. Which improve almost everything, I think you'll agree.
Tips for making the perfect vegan pancakes
Ingredients
For the fluffiest, lightest pancakes, we need the right blend of ingredients.
I use self-raising flour but if you can't get hold of any, you can use plain flour mixed with baking powder (see recipe notes)
This recipe is similar to a muffin or cake, in that it will result in a very light and fluffy texture, which is just what we want! And the bonus is… it's much quicker to make.
Pan & tools
You don't actually need any fancy tools to make these pancakes, at all. Just a frying pan and a spatula.
But to make life a lot easier, you can use specialist pans that have "dimples" allowing you to create multiple pancakes at once, with the perfect shape.
I personally use a mini frying pan (I think it's intended use is for making fried eggs) but it works perfectly for creating a neat, round pancake shape and allowing it to raise higher in the pan, for maximum fluffiness.
Heat
I strongly recommend that the first pancake you cook is your "test" pancake.
If it's cooking too quickly, turn down the heat and if no bubbles are appearing on top, turn the heat up slightly.
It should take approximately 20-30 seconds each side and the colour should be golden brown. If your pancakes are gooey in the middle, you need to increase the temperature or use less batter per pancake.
Toppings
I usually just have golden syrup or maple syrup with these pancakes but some chopped pecans or walnuts would be delicious too, or some extra melted chocolate sauce.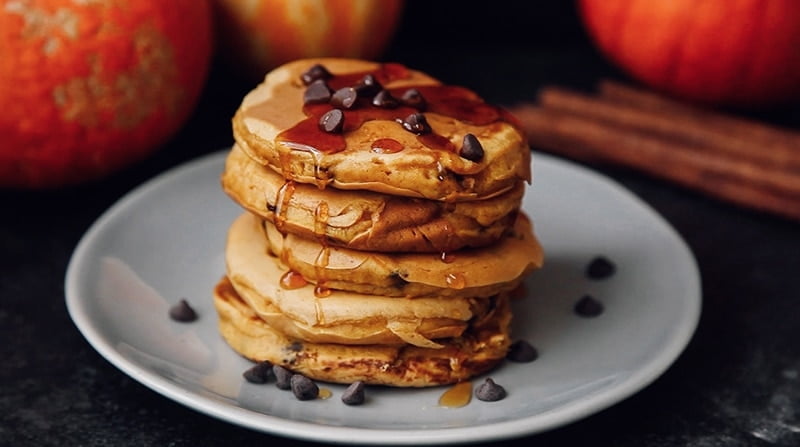 Video
📖 Recipe
Vegan Pumpkin Pancakes with Chocolate Chips
Super fluffy pumpkin pancakes, studded with sweet dark chocolate chips - the perfect Autumn breakfast treat! Vegan, dairy-free & eggless..
Ingredients
Wet ingredients
120 ml / ½ cup dairy-free milk
4 tbsp pumpkin puree
1 tsp vanilla extract
80 ml / ⅓ cup ( maple syrup
2 tbsp vegetable oil
1 tbsp apple cider vinegar
Dry ingredients
200 g / 1 cup + 2 tbsp self-raising flour*
1 tsp ground cinnamon
½ tsp mixed spice (or pumpkin spice mix)
1 pinch of salt
40 g / ¼ cup dark chocolate chips
Instructions
Heat a dry frying pan on a low heat. A small non-stick pan works best but use your first try to assess if you need to add a small amount of oil.
Mix the dry ingredients together in a large bowl.
Stir in the wet ingredients until well combined and the texture is runny but thick.
Ladle approximately ¼ cup of the batter onto the dry pan and cook for 20-30 seconds before carefully flipping onto the other side. Cook for another 20-30 seconds.
Repeat with the rest of the batter.
Serve and enjoy!
Notes
* If you don't have self-raising flour, use plain flour with 2 tsp baking powder + ½ tsp bicarbonate of soda
Nutrition Information
Yield

6
Serving Size

Per pancake
Amount Per Serving
Calories

151
Total Fat

7g
Saturated Fat

2g
Trans Fat

0g
Unsaturated Fat

5g
Cholesterol

2mg
Sodium

67mg
Carbohydrates

20g
Fiber

1g
Sugar

16g
Protein

1g
More uses for pumpkin puree:
Vegan Chocolate Chip Pumpkin Muffins
Mini Pumpkin & Cinnamon Sugar Vegan Donuts