A healthy raw vegan "fudge" made from strawberries and coconut. It tastes like little bites of strawberry milkshake!
Sometimes (most of the time) when I'm photographing food, I find it almost impossible not to eat the whole thing before I get the chance to take the photo.
And that was definitely the case with these raw vegan Strawberry Milkshake Fudge hearts.
Thankfully I made loads of them…
I've tried a few recipes for coconut oil fudge before, and they were nice but… a bit icy.
I wanted a creamier, softer texture and after a bit of experimenting, I created a "fudge-like" texture by combining coconut oil, cashew butter and a little bit of raw coconut flour.
I added some strawberries and maple syrup for flavour and called it 'Strawberry Milkshake Fudge" – because that's just what it tastes like! Delicious :-)
Video
📖 Recipe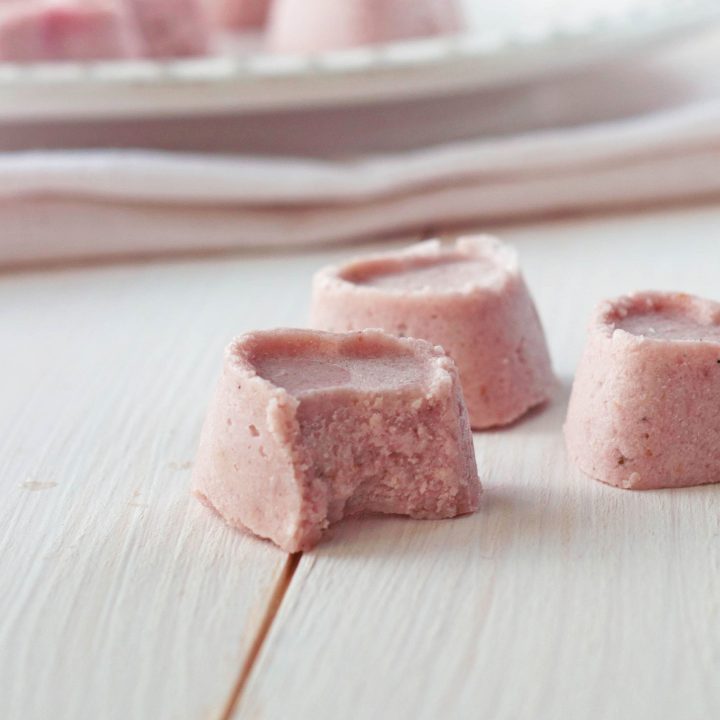 Vegan Strawberry Milkshake Fudge
These raw no-cook candies are flavoured with strawberry and a "milky" taste to create vegan Strawberry Milkshake Fudge!
Ingredients
115 g / 4 oz strawberries, hulled*
80 ml / ⅓ cup raw agave nectar or maple syrup
1 tsp vanilla extract
8 tbsp coconut oil (solid, not melted)
80 g / 2.8 oz raw cashew nuts, soaked for at least an hour
2 tbsp raw coconut flour
Instructions
In a high powered blender, blitz the strawberries to create a puree. You should end up with approx 140ml - it doesn't have to be exact. Mix in the agave syrup and vanilla extract.
Pour in the coconut oil and cashews, then blend until a smooth milkshake-like mixture is formed. Add the coconut flour and blend again until thickened. Taste and adjust sweetness, if needed.
Spoon the mixture into a chocolate mould or ice cube tray and leave to set in the freezer for at least 30 minutes. When it's ready, the fudge should pop out of the mould without crumbling or sticking.
Keep in the freezer for up to a couple of months. Or keep in the fridge for a slightly softer texture for a few weeks.
Nutrition Information
Yield

45
Serving Size

1 candy
Amount Per Serving
Calories

40
Total Fat

3g
Saturated Fat

2g
Trans Fat

0g
Unsaturated Fat

1g
Cholesterol

0mg
Sodium

1mg
Carbohydrates

2g
Fiber

0g
Sugar

2g
Protein

0g