Have you ever tried agar jelly (jello) before? I won't lie, the texture is not exactly like gelatine.
It's slightly softer and smoother but nonetheless delicious. There are other gelatine-free options out there but I haven't tried them, personally.
I just love the fact that something as nutritious as agar agar, (a sea vegetable) can create a dessert as wonderful as this! Rhubarb and custard is such a classic flavour combination. One of my favourites.
The easiest way to make this jelly is to use shop-bought Apple & Rhubarb juice but if you prefer to make your own or can't get hold of any, you can just juice them yourself using approximately 2 stalks of rhubarb and 3 apples.
Mix the juices and taste to make sure the ratio is right. The juice should be pleasantly tart and sweet. If it's overly tart or bitter, you will need more apple juice.
This jelly is:
Vegetarian and vegan
Dairy free and eggless
Gluten-free, grain-free and paleo-friendly
Low-fat and low calorie
Refined sugar-free
High in calcium
📖 Recipe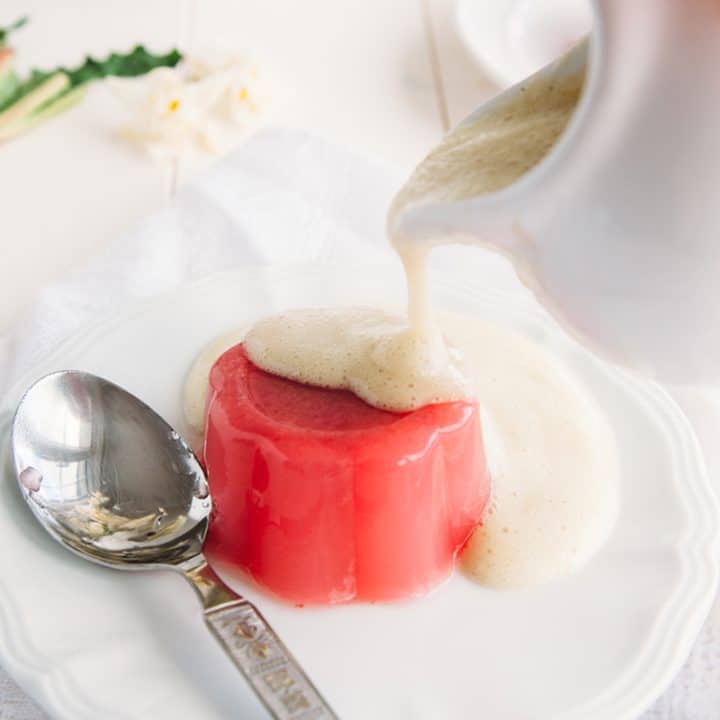 Rhubarb Jelly & Custard (Vegan)
A classic flavour combination makes this delicious, healthy dessert a wonderful nostalgic treat! It's allergen-free so everyone can enjoy it.
Ingredients
1 heaped tbsp agar flakes
240 ml / 1 cup apple & rhubarb juice*
360 ml 1 ½ cups water
optional natural pink food dye
For the vanilla bean custard
240 ml / 1 cup almond milk, or coconut milk for a nut-free alternative
1 tbsp arrowroot powder
2 tbsp agave nectar or maple syrup
1 tsp vanilla bean paste, or 2 tsp vanilla extract
Instructions
Pour the water in to a medium saucepan and sprinkle the agar flakes on top. Bring to the boil then reduce to a simmer. Stir until the flakes are completely dissolved (usually about 10 minutes).
Remove from the heat and stir in the juice and dye, if using.
Pour into 2 glasses or mini jelly molds and leave to set for at least 4 hours or overnight.
Make the custard
Mix the milk, arrowroot and agave together in a blender until smooth. Pour into a small saucepan and bring to the boil. Remove from the heat and stir until thickened. You don't want this to thicken too much as it won't be pourable otherwise. So if it's thickened too much, simply whisk in more milk.
Add the vanilla bean paste.
To serve
Remove the jellies from their molds, if using and serve with the custard on top. Enjoy!
Nutrition Information
Yield

2
Amount Per Serving
Calories

143
Carbohydrates

31g
Fiber

2g
Sugar

27g
Protein

1g