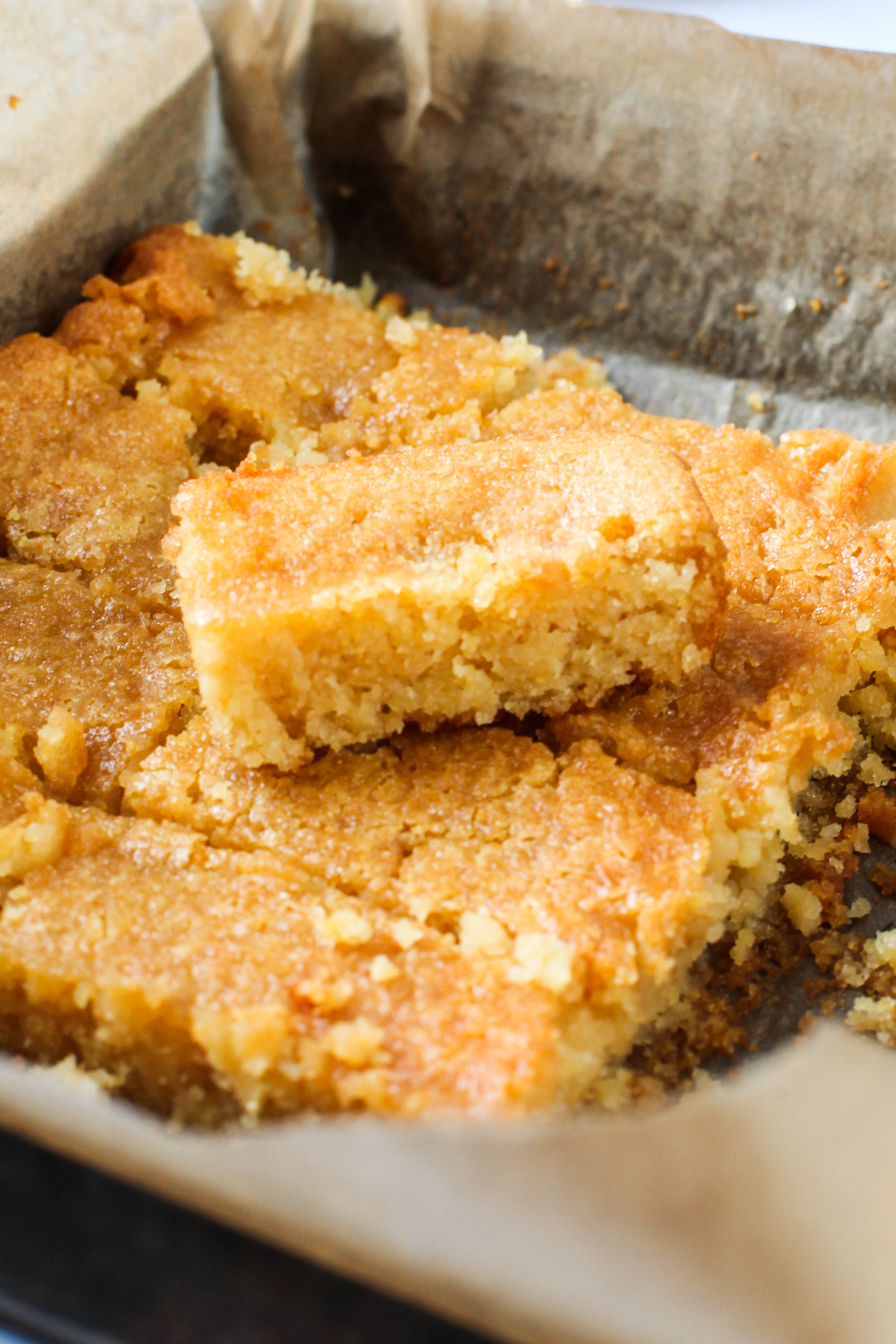 I think Lemon Polenta Cake has become the classic gluten-free option of cakes.
But with good reason. It's not only incredibly delicious, but it's also very moist, which makes a welcome change from the usual dry gluten-free cakes on offer.
However, they're usually also filled with eggs and dairy, so I wanted to create a vegan lemon polenta cake that was still gluten-free.
I ended up making this for my mum's birthday and she absolutely loved it. It has been requested again many times later.
Ingredients to make this cake
---
Polenta
Polenta (cornmeal) makes a wonderful texture, that is both spongey and dense but also has a subtle grittiness.
This is why it's important to use very fine grain of polenta.
If you can't find a fine grain type, you can whizz it in the food processor for a few minutes until the grains become very small.
Ground Almonds
The ground almonds, or almond flour, also provides a denser texture and a subtle almond flavour.
Olive Oil
You can use other oils such as coconut oil or sunflower oil, but I absolutely love olive oil in this recipe.
It pairs so well with the lemon.
Make sure to get the mild variety and not extra-virgin (which will be too strong, and isn't suitable for high heats).
Vegan Yoghurt
This is my go-to egg replacer for cakes.
I've tested this recipe with both soy and coconut yoghurt, and both work very well.
Sweetener
I wanted to make this recipe free from refined sugars, so I used maple syrup. You can also use agave nectar.
However, if you can't get hold of any liquid sweetener, you can adjust the recipe to use white sugar.
Please be aware, I have not tested this recipe with granulated sugar… but theoretically, using 1 cup of sugar and adding 3 tbsp of extra liquid (water or dairy-free milk), instead of the liquid sweetener, should work.
More Gluten-free Vegan Baking:
Vegan Pavlova with Strawberries & Cream
Blackberry, Apple & Gingerbread Crumble
If you enjoyed this recipe, let me know in the comments, leave a rating and tag #WallflowerKitchen on instagram so I can share your creations in my stories!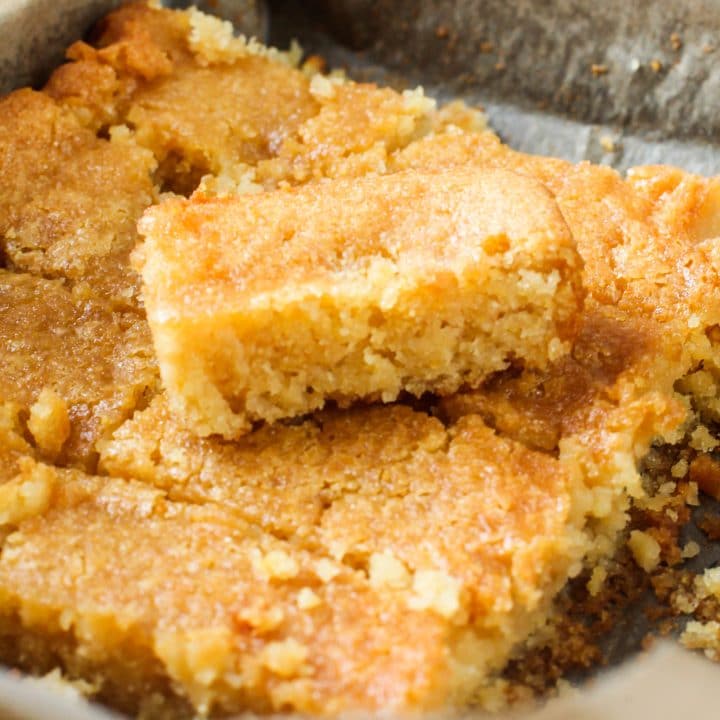 Vegan Lemon Polenta Cake (Gluten-free)
A zesty, moist, gluten-free cake that is also vegan! Lemon fans will love this treat.
Ingredients
150 ml / 5 fl oz mild olive oil
150ml / 5 fl oz agave nectar or maple syrup
200 g / 7 oz ground almonds
100 g / 3.5 oz very fine polenta (cornmeal)*
1 1/2 tsp gluten-free baking powder
120ml (120g) vegan yoghurt (soy or coconut works well)
2 tbsp lemon juice
Zest of 2 lemons
Glaze
3 tbsp lemon juice
3 tbsp agave nectar or maple syrup
Instructions
Preheat oven to 170C and line an 8x8 inch baking tray with greaseproof paper.
Mix the dry ingredients together in a large bowl. Add the wet ingredients in and stir until well combined.
Pour the mixture into the baking tray and bake for 25 minutes until golden brown.
To make the drizzle
Whilst it's still warm from the oven, poke a few holes in the cake using a skewer or fork. Prepare the drizzle by mixing the maple syrup and lemon juice together and pouring over the cake. Using a pastry brush to spread it evenly over the top of the cake.
Leave to cool before slicing and enjoy!
Notes
*It's important to use a very fine grain of polenta, otherwise you'll end up with a slightly crunchy cake!
Recommended Products
As an Amazon Associate and member of other affiliate programs, I earn from qualifying purchases.