Hot chocolate in the form of cupcakes! This recipe consists of an indulgent vegan chocolate cupcake, topped with aquafaba marshmallow frosting and topped with mini-marshmallows.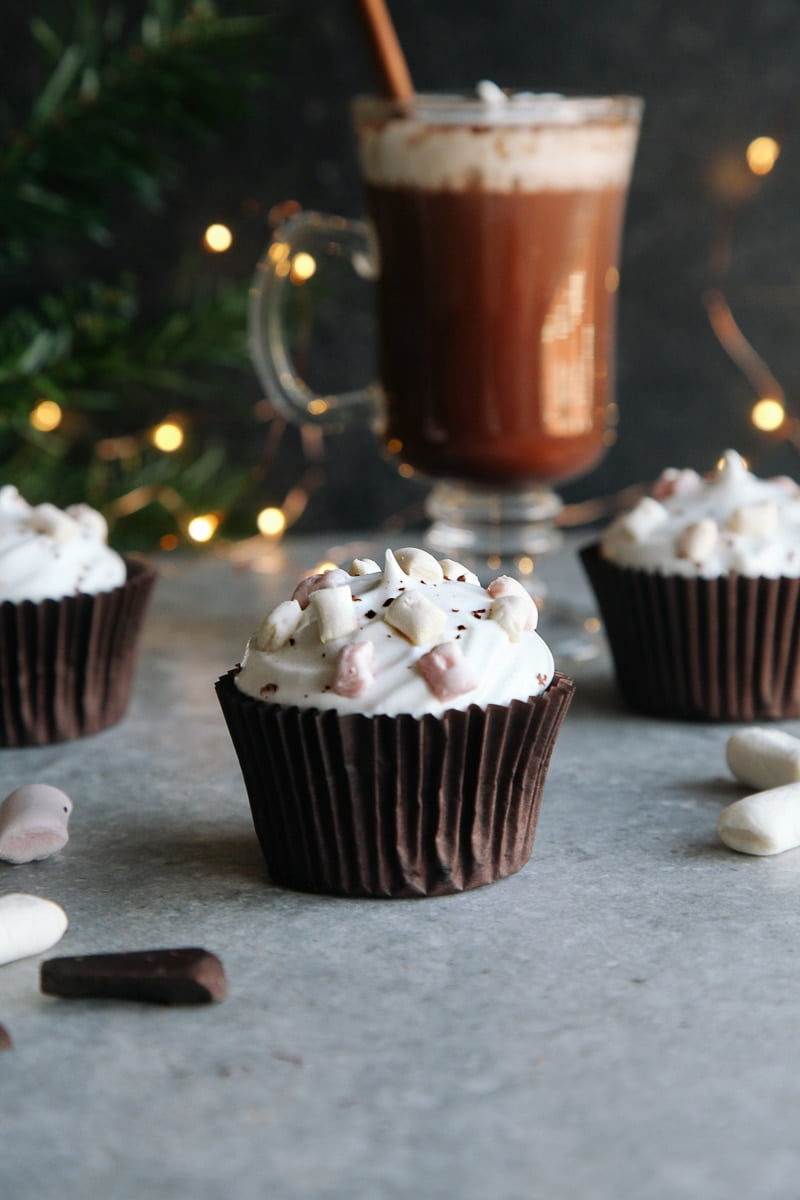 I'm actually not a huge fan of hot chocolate.
I mean, I completely see the appeal and I know it tastes delicious.
But the idea of drinking a whole mug of it makes me a little nauseous.
So these hot chocolate vegan cupcakes are just the thing.
All the flavour of a comforting hot chocolate in the form of a cupcake!
Aquafaba marshmallow frosting
The topping is made with aquafaba (aka chickpea water) and if you don't know what that is yet, it's water from a can of chickpeas, or other legume, which you can use as an egg white substitute.
It works incredibly well! See some of my other aquafaba recipes here.
I usually just use the aquafaba straight from the tin but this time I experimented to see if it made much difference to boil it down first.
I've seen a lot of people do this.
Essentially it's just boiling down the mixture to cook off some of the water and create a more concentrated liquid.
I think it definitely created a thicker, glossier mixture and it didn't take that much extra effort so I think I will probably do this from now on.
But it absolutely isn't necessary if you don't have the time.
📖 Recipe
Vegan Hot Chocolate Cupcakes
Hot chocolate + cupcake = yes please. These rich, chocolatey cupcakes are topped with fluffy vegan marshmallow frosting and dotted with mini marshmallows too.
Ingredients
For the hot chocolate cupcakes
175 g / 1 ½ cups plain flour, or gluten-free flour
1 tsp bicarbonate soda
A pinch of salt
50 g / ½ cup cocoa powder
225 g / 1 cup + 2 tbsp light brown sugar
270 ml / 1 cup + 2 tbsp hot water
60 ml / ¼ cup sunflower oil, or other mild-tasting vegetable oil
1 tsp apple cider vinegar
For the vegan marshmallow frosting
The liquid from 1 x 400g tin of chickpeas
8 tbsp powdered sugar
1 tsp vanilla extract
(Optional) mini vegan marshmallows and grated dark chocolate
Instructions
To make the chocolate cupcakes
Preheat the oven to 180C / 350F and line a muffin tray with 12 cases.
Mix the first five ingredients together until well combined.
Stir in the remaining wet ingredients until the mixture is smooth and lump-free.
Divide the mixture equally between the 12 muffin cases and bake for 15 minutes. Use a cake tester or skewer to test the middle of the cupcakes come out clean. If not, bake for a further 5 minutes.
Leave to cool whilst you make the frosting.
To make the marshmallow frosting
Pour the liquid into a measuring jar. Mine came to about 150ml, so I aimed to boil the mixture down to about 75ml. You don't have to be exact but you want to reduce it by about half the amount.
Pour the mixture into a saucepan and bring to a boil. Simmer until it looks reduced by half the amount.
Transfer to a stand mixer with a balloon whisk attached (you can use an electric whisk but it might take a bit longer) and whisk until frothy.
Slowly add the sugar and whisk on full speed for about 10 minutes until stiff and glossy. Add the vanilla extract in at the last minute.
Transfer the mixture to a piping bag or just use a spoon to add the frosting on top of the cooled cupcakes.
Top with mini marshmallows and grate a little extra chocolate on top. Serve immediately and enjoy!
Notes
The chocolate cupcakes will keep for 2-3 days in an air tight container but the frosting will likely deflate after a day. You can make it in advance but will need to re-whip it before topping the cakes and serve within a few hours.