Vegan Chocolate and Cherry Cupcakes with Cream or Black Forest Gateau in vegan cupcake form! Bursting with cherry flavour with a rich chocolate base and topped with dairy-free coconut cream.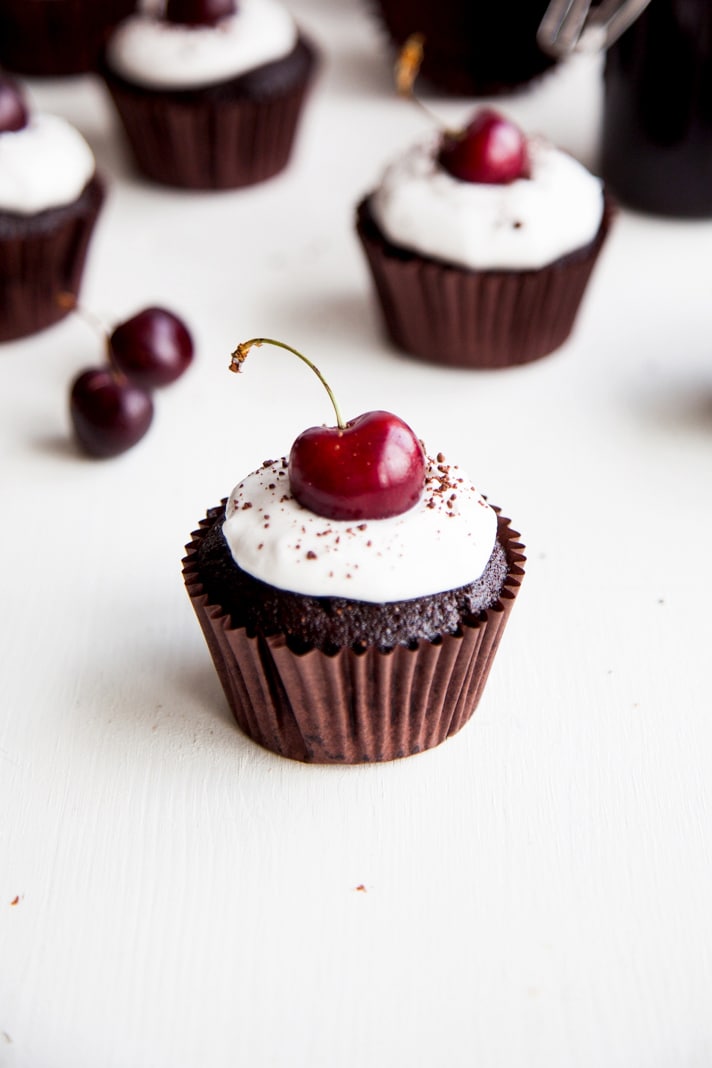 Cherry season is here! And I'm celebrating with my favourite way to use cherries… Black Forest Cake!
Or in this case, cupcakes. It's like a condensed version of Black Forest Gateau and it's AMAZING. 
Whether you're vegan or not, you will love these cherry chocolate cupcakes. They're rich, chocolatey and completely indulgent!
They're also been tested with gluten-free flour (I used Dove's all-purpose gluten-free flour blend) and it turned out great!
Despite containing no actual chocolate, it's the most chocolatey cake I've ever tasted!
I have to say, I think my adapted version is even more chocolatey.  
I think I'm going to have to try and make this into a full Black Forest Gateau next time, for a real show-stopping cake! Stay tuned to see how that goes…
I did intend on making my own jam for these cupcakes, originally but the weather has been so unbearably hot these past couple of days that I couldn't stand the thought of using the stove for any longer than 5 minutes!
Plus, you can find some delicious fruit-sweetened jams at the supermarket.
I think I will try creating my own jam recipes when the weather cools down.
There's something very satisfying about homemade jam. 
I would recommend preparing the whipped coconut cream in advance.
Chill it in the fridge overnight, follow these easy instructions on how to make it and then chill it a bit longer before piping it or smoothing it onto the cakes.
It's not strictly necessary, as the cream should stay stable at room temperature, but it does make it easier this way and gives a cleaner look, I think.
These cupcakes are:
Dairy-free, eggless & vegan
Easy to make gluten-free (just use gluten-free flour in place of the plain – tested and approved!)
Free from refined sugars
Nut-free
Soy-free
Can be made kid-friendly – just leave out the Kirsch!
Ultra chocolatey and rich
And a bonus moody shot because I couldn't resist taking more photos on my second recipe test.
📖 Recipe
Vegan Black Forest Cupcakes
Delicious, rich chocolate cupcakes filled with cherries and topped with coconut cream. Super indulgent and flavourful. Easy to make gluten-free (tested with Doves gluten-free flour).
Ingredients
175 g plain flour (or gluten-free flour)
1 tsp bicarbonate soda
A pinch of salt
50 g cocoa powder
225 g light brown sugar
275 ml hot water
60 ml sunflower oil, or other mild-tasting vegetable oil
2 tsp apple cider vinegar or lemon juice (to react with the bicarbonate soda)
For the filling
Black cherry jam, I used a fruit-sweetened one
optional A few drops of Kirsch or brandy
For the topping
Fresh cherries
Dark chocolate, grated
Instructions
To make the chocolate cupcakes
Preheat the oven to 180c. / 350f. and line a muffin tray with 12 cases.
Mix the first five ingredients together until well combined.
Stir in the remaining wet ingredients until the mixture is smooth and lump-free.
Divide the mixture equally between the 12 muffin cases and bake for 15 minutes. Use a cake tester or skewer to test the middle of the cupcakes come out clean. If not, bake for a further 5 minutes.
Leave to cool then cut small holes in the centre of the cupcakes. You can use a cupcake corer, apple corer or a small sharp knife to hollow out the centres.
To fill & decorate
Fill the cupcake holes with the cherry jam (and Kirsch, if using).
Make the coconut whipped cream, according to these instructions, then pipe or dollop onto the tops of the cupcakes.
Decorate with a single cherry then serve!
These are best kept refrigerated and can be stored for up to 3-4 days. Enjoy!