Easy, tasty, healthy and budget-friendly mini vegan quiches made with chickpea flour! One of my favourite snacks to make and easy to switch up with different fillings and flavourings.
35 calories! I know, right?
Not only are these mini quiches low calorie but they are fat-free, gluten-free, grain-free, vegan and a good source of protein.
Oh, and they're DELICIOUS.
The sun-dried tomatoes give a slight bacon-y flavour, that reminded me of a quiche Lorraine.
SO good. If you can get hold of smoked tomatoes -even better.
These quiches are:
Only 35 calories and fat-free
Gluten-free and grain-free
Vegan, dairy-free and eggless
Soy-free
Good source of protein
Portable, freezer-safe, can be eaten hot or cold
Takes 8 mins to prepare and 20 mins to cook!
So what are these mini quiches made of, if not eggs?
The secret ingredient is chickpea flour.
And don't worry - this is a very easy to get hold of ingredient.
It's sometimes called Gram or Besan flour and can be found in Asian food shops or in the supermarket in the Asian food section.
A bit like making socca, the chickpea flour is combined with water which creates a firm "cooked egg" texture.
Combined with nutritional yeast and some black salt (if you can get hold of it) you can also create a classic egg taste too.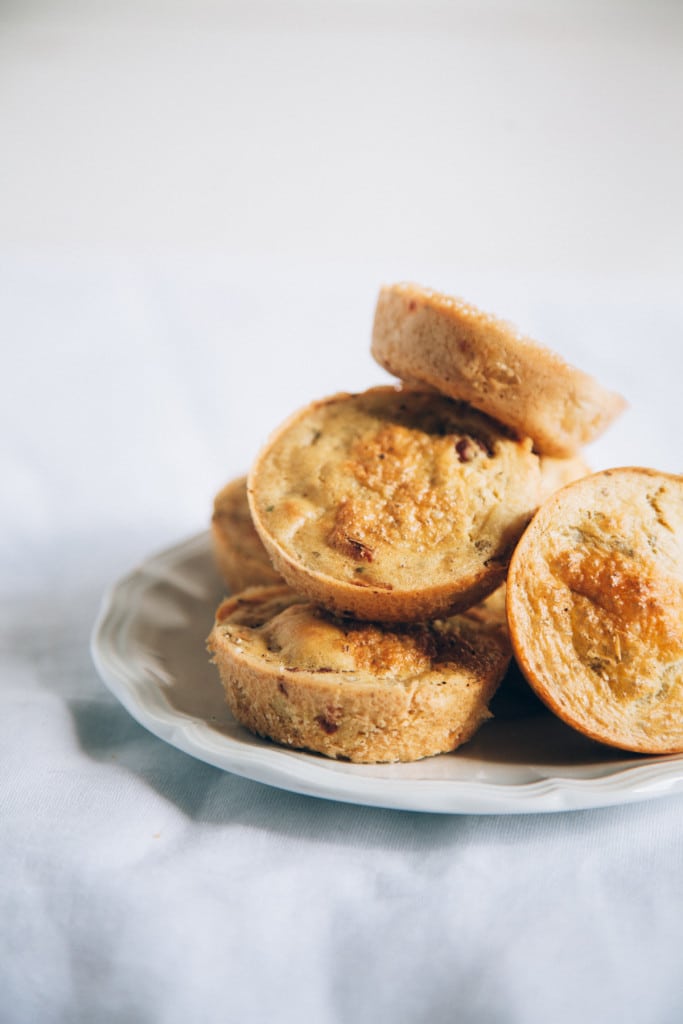 📖 Recipe
Mini Vegan Quiches
Mini quiches that are perfect for on-the-go breakfasts and snacks. Vegan, gluten-free, low-fat, low-calorie and virtually guilt-free!
Ingredients
Cooking spray, I used low calorie olive oil spray
½ cup chickpea flour
¾ cup water
3 tbsp nutritional yeast
A pinch of black salt, optional*
1 tbsp dried mixed herbs
8 sundried tomatoes, chopped into small chunks**
½ medium onion, diced
2 garlic cloves, minced
Salt and pepper, to taste
Instructions
Preheat oven to 220C / 430F and coat a muffin tin with cooking spray.
In a bowl, whisk together the chickpea flour, water, nutritional yeast, black salt, herbs and sun dried tomatoes.
Coat a frying pan with some cooking spray and fry the onion and garlic for a few minutes until softened and beginning to brown. Remove from the pan and add to the bowl.
Add salt and pepper, to taste.
Pour the mixture into the muffin tin. You should get 8 mini quiches.
Bake for 15-20 minutes until the quiches are firm and browned on top.
Serve warm, freeze for later or keep in the fridge for up to 5 days. Enjoy!
Notes
*Black salt gives an "eggy" taste but is completely optional.

**If using sun-dried tomatoes in oil, you can rinse them in water and use a paper towel to soak up any leftover oil.
Nutrition Information
Yield

8
Amount Per Serving
Calories

35
Carbohydrates

4.8g
Fiber

1g
Protein

2.5g