Buttery Danish cookies or Spritz cookies made dairy-free, but with all the familiar flavour of the classic biscuits you get in a tin! These are great fun to make (especially if you have a cookie press, although it's not essential) and make wonderful homemade gifts.
I was so pleased with how beautiful and delicious these little vegan Danish butter cookies turned out, when I first created this recipe.
And I have been making them regularly ever since, especially at Christmas.
Jump to: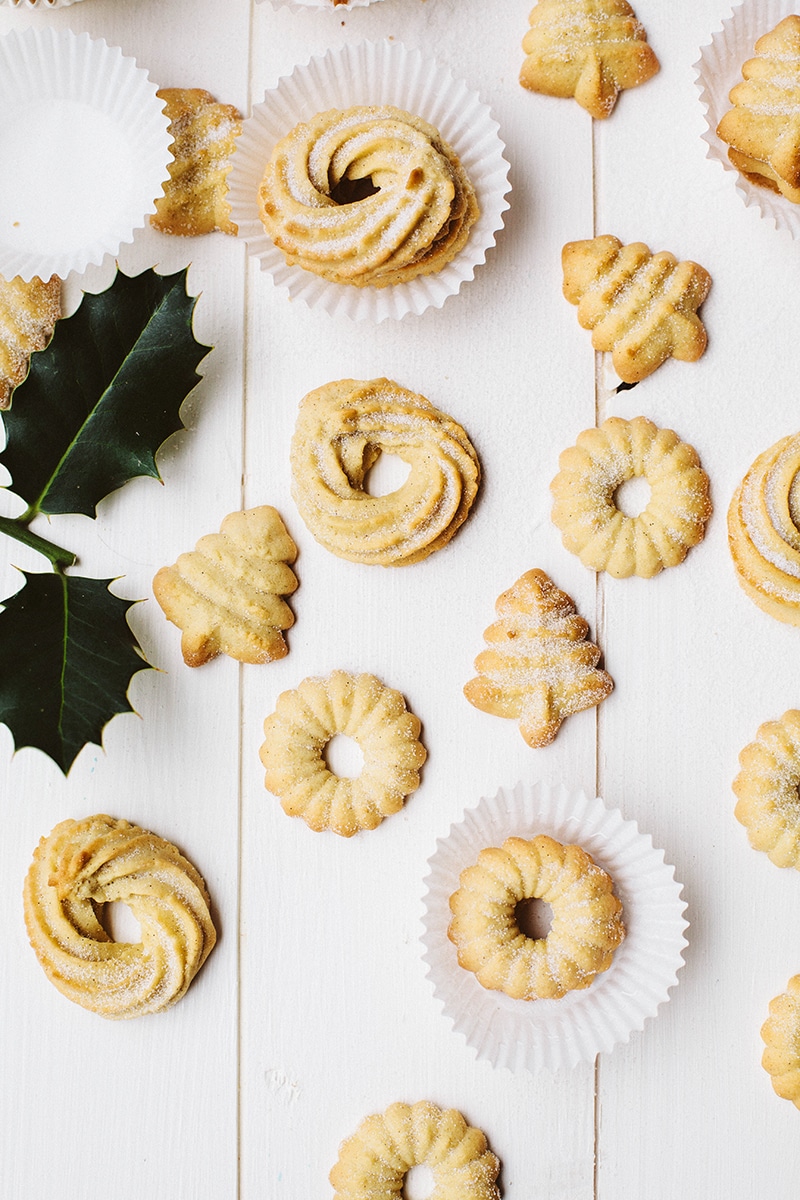 The three main things I love about this recipe: the melt-in-your-mouth deliciousness, how fun they are to make and how beautiful they look (for the short while before they're all eaten).
This post includes a step-by-step recipe, tips and a short guide on how to create a festive gift tin to store them in.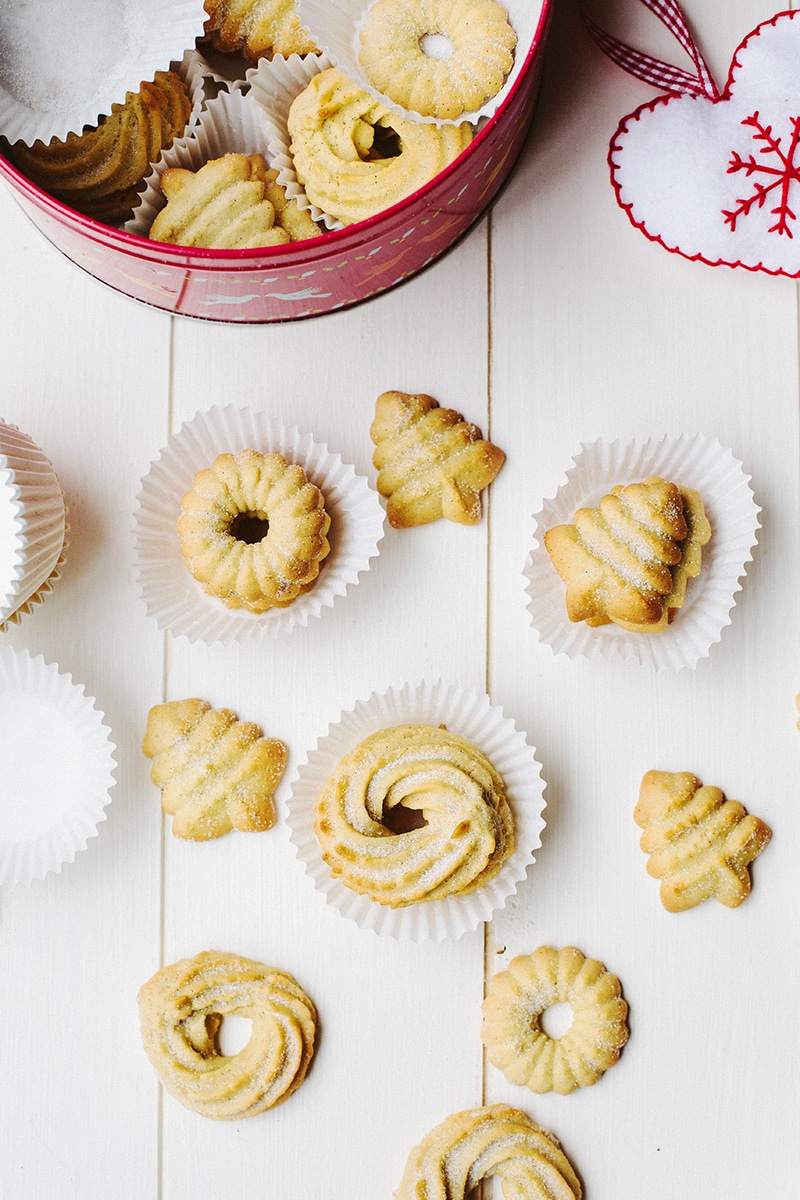 Creating a Danish Butter Cookie gift tin
Aside from eating the cookies, and playing with the cookie press, this is one of the best parts.
I love displaying these beautiful cookies in a tin, regardless of whether I'm giving them away as gifts or keeping them for myself.
You'll just need the following:
A batch of these Vegan Danish Butter Cookies (Recipe at the bottom of this post)
An empty medium round tin with lid (an old cookie tin is perfect)
Plain cupcakes cases
Extra sugar for sprinkling
It will depend on the size of your tin, but I used 7 cupcake cases to place around the inside edges of the tin and 1 for the centre (8 total).
Fill each cupcake case with 3-4 cookies.
Sprinkle generously with white granulated sugar.
Now create a second layer on top of those cases and repeat.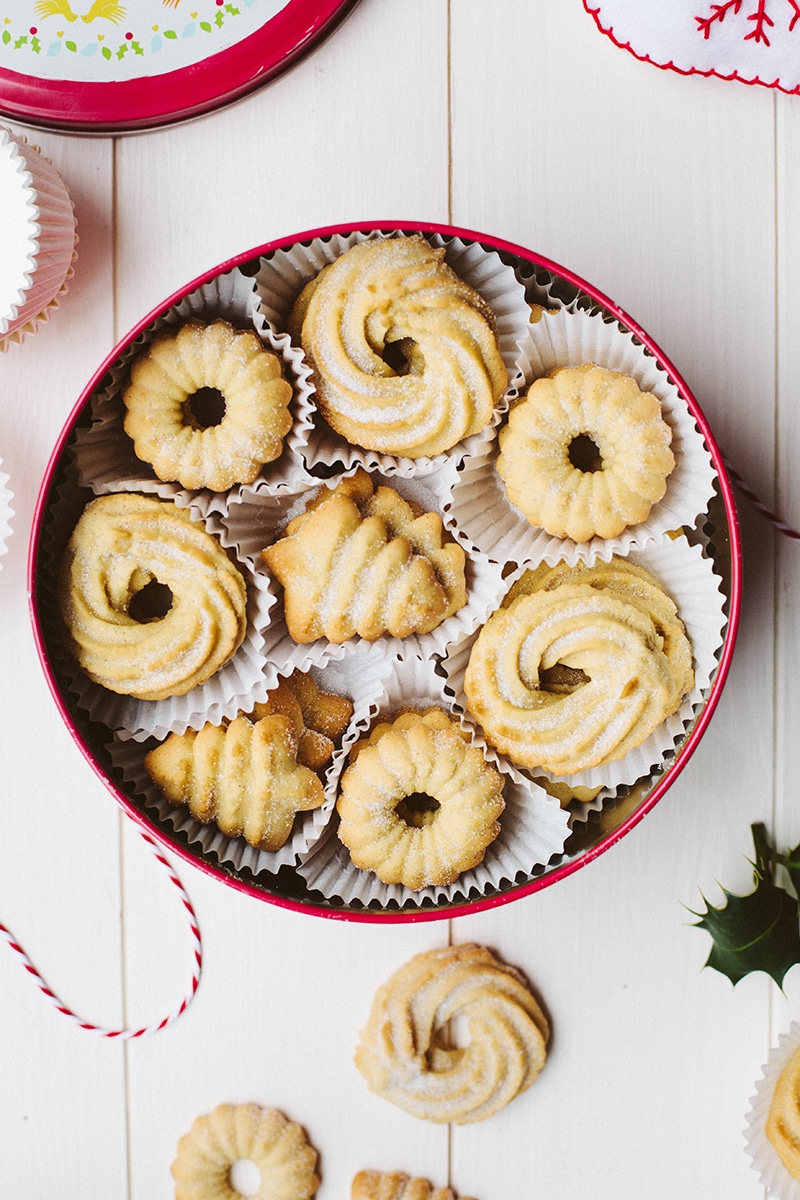 Do I need to use a cookie press to make these cookies?

Not at all! You can simply roll the dough into small balls and press with your fingers or a fork. If you use this method, refrigerate the dough for about 20 minutes beforehand for the best result.

Or, use an icing bag + a star shaped nozzle to create wreath shapes (you can see I've used this method for some of the cookies pictured).

The mixture is too stiff to pipe. What do I do?

This can happen when the weather gets really cold OR if the mixture is overworked or too dry.

If you're using a piping bag, you can "massage" the bag to warm up and loosen the mixture.

The other solution is to return the mixture to the bowl, and without overworking the dough, mix in a small amount of dairy-free milk, until you have a softer consistency.

If all else fails, chill the dough and roll or cut out shapes instead!
My cookies won't stick to the sheet. What can I do?
Try chilling your tins beforehand, this usually solves the problem. I put the lined baking tins in the freezer for about 15 minutes before adding the cookies to bake.
How are these "Butter" cookies, when there is no butter?

Despite being dairy-free, these cookies will be just like how you remember the original.

In fact, many shop bought Danish Butter Cookies are made with vegetable oils, making them more shelf stable and are therefore vegan-friendly.

I recommend a good-tasting vegan butter alternative, such as Naturli block, Vitalite or Earth Balance Buttery. Found in most supermarkets.

If you can't get hold of a vegan butter and can only find margarine, one of my readers, Maria, has a great tip: Use butter flavouring. It is usually vegan-friendly.
📖 Recipe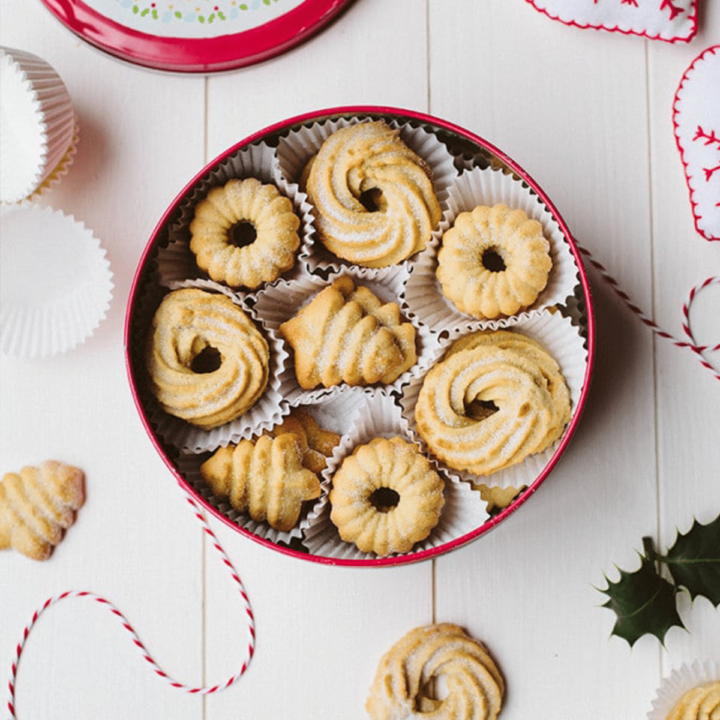 Vegan Danish Butter Cookies
Vaniljekranse aka Danish Butter Cookies are THE essential Christmas cookie, in my opinion. This is a vegan recipe for those who miss this nostalgic taste...
Ingredients
200 g / 7 oz dairy-free buttery spread
130 g / 4.5 oz confectioner's sugar
310 g / 11 oz plain flour
1 tbsp corn starch mixed with 2 tbsp water
2 tsp vanilla bean paste or vanilla extract
1 tbsp almond milk, if needed
2 tbsp white sugar, for decoration
Instructions
Preheat oven to 180C / fan 160C / 350F. Line a baking sheet with greaseproof paper.
Mix together the dairy-free butter and icing sugar to create a soft buttercream.
Add the rest of the ingredients, minus the milk, and mix until just combined. If the mixture is too dry, add the 1 tbsp of milk or more until a soft but firm batter is formed.
Create the cookie shapes either using a cookie press, piping bag or simply dropping a tsp of batter onto the sheet.
Bake for 10-15 minutes, regularly checking to make sure they are baking evenly. Turn your baking sheet around to face the other way half way through, if necessary.
Let cool for 10 minutes on a cooling rack then sprinkle with sugar. Enjoy!
Nutrition Information
Yield

60
Serving Size

1
Amount Per Serving
Calories

49
Total Fat

2g
Saturated Fat

1g
Trans Fat

0g
Unsaturated Fat

1g
Cholesterol

0mg
Sodium

22mg
Carbohydrates

7g
Fiber

0g
Sugar

3g
Protein

1g
More Vegan Christmas Bakes