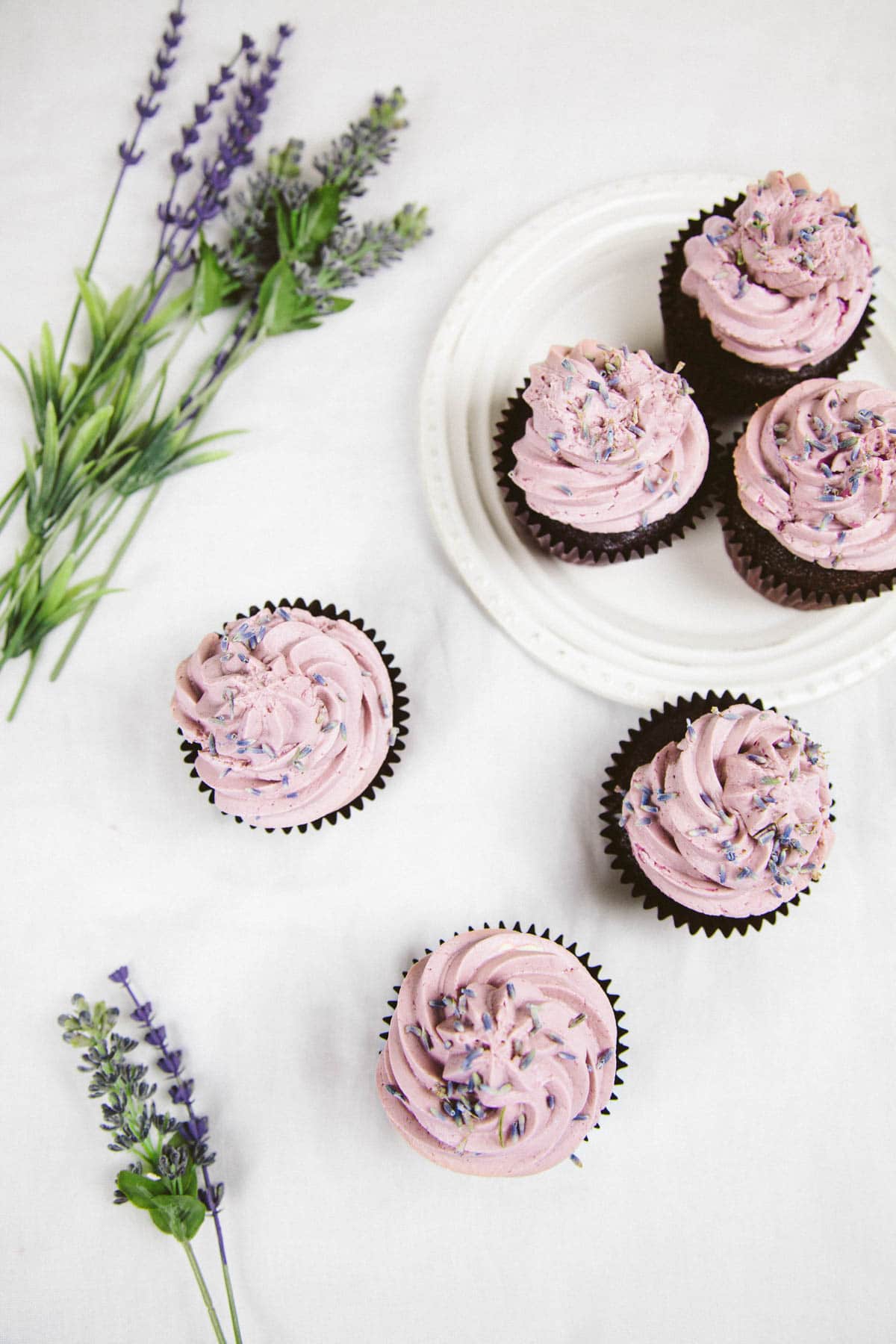 Firstly, please excuse my non-professional icing skills. It's never been my forte, I'm afraid but I promise it tastes really good!
That's the most important thing, right?
These cupcakes are inspired by an old (non-vegan) recipe of mine for chocolate lavender cupcakes. I adored these cupcakes and have been meaning to make a vegan version for a while now. So here they are!
The recipe is based on Nigella's "accidentally vegan" Dark Chocolate Cake – which is DELICIOUS.
I've made it numerous times now and have adapted it so much in the process (not that it needed it but just because I can't leave a recipe alone) that I've created my own version of it using spelt flour and coconut sugar.
I've also tested her recipe using gluten-free flour and it works very well, I'm pleased to report.
So feel free to use equal amounts of gluten-free flour for these cupcakes if you wish to make them gluten-free. 
The cupcakes are rich, despite the chocolate flavour coming from just cocoa powder alone, and fluffy yet gooey. Chocolate cupcake perfection!
You could even serve these as part of a vegan afternoon tea for your mum. 
If you enjoyed this recipe, let me know in the comments, leave a rating and tag #WallflowerKitchen on instagram so I can share your creations in my stories!
Vegan Chocolate Lavender Cupcakes
Delicate lavender paired with bitter-sweet chocolate makes for a dreamy flavour combination in these pretty vegan cupcakes. This recipe has been tested with gluten-free flour too, if you prefer to make them gluten-free.
Ingredients
For the sugar-free lavender buttercream
1 tbsp dried lavender buds + extra for decoration
125 g good-tasting dairy-free butter
250 g confectioner's sugar
A small amount of natural violet food dye, optional
For the chocolate cupcakes
175 g plain flour
1 tsp baking powder + 1/2 tsp bicarbonate soda
A pinch of salt
50 g cocoa powder
225 g light brown sugar
275 ml hot water
60 ml sunflower oil, or other mild-tasting vegetable oil
1 1/2 tsp apple cider vinegar
Instructions
To make the buttercream frosting
Heat 2 tbsp of the dairy-free butter in a small saucepan with the lavender buds. Strain and allow the butter to re-solidfy in the fridge or freezer.
Once the butter has set again, mix it with the rest of the butter in a stand mixer along with the powdered sugar and a small amount of purple food dye until you have a thick, fluffy buttercream. Keep refrigerated until use.
To make the chocolate cupcakes
Preheat the oven to 180c. / 350f. and line a muffin tray with 12 cases.
Mix the first five ingredients together until well combined.
Stir in the remaining wet ingredients until the mixture is smooth and lump-free.
Divide the mixture equally between the 12 muffin cases and bake for 15 minutes. Use a cake tester or skewer to test the middle of the cupcakes come out clean. If not, bake for a further 5 minutes.
Leave to cool before frosting.
Transfer the frosting to a icing bag and pipe on top of the cupcakes. Decorate with dried lavender buds and serve!