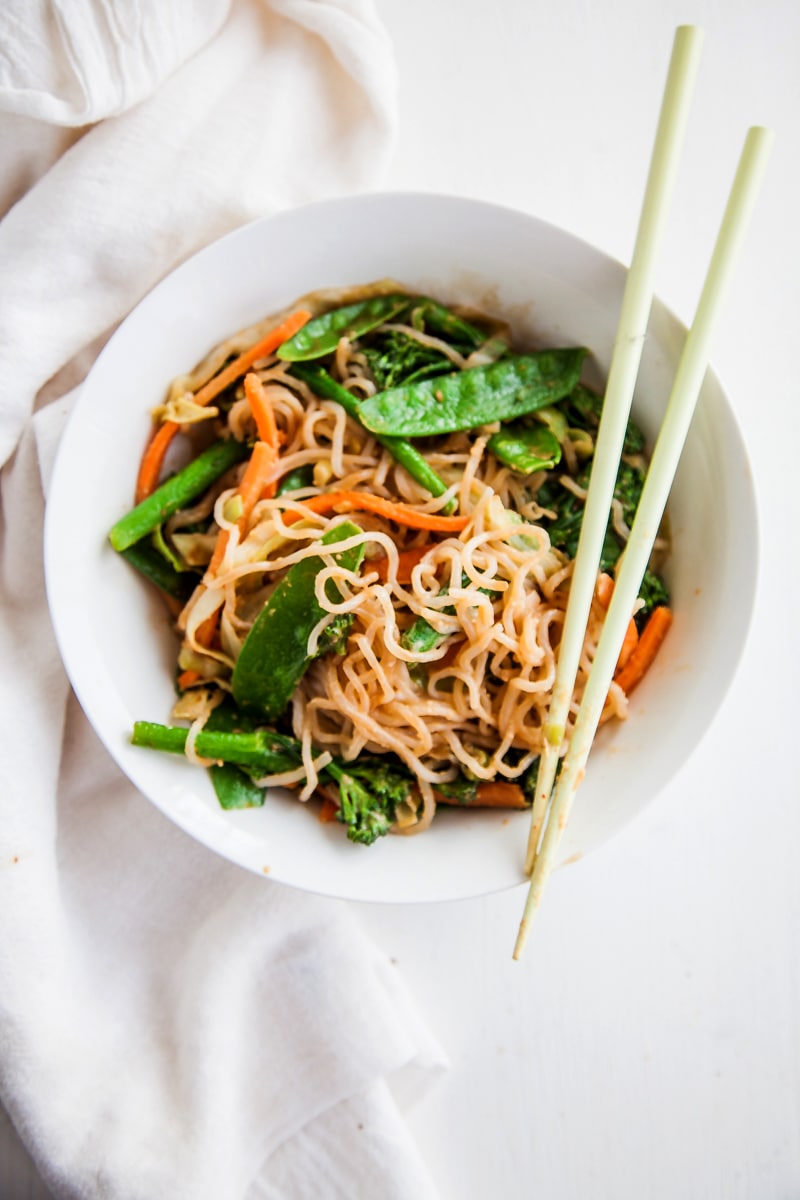 Have you tried Shirataki noodles before?
They're often called "Miracle" noodles or "Zero" noodles because of the fact they contain no calories, fat or carbs! Sounds too good to be true, right?
They're naturally gluten-free and grain-free, meaning they are also suitable for Paleo diets too.
Suffice to say, they're often used by people trying to lose weight and make an excellent alternative to wheat or rice-based noodles.
So how does it taste? I had heard mixed reviews about the shirataki noodles and their texture but I found them surprisingly good!
They are definitely more chewy but it's not at all unpleasant, in fact I enjoyed it.
Coconut aminos do an amazing job at creating a soy sauce flavour without containing any soy and the almond butter could almost be mistaken for peanut butter in this dish, especially when mixed with the rest of the ingredients.
You could also use cashew butter or tahini.
So all in all, you've got a healthy, vegan & paleo-friendly (minus the mange tout) dish that is easy to make low carb and keto friendly (by using low carb vegetables) and tastes just like a classic peanut noodle stir fry. Delicious!
Not only is this dish so healthy but it's SO easy too and can be ready in under 10 minutes! That's always a good thing.
You simply need to stir fry the veg, add the noodles and the rest of the ingredients to make a sauce.
One pan, minimal washing up, ready in a flash and all for under 200 calories. It's a dream come true…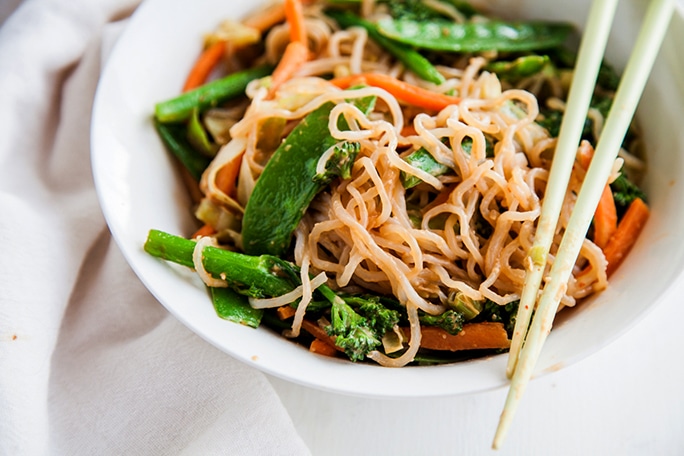 This noodle dish is:
Vegetarian & vegan
Gluten-free & paleo-friendly
Easy to make low carb and keto-friendly
Dairy-free & eggless
Low calorie (only 190 calories for a very generous serving!)
One-pan (minimal washing up)
Ready in under 10 minutes and SO easy to make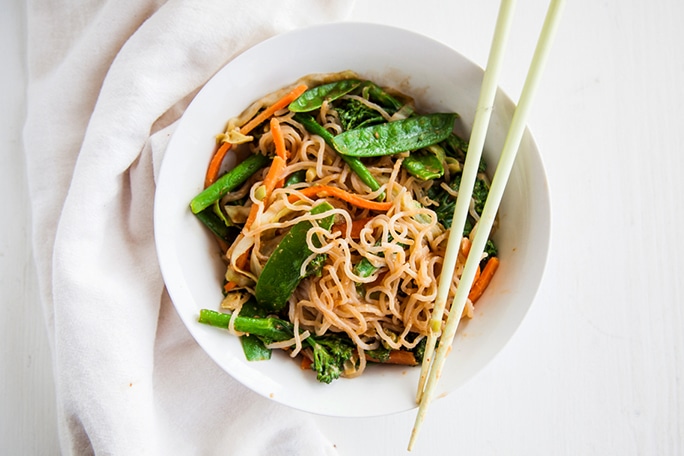 📖 Recipe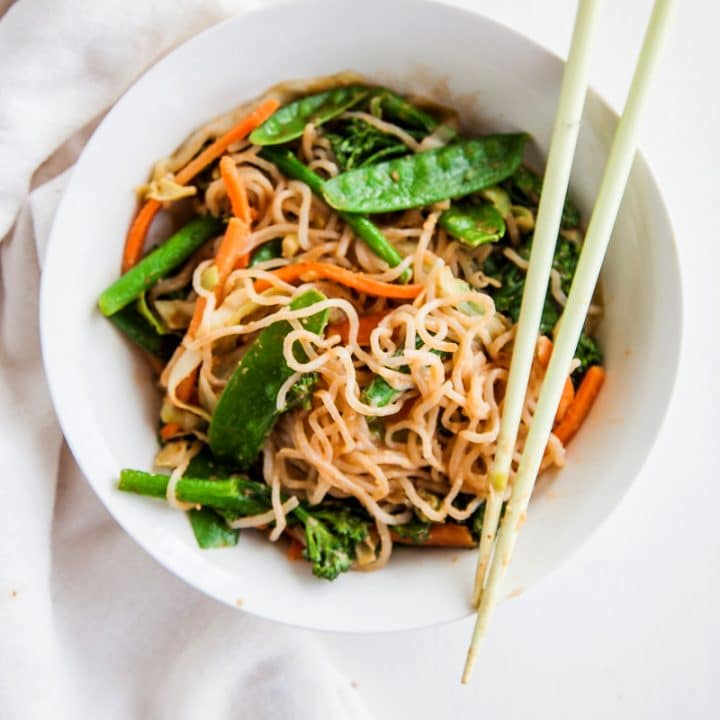 Shirataki Noodles with Almond Butter Sauce (Vegan + Gluten-free)
A delicious dinner that's easy, healthy and both vegan and gluten-free. Feel free to use whichever veg you wish, to suit your tastes and diet. Mushroom and peppers would also work really well for a low-carb paleo version.
Ingredients
1 tbsp mild olive oil or coconut oil
2 cloves garlic, minced
3 spring onions, diced
100 g long-stemmed broccoli
1 small carrot, cut into small batons
¼ cabbage, shredded
1 pack, g Shirataki noodles*
1 tbsp almond butter
1 or 2 tsp sriracha sauce, depending on how spicy you want it
2 tbsp coconut aminos**
Instructions
Heat the olive oil in a wok or large saucepan on a medium heat and add the garlic and onions. Cook for a couple of minutes until softened, then add the rest of the veg.
Whilst the vegetables are cooking, prepare your shirataki noodles by emptying them out of the packet and rinsing them well with warm water. Add them in with the vegetables.
Once everything is just about cooked, add the almond butter, sriracha and coconut aminos. Stir into the vegetables and noodles to create a sauce and warm through.
Serve and enjoy!
Notes
*You can often find shirataki noodles in health food stores. They are usually called either "zero" or "miracle" noodles. You can also buy them online.
**Coconut aminos can be found in health food stores or online. If you're not avoiding soy, you can use equal amounts of soy sauce or tamari sauce (gluten-free).
Nutrition Information
Yield

1
Amount Per Serving
Calories

190
Carbohydrates

19.3g
Fiber

7.9g
Protein

8.1g