I've been working with Nakd for a few years now, creating recipes using their bars and they're always so much fun to collaborate with but this is my favourite one yet.
I miss having a freezer full of these delicious bars!
It's a RAW "Twix" bar recipe, consisting of a layer of raw shortbread made with oats and almonds, a gooey, sweet caramel centre, made with Nakd Salted Caramel bars and a raw chocolate topping.
I keep them in the freezer for optimal texture but this sort of makes them into ice cream bars. Which is even more delicious, in my opinion.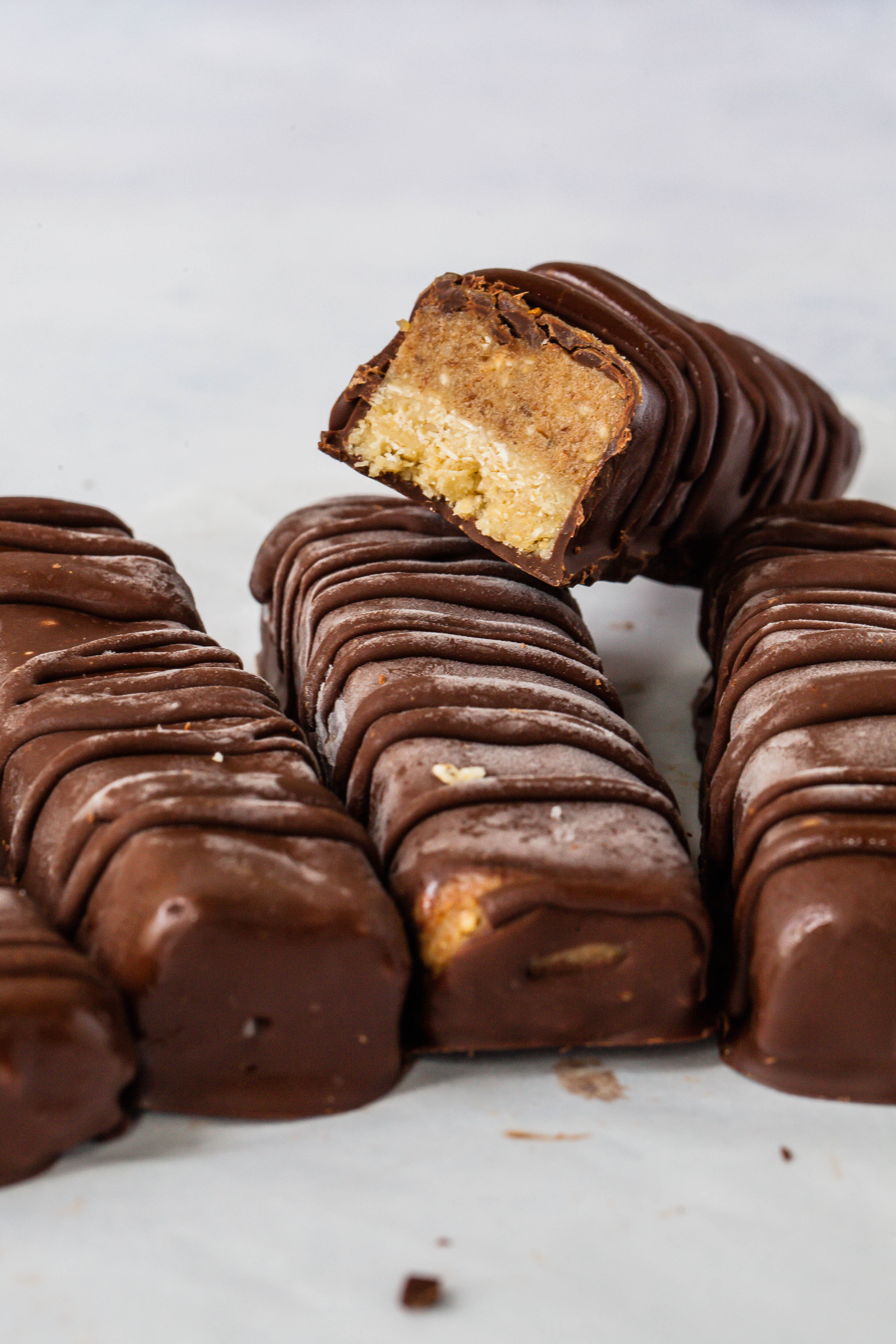 The other thing I love about these bars is how filling they are.
Because they are packed with so much fibre and whole ingredients, they fill you up and avoid spiking your blood sugar, even though it tastes like you're eating a sweet treat.
Plus, they're much more simple to make than you might think.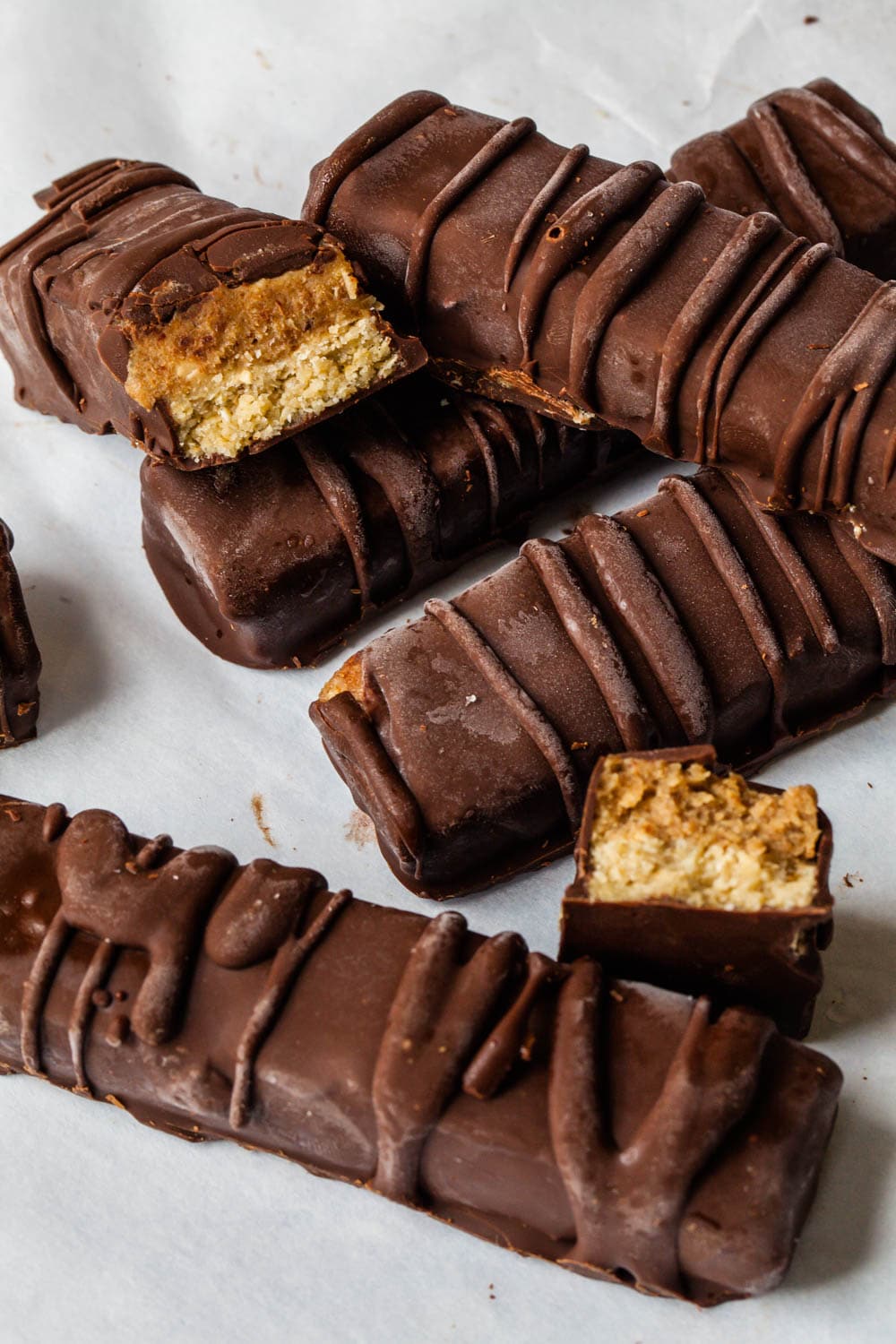 You can view more of my Nakd bar recipes here. They're all vegan, gluten-free, soy-free and often raw too.
There is also a video for this recipe at the bottom of the post if you want a more visual guide :)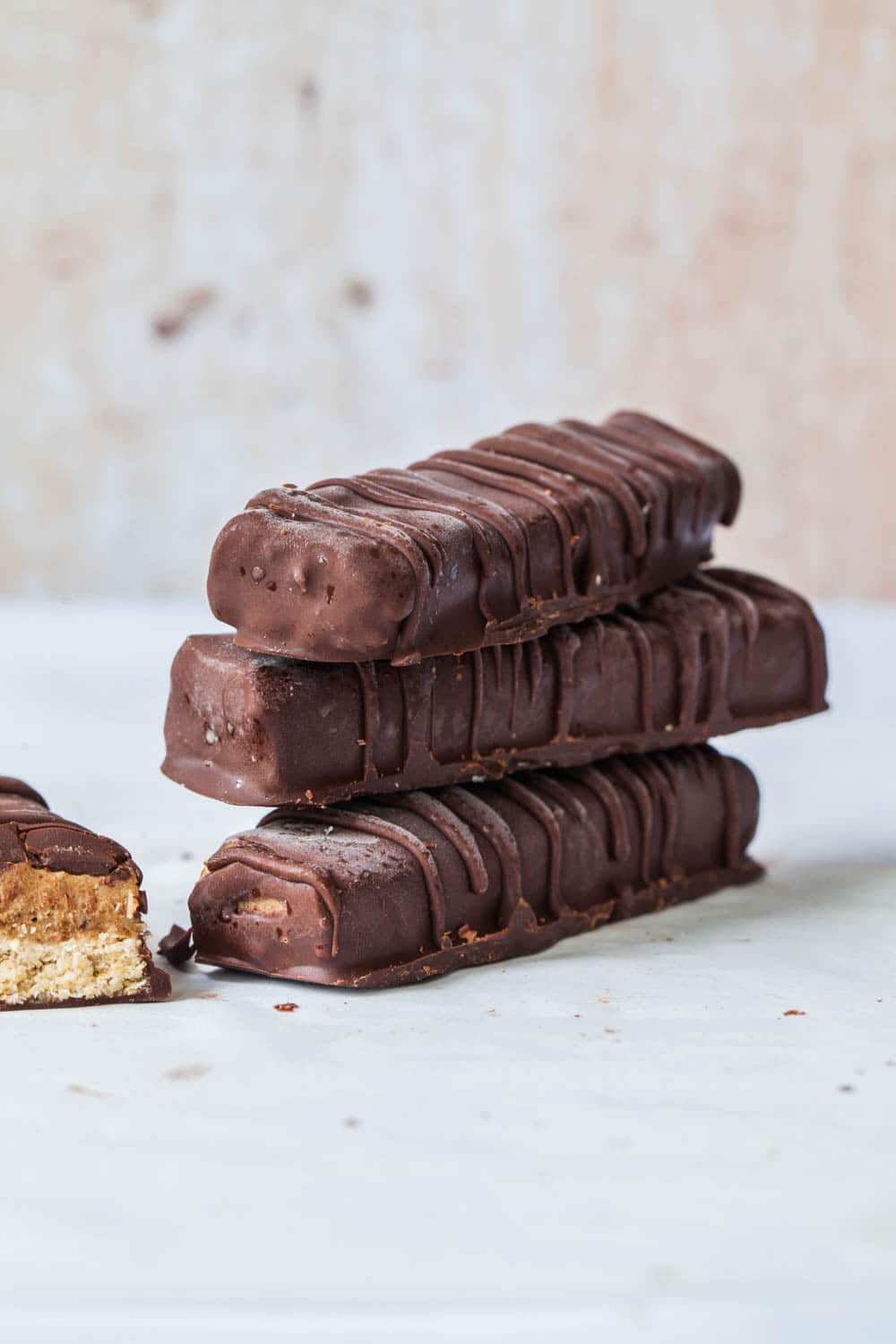 7 Ingredients to create a raw vegan Twix bar
You will need:
Oat flour – or oats that have been ground in a food processor
Almond flour – or ground almonds
Agave nectar
Dairy-free milk
Nakd Salted Caramel bars – If you can't get hold of these, don't worry, you can still make the recipe! Just substitute ¼ cup soaked raw cashews, 2-3 Medjool dates and some vanilla extract.
Coconut oil
Cacao powder
4 steps to create raw Twix bars
Mix the ingredients for the base and pat down firmly into your prepared container/tin.
Mix the ingredients for the caramel and spread on top of the base. Leave to set in the fridge or freezer.
Meanwhile, mix the ingredients for the raw chocolate coating.
Cut the chilled base into 8 bars and dip each one into the melted chocolate, to coat. Add to a tray and return to the fridge/freezer to set.
That's it!
Find the full recipe and video below.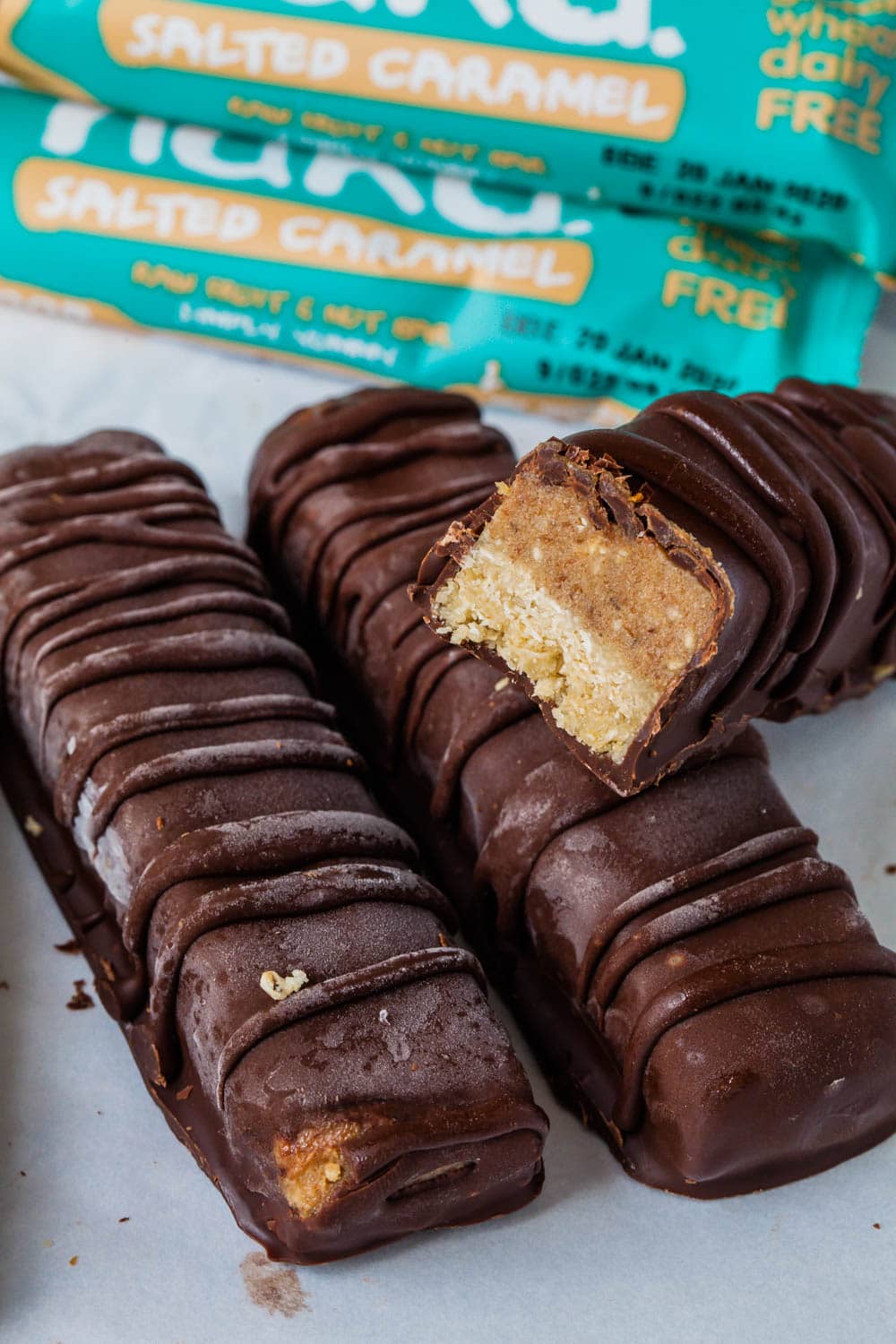 Video
📖 Recipe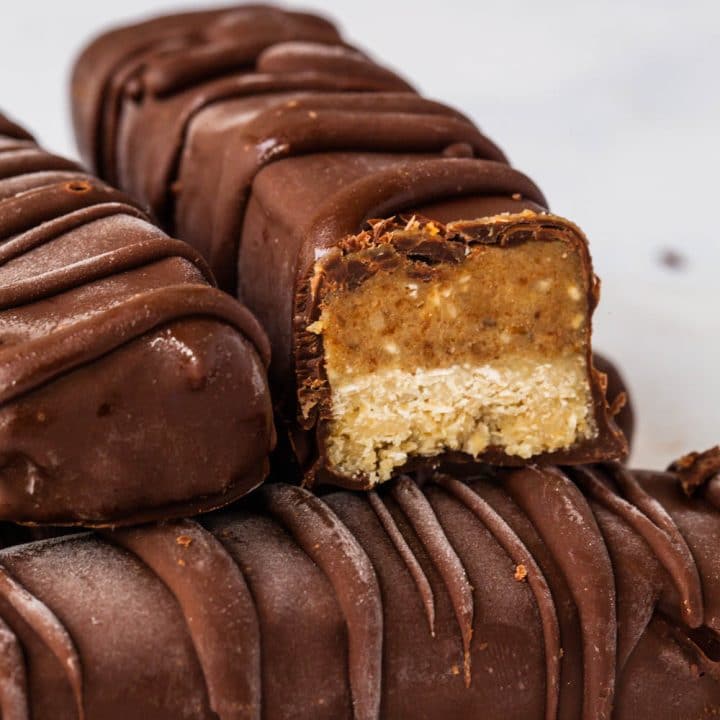 Nakd Raw Twix Bars
An almond & oat "biscuit" base, topped with sweet, luscious salted caramel and covered in raw chocolate. Soooo tasty, healthy and easy to make!
Ingredients
Biscuit Layer
100 g / ½ cup oat flour
100 g / ½ cup ground almonds
1 tbsp agave nectar
1 tsp unsweetened almond milk
Salted Caramel Layer
4 tbsp unsweetened almond milk
4 tbsp melted coconut oil
Raw Chocolate Coating
3 tbsp melted coconut oil
25 g / ¼ cup cacao powder
1 tbsp agave nectar
Instructions
Mix the biscuit layer ingredients together with a fork so it resembles a crumbly mixture. Press firmly into a small container or tin (roughly 6" x 3") to create an even layer. Set aside whilst you make the caramel.
Break the bars into small chunks and add to a food processor. Blend until it turns to dense crumbs. Add the almond milk and coconut oil and blend again until the mixture is smooth.
Spread the caramel mixture on top of the biscuit base and smooth to create an even layer. Put in the freezer overnight to set.
Prepare the chocolate coating by melting the coconut oil and whisking in the cacao powder and agave nectar.
Remove the biscuit and caramel layers from the freezer and cut into 8 chocolate bar shapes.
Dip each bar into the melted chocolate and move around with a fork to make sure it's evenly coated. Add to a plate or tray and drizzle with some extra melted chocolate. Repeat with all the bars. Add straight to the freezer and let set for at least 2 hours.
Keep in the freezer and enjoy!
Notes
*Don't worry if you can't find these bars, you can still make this recipe! Simply swap with ¼ cup soaked raw cashews and about 3 Medjool dates. You may need to add more dairy-free milk.
Nutrition Information
Yield

8
Serving Size

1
Amount Per Serving
Calories

224
Total Fat

17g
Saturated Fat

10g
Trans Fat

0g
Unsaturated Fat

5g
Cholesterol

0mg
Sodium

62mg
Carbohydrates

14g
Fiber

2g
Sugar

6g
Protein

4g
More raw vegan treats to make
Vegan No-Bake Raspberry Cheesecake Bars