I have had intense lemon curd cravings all this week, so it was decided that my next recipe had to feature it in some way or another.
Well, these cookies are super lemony and definitely satisfy my cravings.
Also, if there is such thing as a craving for using cookie cutters, then I'm good for that too.
Below is the recipe for the lemon sugar cookies which are gluten-free, grain-free, dairy-free, vegan etc etc.
They are super delicious with a great texture, not to mention a much healthier alternative to most sugar cookies. These are, as I say, lemon cookies but I accidentally left out the lemon zest on this batch…
They still tasted great though and the lemon curd definitely made up for the lack of lemon in the first batch of cookies!
📖 Recipe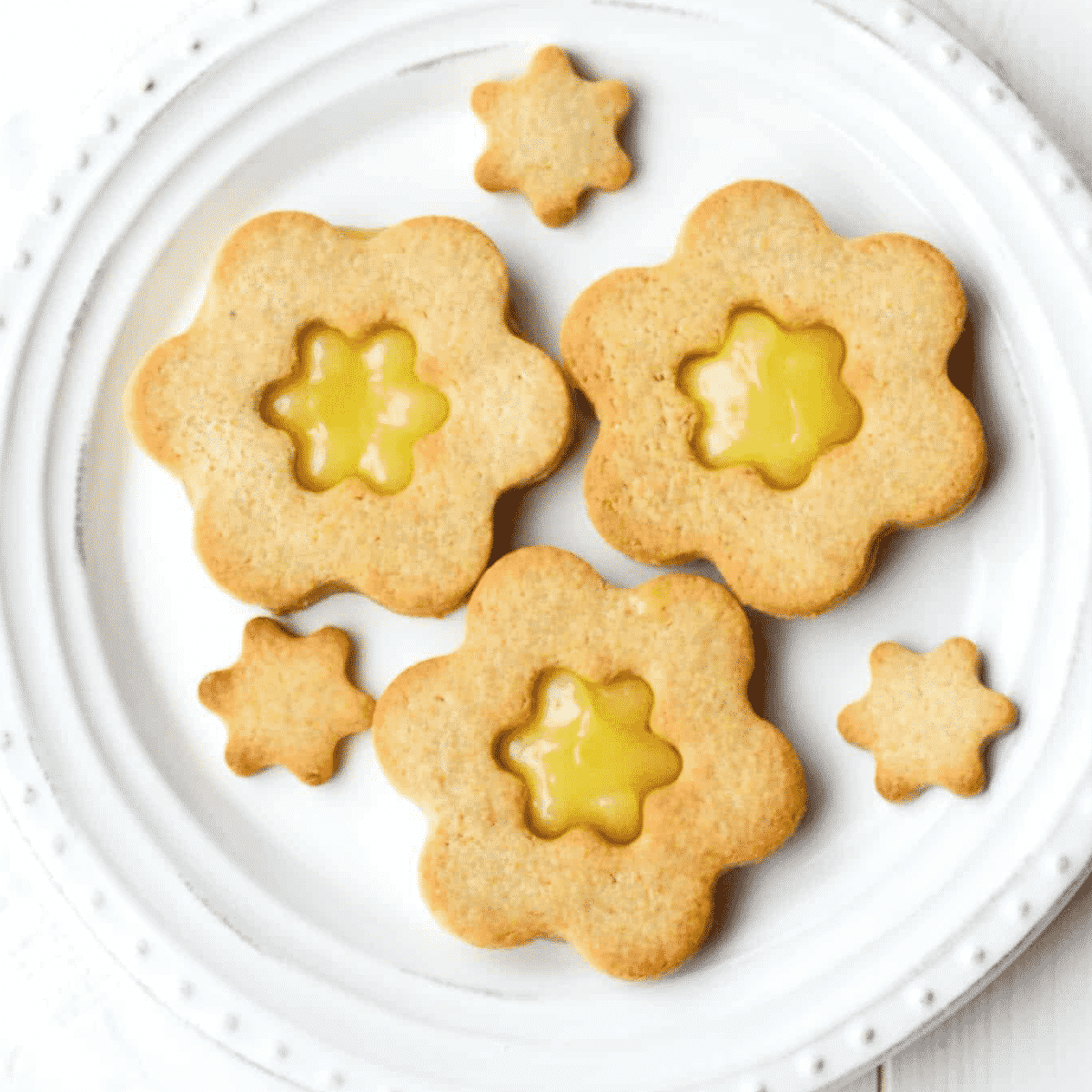 Paleo Lemon Curd Sandwich Cookies
Delicious vegan and gluten-free lemon cookies. Makes roughly 20 cookie halves (using a 2 ½ inch cookie cutter)
Ingredients
200 g / 2 cups ground almonds
1 tbsp arrowroot powder or tapioca flour
¼ tsp baking soda
¼ tsp salt
60 ml / ¼ cup coconut oil, melted
60 ml / ¼ cup maple syrup
1 tbsp vanilla extract
Zest of 1 small lemon
Instructions
In a food processor, blitz the ground almonds, arrowroot powder, baking soda and salt together to make a fine, powdery flour. Sift into a bowl and discard the lumpy bits left in the sieve.
Add the coconut oil, maple syrup, vanilla and lemon zest to the food processor and mix until everything is combined.
Now add back in the ground almonds and arrowroot flour and mix to create a dough.
Once the mixture balls into a soft dough, turn it out between two sheets of cling film. Roll it to about ½ cm thickness then refrigerate for at least 20 minutes to let it firm up.
Meanwhile, preheat the oven to 170c. and line a baking tray with greaseproof paper.
Once the dough is more firm, cut out your cookies using a cookie cutter - half of them should be full cookies and half should have a cut-out middle for the lemon curd to peek through!
Arrange them onto a baking tray and bake for 8-10 minutes. You may need to keep an eye on the oven and turn the tray around to make sure it bakes evenly and doesn't brown too much.
Leave to cool on a cooling rack before adding the lemon curd.
Put a dollop of the lemon curd on one cookie and sandwich together with another. Serve and enjoy!