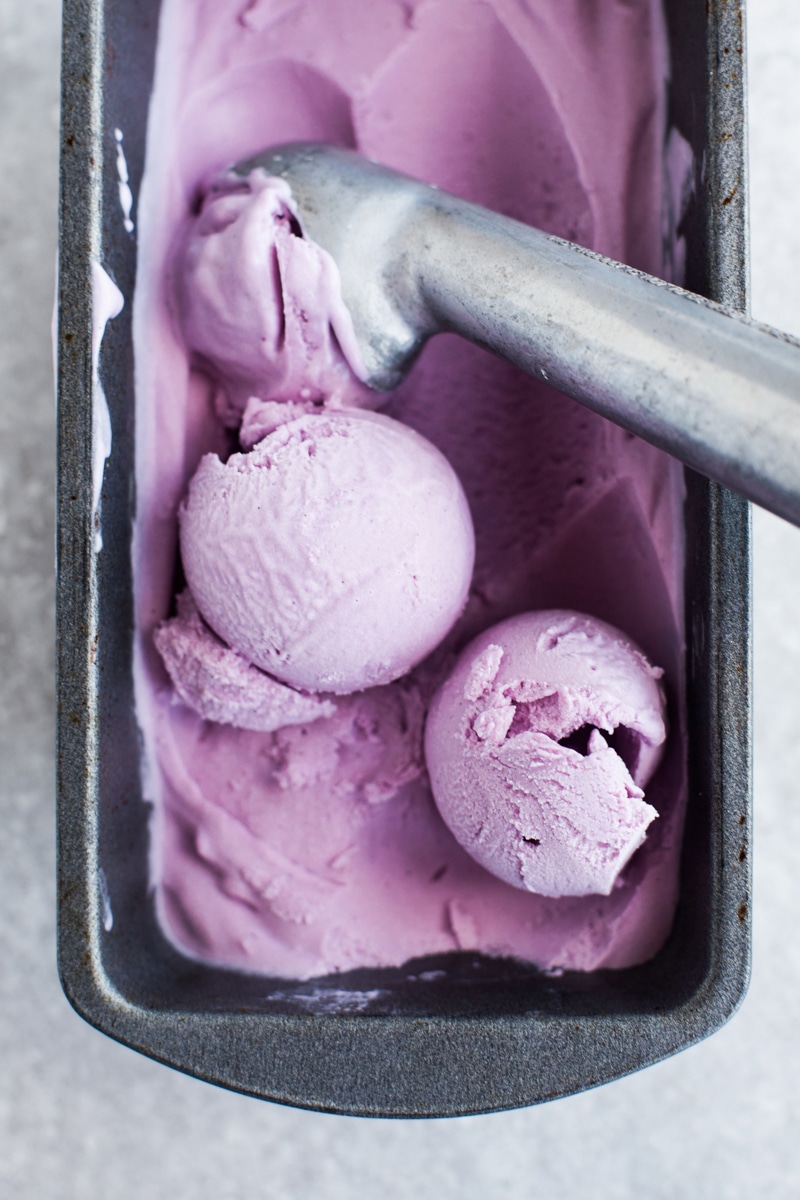 I have forever been on the lookout for purple sweet potatoes but never seemed to come across them. Until a week ago, when I saw Natalie from Feasting On Fruit's Purple Power Parfait and WISHED I could find some.
Low and behold, the very next day I saw some in my local market! I don't believe in fate usually, but this was certainly a very welcome coincidence.
Sweet potatoes are one of my favourite vegetables and purple is my favourite colour so you can see why I was so excited to use it! Plus, I've heard so many great things about purple sweet potatoes and yam's health benefits.
It's been declared a miracle food, due to it's high levels of anthocyanins, which help improve blood flow and cognitive function.
Other purple foods also contain this compound so if you can't find purple sweet potato, try blackberries, aubergine or red cabbage.
The sweet potato gives this ice cream extra creaminess and the most wonderful texture, not to mention colour and flavour!
If you can't find purple sweet potato, try looking for Ube puree in your local Asian supermarket or use orange sweet potato instead (it will still be delicious.)
When it comes to sweeteners, I really recommend maple syrup for this recipe. It seems to really pair well with the sweet potato.
It can sometimes be hard to find (in the UK, at least) and can be a little expensive so using agave nectar is the second best option.

This purple sweet potato ice cream is:
Dairy-free & eggless
Vegan
Gluten-free & paleo-friendly
Refined sugar-free
High in anthocyanins – a brain-boosting compound
Ultra creamy and smooth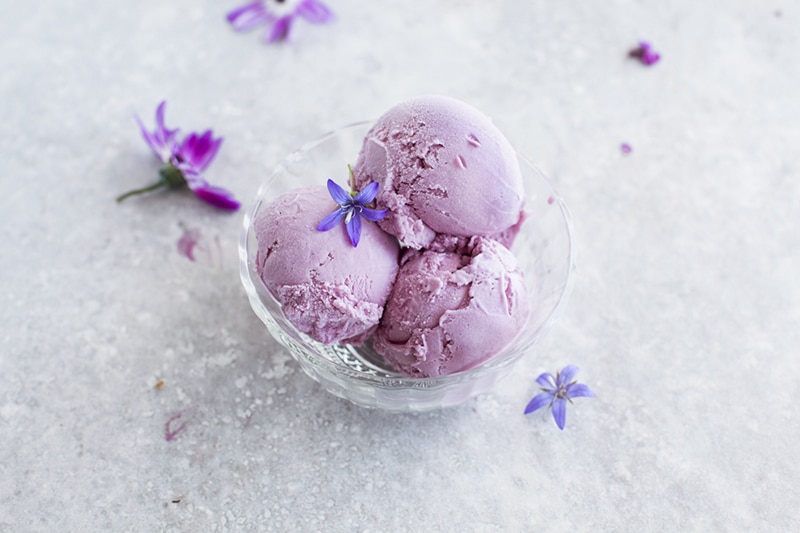 If you enjoyed this recipe, let me know in the comments, leave a rating and tag #WallflowerKitchen on instagram so I can share your creations in my stories!
Vegan Purple Sweet Potato Ice Cream
Total Time:
6 hours
20 minutes
The most smooth, creamy ice cream made with purple sweet potatoes and coconut milk.
Ingredients
360 ml / 1 1/2 cups coconut milk, full-fat
1 tbsp arrowroot powder*
60 ml / 1/4 cup maple syrup
1/2 cup purple sweet potato puree or 3/4 cup chopped, boiled purple sweet potatoes
2 tsp vanilla extract
Optional 1 tbsp alcohol, such as vodka or gin**
Instructions
Mix all the ingredients, except the vanilla and alcohol, together in a blender and mix until smooth.
Pour into a saucepan and bring to a boil. Once boiling, remove from the heat and whisk until smooth and thickened.
Stir in the vanilla and alcohol.
Pour into a container and chill overnight.
Instructions for using an ice cream maker
Once the mixture is chilled, you simply need to add it to yourice cream machine, following the manufacturer's instructions. Once churned, add to a shallow, freezer-safe container and freeze for at least 6 hours or overnight.
Instructions without using an ice cream maker
If you have a stand mixer with a metal bowl, you can freeze the bowl overnight and "churn" the ice cream using the paddle attachment.
Otherwise, you will need to whisk the mixture well before freezing it and may need to check on it a couple of times and whisk again to add lot's of air to it and prevent it turning icy.
Notes
*Arrowroot powder can be found in the baking aisle of the supermarket. You can also use tapioca flour or corn starch.
**The alcohol is to help keep the ice cream from freezing too hard.