Tart, sweet and moreish vegan muffins with rhubarb and ginger. Perfect for a Mother's Day treat.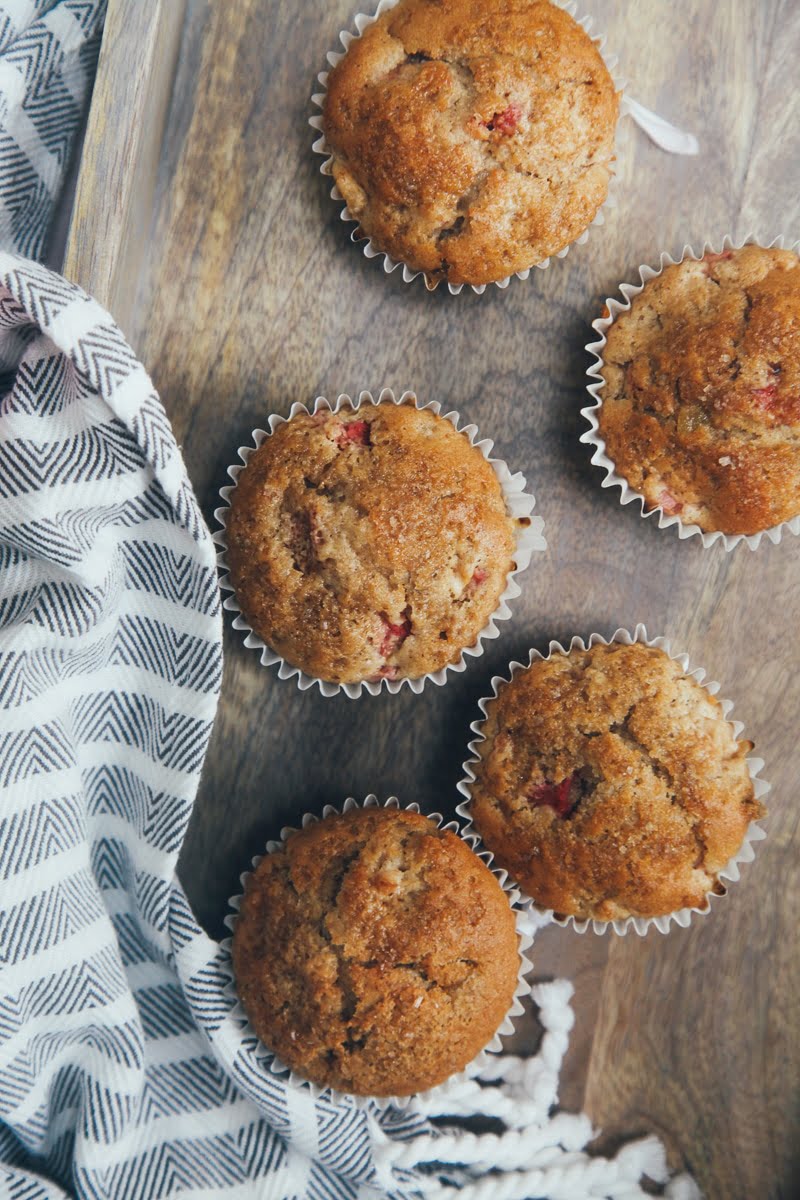 Rhubarb season is here! I adore rhubarb but it's only around for a short space of time so we've got to make the most of it and I've got just the recipe to do that…
These rhubarb & ginger muffins are so flavourful and comforting, I think they would make the perfect Mother's Day bake.
Plus, as always, they are completely vegan, dairy-free and egg-free so great for many dietary needs.
.
Vegan Rhubarb & Ginger Muffin Ingredients
You will need the following ingredients
Self-raising flour – If you can't get hold of self-raising, use plain flour mixed with baking powder (see recipe notes)
Light brown sugar
Ground ginger
Mixed spice – Or pumpkin pie spice mix, if you're in the US
Chopped fresh rhubarb
Stem ginger
Vegetable oil – Such as sunflower, grapeseed or coconut oil
Dairy-free milk
Vanilla extract
Apple cider vinegar – this is mixed with the milk which creates a dairy-free "buttermilk" and reacts with the rising agents
Demerera sugar – For a delicious crunchy topping!
Find the full recipe below!
📖 Recipe
Vegan Rhubarb & Ginger Muffins
This vegan muffin recipe is egg-free and dairy-free, with sweet, sharp rhubarb and ginger.
Ingredients
280 g / 2 cups self-raising flour*
170 g / 1 cup light brown sugar
1 tsp ground ginger
1 tsp ground mixed spice (or pumpkin pie spice mix)
A pinch of salt
300 g / 2 cups chopped rhubarb
2 pieces of stem ginger*, finely chopped
80 ml / ⅓ cup vegetable oil, (such as sunflower, grapeseed or coconut)
240 ml / 1 cup almond milk
1 tsp vanilla extract
1 tsp apple cider vinegar
2 tbsp demerera sugar, for topping
Instructions
Preheat oven to 180C / 350F and line a muffin tin with 12 paper muffin cases.
In a large bowl, stir together the flour, sugar, spices and salt.
In a separate bowl, add the chopped rhubarb, ginger, oil, almond milk, vanilla and apple cider vinegar.
Stir the wet mixture into the dry.
Spoon the mixture equally between the muffin cases and sprinkle some demerera sugar on the tops of the muffins.
Bake for 25 minutes until well risen and golden brown.
Leave to cool before enjoying!
Notes
*Or plain flour with 1 tbsp baking powder
*Stem ginger can be found in the baking aisle at most supermarkets and is packaged in a jar with syrup.