A ridiculously easy vegan recipe for one of the most comforting bakes – these golden syrup flapjacks have just 4 ingredients and are naturally gluten-free too.
Flapjacks always take me back to my childhood and bake sales, where these were always on offer.
Now I know why. Because they're so quick, easy and cheap to make yet taste wonderful.
If you're into low effort or lazy baking, then these are for you.
Another great thing about these flapjacks is how easy they are to customise to your tastes.
Add raisins, chocolate chips, desiccated coconut, seeds, nuts or whatever else you fancy.
If you can't get hold of golden syrup, you can also use light corn syrup, maple syrup, agave nectar or brown rice syrup instead.
📖 Recipe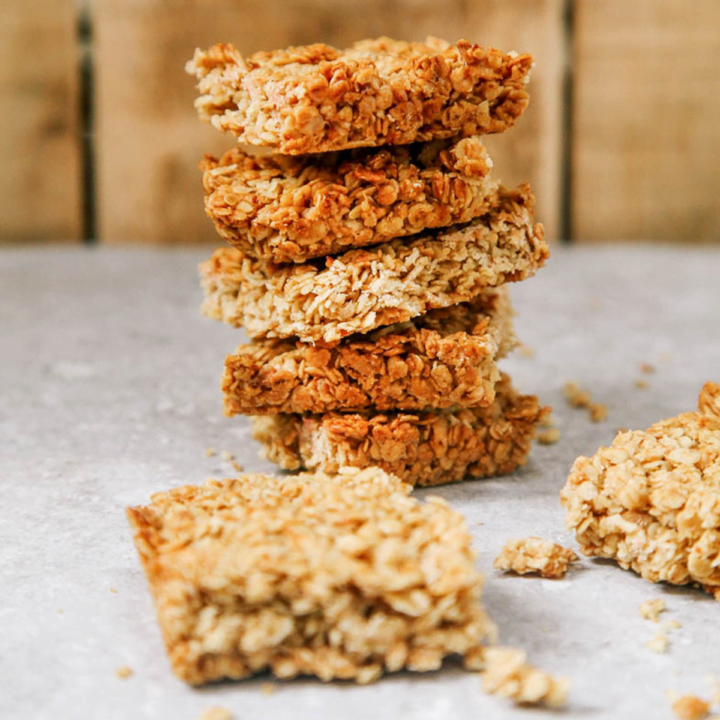 Vegan Golden Syrup Flapjacks (Gluten-free)
Super simple and easy flapjacks made with golden syrup. Naturally gluten-free, if you use gluten-free oats. Perfect for an afternoon treat, bake sales and to give as gifts.
Ingredients
150 g / ⅔ cup vegan butter, or margerine
4 tbsp golden syrup
50 g / ¼ cup light brown sugar
1 tsp vanilla extract
275 g / 3 cups rolled oats, gluten-free, if needed
Instructions
1. Preheat the oven to 150C fan / 170C / 325F / gas 3. Line a 20 x 20 cm / 8 x 8 inch baking tin with greaseproof paper.
2. In a large saucepan, melt the butter and golden syrup together over a low heat. Once melted, remove from the heat and stir in the rest of the ingredients to combine.
3. Pour into the prepared baking tin and bake for 20–25 minutes, depending on how chewy or crisp you like yours. Leave to cool slightly in the tin before cutting into 12 medium or 16 small squares and serving. Keep in an airtight container for up to 2 weeks.