Magic 4-ingredient caramels or toffees made with paleo-friendly ingredients! Easy to make and great for homemade gifts, especially for those avoiding refined sugars and dairy.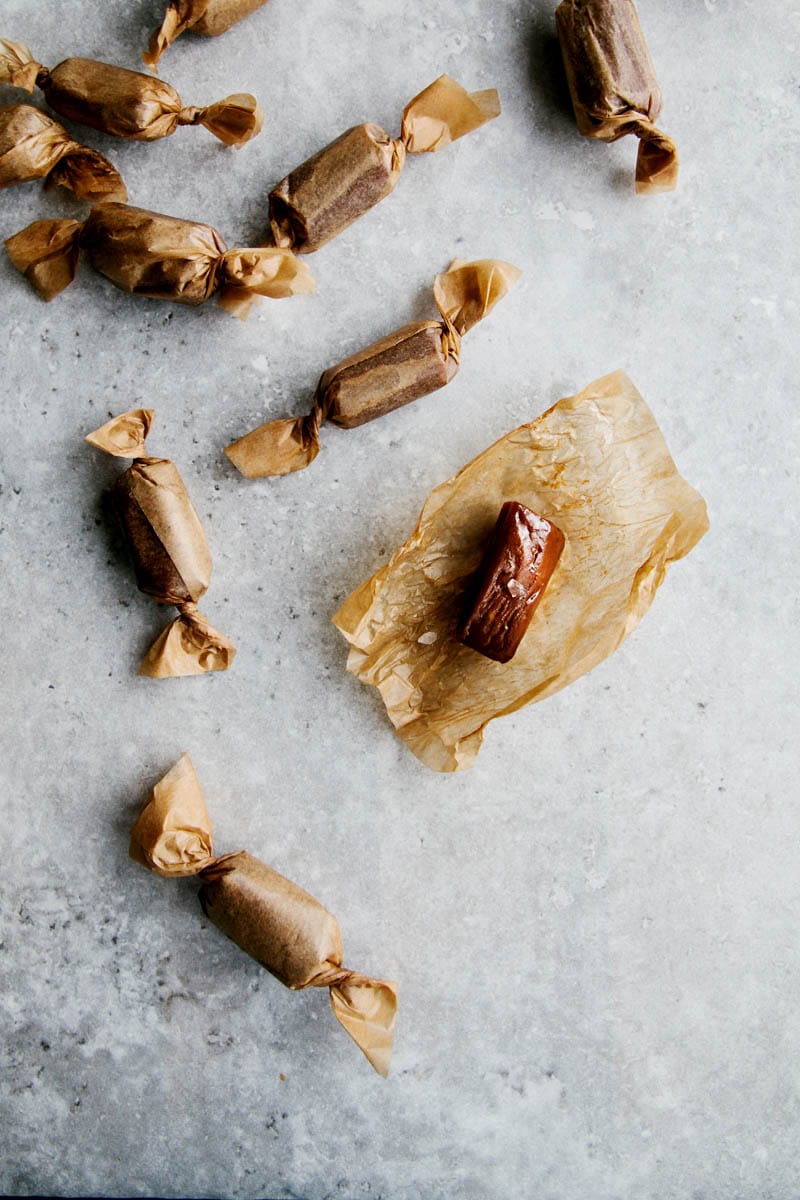 I'm not over exaggerating when I say that these are one of the most delicious candies I've ever tasted.
Sweet, comforting toffee caramels with an amazingly chewy but soft texture. Made out of purely coconut products!
This recipe came about when I was trying to create a "butter tablet" using coconut cream, instead of dairy cream, coconut oil, instead of butter and coconut sugar instead of ordinary sugar.
What I ended up with wasn't a butter tablet but it was the most amazing toffee! I really don't know what to call it. Is it toffee? Is it caramel?
It's got a natural treacle-y sweetness so I settled for "treacle toffee" but these could also work as salted caramels.
Whatever they are, they're amazing.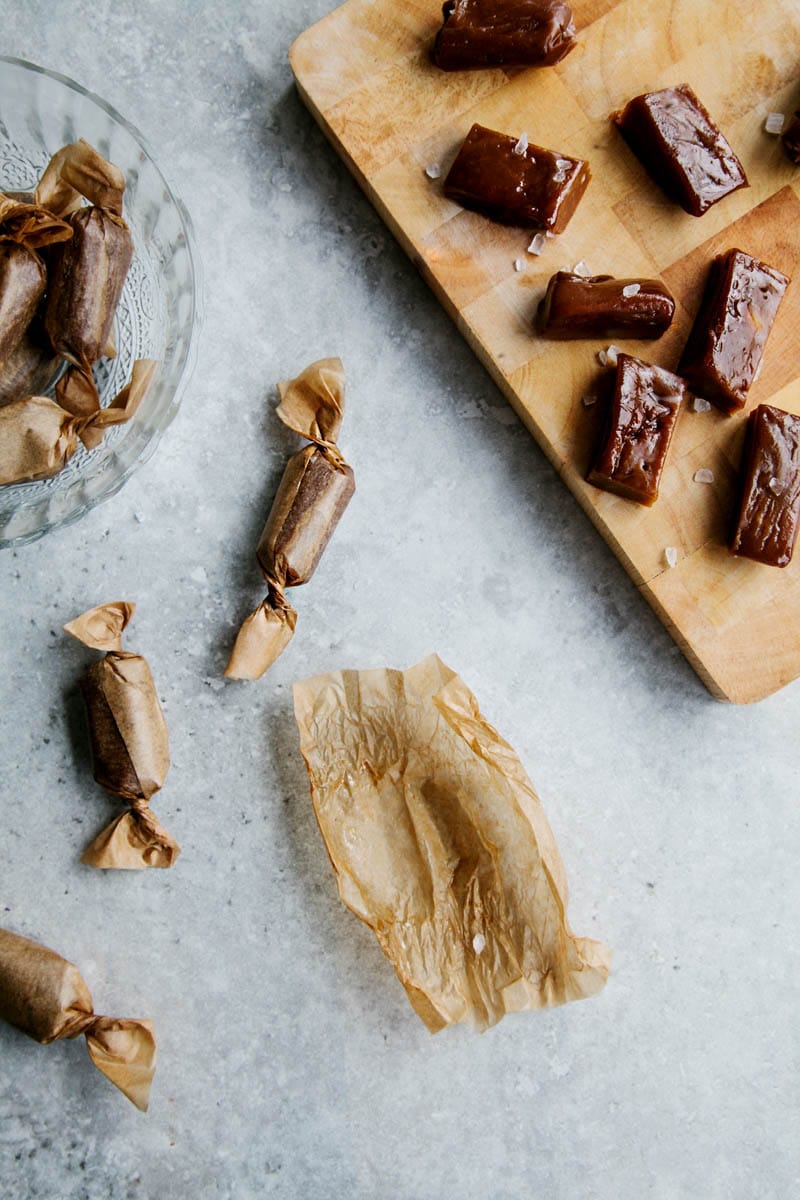 These candies make the perfect gift, especially when you wrap them up individually. It's so simple!
You just get some greaseproof paper and cut it into squares (roughly 4 x 4 inch) then place the candies in the centre, wrap either side and twist the two sides to create a classic sweet wrapper.
I got this idea from Zoe at Minor Goods. She made my toffee last year and posted this amazing photo on Twitter of them wrapped up.
I loved the idea so I had to incorporate that into my new photos for this recipe!
Anyway, onto the recipe. These toffee caramels are:
Vegan
Dairy-free
Soy-free
Nut-free
Gluten-free
Grain-free
Paleo-friendly
Refined sugar-free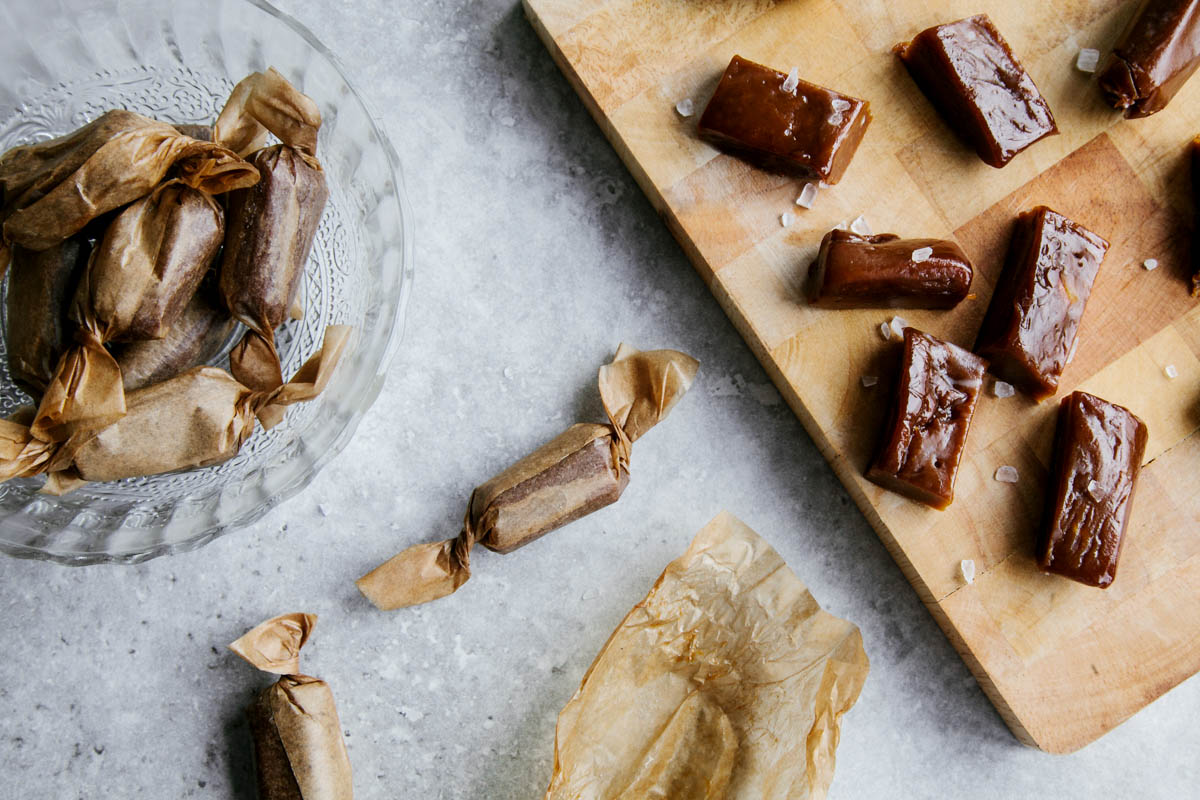 📖 Recipe
4-ingredient Vegan Toffees (Paleo-friendly)
Indulgent, sweet toffee caramels made entirely from coconut products!
Ingredients
400 g / 2¼ cups coconut sugar
750 ml / 3 cups coconut cream, you can also use coconut milk that has been refrigerated. Simply scoop the "fat" from the top of the tin
6 tbsp coconut oil
(optional) A generous pinch of sea salt
(optional) 1 tsp vanilla extract
Instructions
Line an 8×8 baking tray with greaseproof paper and put to one side.
Tip all ingredients into a large pot on the stove and bring to a boil.
Stir the ingredients as it reaches boiling point, then turn down to a medium heat. Keep stirring!
Maintain the medium boil and stir every so often, for about 20 minutes or until it's reduced and thickened. To test if it's ready, using a spoon, drop a piece of the mixture onto a tray and it should turn solid within a minute. If it remains liquid, then it's not ready.
Carefully pour the contents into the baking tray and leave to cool and set.
If the mixture has separated slightly, don't panic. This happened to me on one occasion but it still turned out perfectly!
Let it set in the fridge for about an hour before cutting into small caramel pieces.
(Optional) wrap in small squares of greaseproof paper for easy storage or to give as gifts!
Keep at room temperature and store for up to 1 month (if you can last that long without eating them all...)